The Beyond: Georgia O'Keeffe & Contemporary Art opened in May 2018 at the Crystal Bridges Museum of American Art in Bentonville and features paintings, sculptures, photographs, murals and more by the mother of American Modernism- Georgia O'Keeffe, alongside works from 20 contemporary artists whose work she inspired – including Unit London's Dylan Gebbia Richards. These 53 additional artworks explore themes similar to those explored by O'Keeffe – our personal connection to the natural world around us and the interplay between realism and abstraction.
Dylan Gebbia Richards, Omni, 2018
The exhibition will debut at Crystal Bridges Museum of American Art in Bentonville (May 26 to Sept. 3), before travelling to the North Carolina Museum of Art (Oct. 13 to Jan. 20, 2019) and the New Britain Museum of American Art (Feb. 22 to May 19, 2019). "O'Keeffe is a touchstone of Modern art," said Crystal Bridges Curator, Lauren Haynes. "We hope visitors will walk away from The Beyond with a broader understanding of her diverse body of work, and we encourage visitors to discover new artists who are working today, in their own unique artistic language, expanding upon O'Keeffe's exploration of these particular themes." Haynes adds, "The pairing of an American icon with a group of 20 contemporary makers who have their own diverse set of practices and life experiences, opens up new conversations and possibilities, encouraging visitors to look closely. Eleven of the artists from The Beyond will be leading talks and workshops at the museum, giving visitors a rare chance to hear directly from them for a deeper understanding of the ongoing relevance of O'Keeffe's work and connections between our collective history and our present."
Amongst the artists on display in The Beyond is Unit London's Dylan Gebbia Richards, whose vast textural work, Omni, was inspired by geology and meteorology. The piece, which spans two adjacent walls in the exhibition, creates an inviting environment in which the viewer can immerse themselves – a synthesised world in which the familiar and the foreign emerge simultaneously. Gebbia Richards works are created using a process of thorough experimentation with paraffin wax and a variety of bright pigments. Gebbia Richards' masterful ability with this unusual combination of materials has led to his epic creation of complex new landscapes- creating a visual effect which lies somewhere between an aerial photo of a mountain range, a vast lava field and an unreal dream world.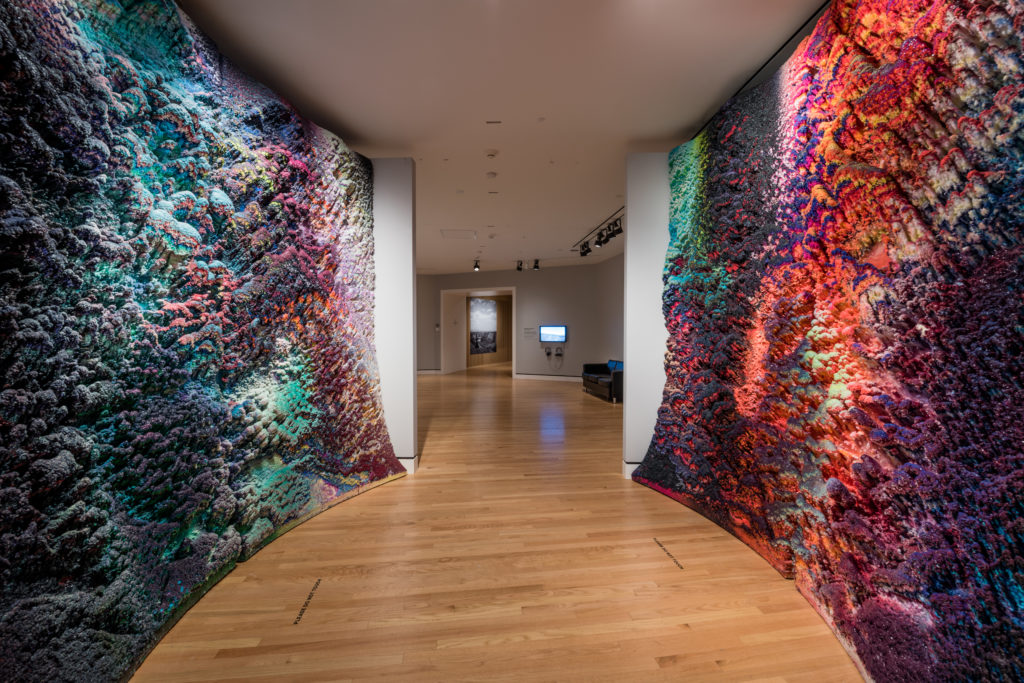 Dylan Gebbia Richards, Omni, 2018