Unit London is thrilled to announce the opening of Heesoo Kim's solo Platform exhibition, which will be accessible in our online viewing room (click here to view).
The Platform exhibition series allows for artists to explore the concepts behind their artworks and provides a space to respond to current social, cultural and political issues. To support the fundamental social principles of the Platform programme, 10% of all sales proceeds will be donated to a charity or non-profit of the artist's choosing. Heesoo Kim's nominated charity is Conservation International. The charity works to shed light on the crucial benefits that nature offers to humankind. The global organisation has worked in a number of ways to protect over 6 million square kilometres of land and sea across more than 70 different countries.
Born and raised in Seoul, South Korea, Heesoo Kim's practice centres on fragmented figurative representations that investigate concepts of identity and society, reflecting on what it means to be a human being living day to day. Kim's subdued compositions are reminiscent of the cubist portraits of Pablo Picasso, employing strong juxtapositions between light and dark to convey a sense of mass and volume.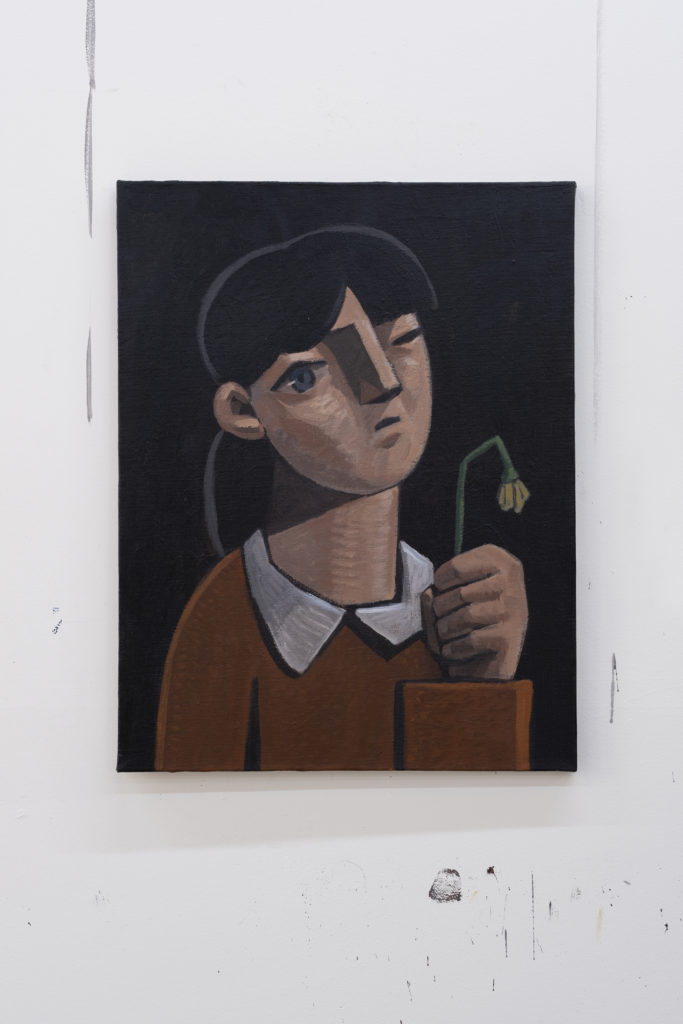 Flower 05, 2021, Acrylic on canvas, 41 x 52.5 cm
The muted portraits that are presented in Kim's Platform exhibition explore the only truly universal human experience: ageing. The artist's works, which depict isolated figures against stark backgrounds, seemingly indicate that each of us exists as an individual 'island', facing the ageing process alone. However, these images, despite their singularity, come together to form an 'archipelago'. In this way, Kim illuminates ageing as a shared experience that can be a source of potential collective catharsis. The unified body of work therefore symbolises the link that bonds us all. The withering flower that each figure holds may represent the fleeting nature of our existence, but also indicates that we are all united through the universality of the passing of time.