As the group exhibition, Sign Systems, draws to a close at Unit London, our Inspiring U series takes a closer look at Jenny Holzer's artistic career. Born in 1950, Holzer is an American neo-conceptual artist. Known for the accessible dimension of her artworks, which are often installed in public spaces, Holzer's works centre on words and ideas. Closely aligned with the feminist art movement, the artist seeks to promote public debate and to illuminate social and political injustices.
The main ideas: what is Jenny Holzer's art about?
Holzer's conceptual installation art consistently involves language. Known as word art or text art, Holzer's visual pieces include text and phrases, interweaving language with imagery. The artist has used text across a variety of mediums, including stone benches, billboards, printed posters and t-shirts. LED signs and light projections, however, have become the artist's most recognisable mediums. These dynamic pieces play on the intersection of art and technology to create "moving content".
Renowned for their use of language, Holzer's artworks deploy text to spark debate and draw attention to socio-political issues. Words are central to the artist's work, whether they are carved into a stone bench or glimmering on an electronic sign. The public nature of Holzer's installation pieces aims to present messages in ways that reach people in everyday places, outside the realms of traditional art spaces such as museums and galleries. For Holzer, it is crucial that her art exists in people's day to day lives. She states: "I used language because I wanted to offer content that people – not necessarily art people – could understand." Holzer's texts frequently mirror the tone of voice used by news outlets, advertising and other mass media, encouraging us to reconsider the messages that constantly bombard us.
Jenny Holzer, Benches, 1989 installation, Dorris C. Freedman Plaza New York, New York.
Holzer's most notable works: Truisms
The most recognisable example of Holzer's text-based art is her first major work, Truisms (1978-1982). While studying literature and philosophy in New York City in 1977, Holzer began to investigate the use of words and language in art. At first, her process involved simplifying complex ideas from her academic reading into succinct phrases. Using these phrases as well as common sayings and clichés, Holzer created nearly 300 statements. The texts first appeared on anonymously printed posters that were pasted in public spaces throughout lower Manhattan. Truisms represented a multitude of varying perspectives, resulting in what Holzer defined as "a survey of beliefs".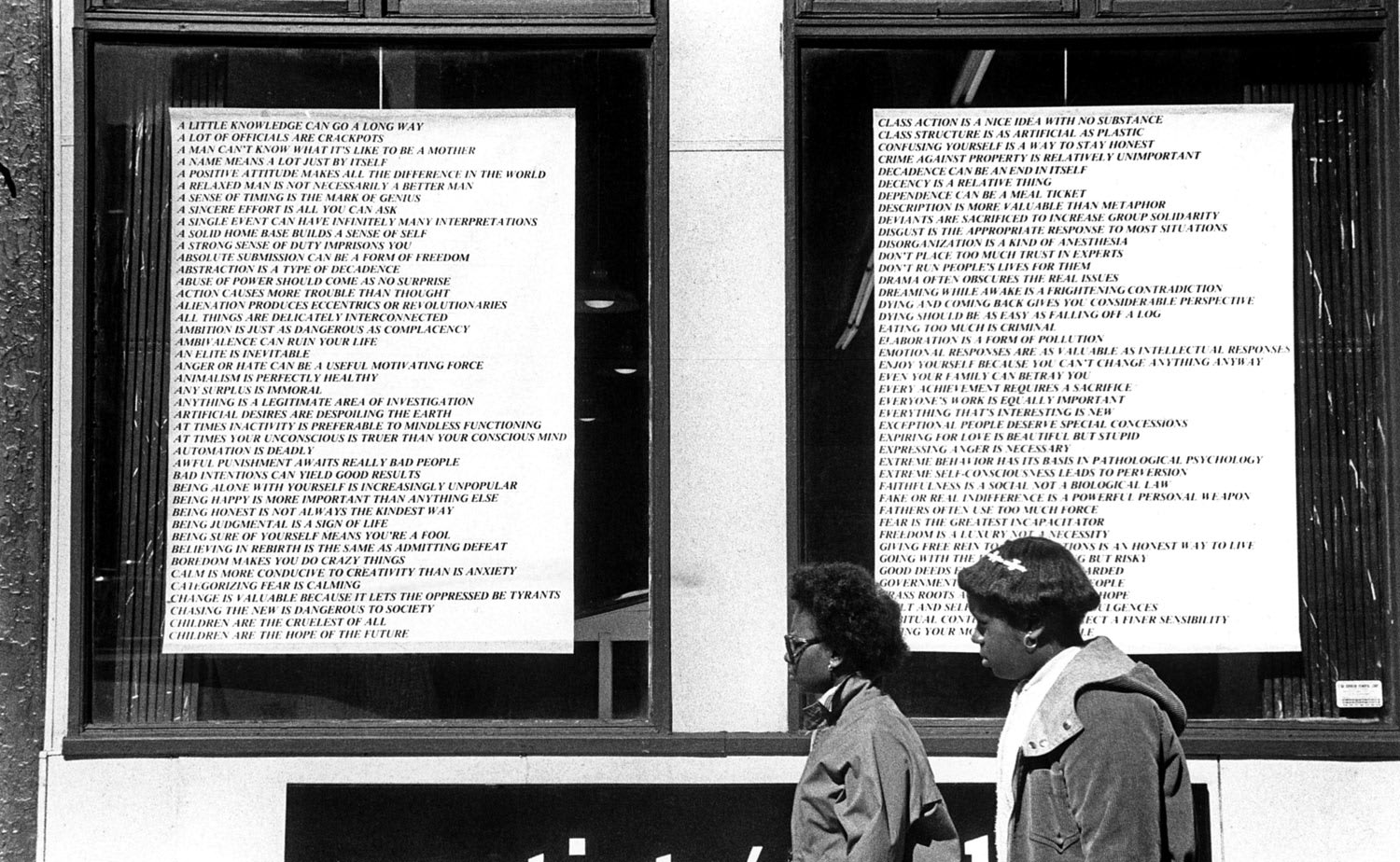 Jenny Holzer, from Truisms (1977-79), posters installed in windows of Printed Matter, New York. (Credit: https://artinprint.org/article/street-art-prints-and-precedents/)
Later, these messages were printed on disposable cups, bracelets, electronic signs and even condoms. In 1982, Holzer projected her Truisms across a giant electronic sign in New York's Times Square. Holzer aimed for immediacy, striving to reach as wide an audience as possible through public signage, keeping her statements short, concise and, therefore, accessible. In essence, Truisms embodies a socially progressive goal to make artwork available to a large public sphere through the use of unconventional locations. Holzer hoped that these pieces would encourage people to question the "usual baloney they are fed" in their day to day lives.
Jenny Holzer and Feminist Art: how do her artworks promote a feminist message?
Holzer's artwork has long been associated with the feminist art movement, which began to develop in the United States in the early 1970s, seeking to promote the study and creation of women's art. Holzer's work is linked to the feminist faction of a generation of artists that emerged in the early 1980s. Her association with Collaborative Projects (Colab) saw her form part of a group of New York City artists who created art in response to socio-political issues of the late 1970s and early 1980s. Holzer's unique use of text and language had a significant impact on the feminist art movement, as her pieces aimed to dissect the power of language over social divisions.
Jenny Holzer,  Untitled (Men Don't Protect You Anymore), 1983-85, packaged latex condoms with printed text, 5 x 10.7cm (each a packet of two). (Credit: https://cyberguurlfap.files.wordpress.com/2013/09/tumblr_mb9qcimsjj1qz8y11o1_1280.jpg)
The interconnection between the visual and the textual in Holzer's artworks challenged the social norms of the 1970s and 1980s, striving to highlight the inequity of society's circumscribed gender roles. Her piece Men don't protect you anymore, famously printed on condom wrappers, highlights notions of women's bodily liberation. The piece emphatically encourages women not to rely on men to protect them and their bodies. Instead, Holzer calls for empowerment and independence away from men. Today, Holzer remains active in the feminist cause, promoting women's position in art and calling out sexism, harassment and misconduct in the artworld.
What is she doing now?
From 2010, Holzer's LED signs started to become more sculptural and she has also returned to her roots through painting. Her paintings are often abstract in form, referencing the abstract expressionist movement. In 2018-2019, Holzer returned to the public sphere, deploying a fleet of black trucks emblazoned with anti-gun slogans. These vehicles were stationed outside government buildings and city landmarks, stopping in public squares and car parks. The series, entitled It is Guns, responded to mass shootings across the United States, animating issues of gun violence. Equally, in recent years, Holzer has used her text-based artworks to reflect on the global pandemic, questioning and challenging the United States Government's response and the politics of truth.