Climate crisis is an unavoidable truth of our times. Against this backdrop players in the art world have been called upon to confront unethical behaviour, influence change and encourage empathy for the planet yet there's a paradox: from its creators to its freighters it's an ecosystem that has long been associated with the release of harmful chemicals into the atmosphere, excessive carbon emissions and the overconsumption of resources. Faced with an uncomfortable reality, artists and exhibitors take steps towards sustainability.
The Rise of Sustainable Art
Conversations surrounding sustainable art flourished during the conceptual art movement of the late 60s and 70s. It was a time when artists questioned the processes, economics and functions engendered within the art ecosystem and when a focus was placed on dematerialisation in art. In the post-cold-war climate social priorities also expressed a growing concern for environmental issues. As such a collective awareness of sustainability emerged. 
Altering Attitudes Towards Sustainable Art
Land Art or Earth Art produced during the 60s and 70s was associated with newly established environmental movements, critiques on capitalism and the commercialisation of the land. Wrapped Coast 1968-9 is a notable land art example produced by artists, Christo and Jeanne-Claude. The couple famously wrapped one million square feet of the Australian coastline in synthetic woven fibre. At the time their work, which could not be sold, was considered to be a powerful anti-capitalist statement. Years later the extravagant use of manmade materials in land art has come under fire highlighting how attitudes towards sustainability and art might change contextually and over time.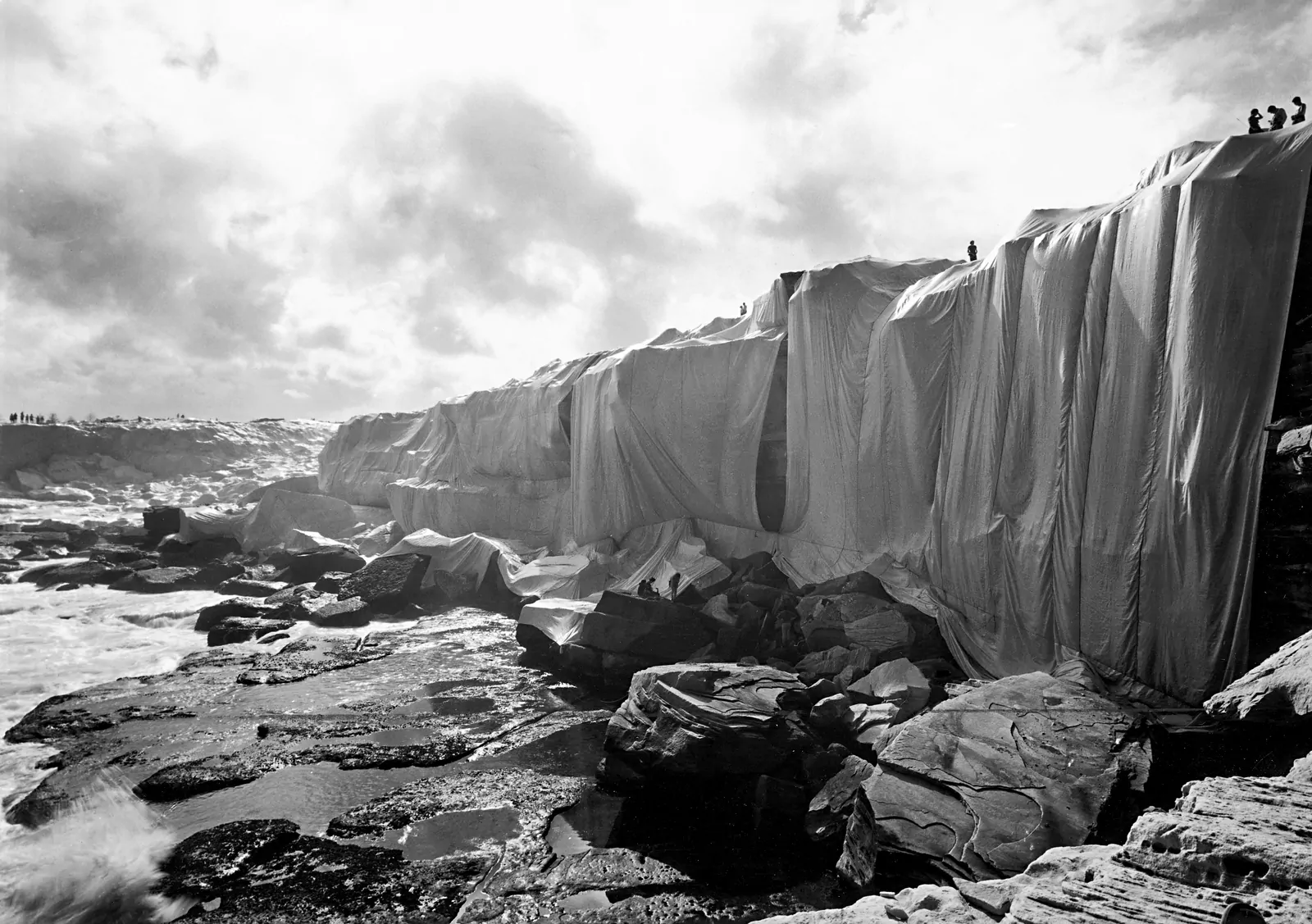 Sustainable Art and The Market
By the early 2000s, there was palpable social and political concern with environmental issues. This translated into highly-charged contemporary art addressing topics such as climate change and echoed in the actions of art institutions and initiatives. 
Established in 2020, the Gallery Climate Coalition (GCC) is a non-profit organisation and international community of more than 800 arts organisations that aim to reduce the art industry's environmental impact via the reduction of CO2e emissions, the promotion of zero waste and the advancement of best practices. More recently, La Biennale di Venezia declared that, starting with the 2022 edition, all the Biennale events will attain carbon neutrality. In the same year, Guggenheim Bilbao became the first museum in the international sphere to certify its carbon footprint including indirect emissions. 
Environmental efficiency has also become of keen consideration when it comes to aesthetics and design. The Smithsonian Institution's Hirshhorn Museum and Sculpture Garden in Washington, D.C has suggested that infrastructure must be upgraded with sustainably-minded design. 
The year-round roster of art fairs relies upon a formula of single-use plastic, MDF, paint, printed materials, and the global movement of attendees yet in their report on the art market in 2022, Art Basel suggested that "Sustainability and the carbon footprint of the art market" were within the top 10 concerns of high net worth collectors.
How Do Artists Tackle Sustainability?
Environmentally Conscious Processes
Many of the materials conventionally associated with art –  toxic pigments, paints, solvents and glazes – are harmful to our air and water but progress has been made across policy and production in recent years. In the EU some chemical and lead-based paints have been banned entirely while art supplier Hahnemuehle led the way by releasing the first eco-friendly fine-art paper made from 90% bamboo. There is also an increasing variety of natural paints available in the market made from raw ingredient formulations that include clay, plant oil and beeswax.
Artists have also worked to cultivate creative processes that protect and preserve the planet. Visual artist Hashel Al Lamki has cultivated what he considers to be a fully sustainable practice. Al Lamki mixes his own paints using natural pigments absorbed from the MENA region while disposing of his waste in a manner that regenerates the soil while multidisciplinary artist, Himali Singh Soin's therapeutic gardens feature radiation-absorbing plants. 
Art Highlighting Environmental Issues
Artists foreground a sustainable agenda through their work raising topics from overconsumption to critiques of late-stage capitalism. Olafur Eliasson made discussions of climate change both tangible and personal by transporting twelve blocks of ice from the sea surrounding Greenland to the City Hall Square in Copenhagen. This thought-provoking act meant that passers-by could approach the ice, feel it, and experience the sensation of its melting beneath their fingertips. Performance and installation artist Santiago Sierra produced a body of work entitled 52 Canvases Exposed to Mexico City's Air which saw the artist absorb the air's impurities onto his canvases. In doing so Sierra visually illustrated the levels of pollution absorbed by dwellers of the contemporary urban environment.
Art That Challenges Perceptions
Can art foster respect and appreciation for the planet? This is a question that the output of Hong Kong-based Stephen Wong raises. The artist's hikes around the Hong Kong hills have served as endless inspiration for his fantastical paintings that draw from an amalgamation of travel photography, instinct and imagination. Wong captures the topography that he encounters in intimate detail. His works express a deep-rooted appreciation for the land that might inspire an emotional engagement between his audience and the planet.
Such evocative landscapes, conjured from the artist's own imagination urge us to reconsider the necessity of human movement. "When I work on the canvases in the studio, I reconstruct the landscapes from my memories and imagination. For me the process is another journey to explore," suggests Wong. During the pandemic, Wong, confined to his studio, began to traverse the globe using Google Earth. The experience resulted in a body of work, A Road Trip In Google Earth, 2021 that saw the artist travel with the viewer from the Dolomites to the Dover cliffs. Perhaps virtual and imagination-fuelled journeys might come to characterise future relationships between audience, art and land? 
Art That Uplifts The Social World
Artists like Michale Rakowitz produce work that cuts through the distinctions between art and life to create a positive social impact. Rakowitz's ongoing paraSITE project seeks to offer relief to the homeless. The artist opened a discussion with those on the streets in order to produce personalised, custom-made shelters for them. ParaSITE takes its name from the parasites found in nature that absorb energy from external sources. Rakowitz's paraSITE shelters are designed to attach to host buildings so that air outtake ducts can rechannel warm air to heat and inflate the shelters. Such socially-minded art provides practical solutions to social problems while equally calling for intervention and policy change to improve the lives of the homeless.
Is the Future of Art Sustainable?
As we have seen, players within the art ecosystem have both contributed to and combatted environmental issues. In recent decades individual practitioners and institutions have demonstrated growing concern for the environment in several ways:
Sustainable building practices.

The advancement of eco-sustainable or bio-architecture as well as renewable energy systems and waste reduction measures.

A shared goal of carbon neutrality.

Art fairs and institutions aim to reduce their carbon emissions by extending the length of their exhibitions, prioritising sea freight over air, and by recycling or upcycling exhibition set-ups and materials.

Environmentally conscious art processes.

Artists opt for chemical and toxin-free materials, dispose of their waste in conscious ways and commit their practices to preserving the planet.

Art that raises collective awareness.

Artists can hold a mirror to the world. They raise current environmental issues as their subject matter and in doing so encourage an awakening among their audiences.

Art with a positive social impact.

Artists, with their ability to innovate, can use their practice to find unorthodox ways to tackle real world problems.
Can more be done? Absolutely. Climate change is the most significant issue of our time and it affects us all. Artists can play a major role in raising collective awareness and challenging individuals to reflect upon their relationship with the planet. Those that exhibit and disseminate the arts must continue to reflect upon and refine their practices with sustainability as a priority.