"The body is a highly contested site – its flesh is both the recipient and source of desire, lust and hatred. As a pawn of technology, it is sacred and sacrificial, bearing the politics of society and state. The body is our common bond, yet it separates us in its public display of identity, race and gender…"
– William Ewing (1994)
Visual representations of the human body have long been guided by a select few – the elite, the media, the cis-white-male, the institutions that select and present visual culture, the authorities and the algorithm. As a counter to these dominant depictions, that standardise and neutralise ideas about 'normal bodies', the body-positive art movement seeks to normalise the presentation of all human bodies regardless of gender, ability, sexuality, size or skin tone.
Pioneers of Feminism, Liberation and Pleasure
In Ways of Seeing (1972) , John Berger argued that the historical depiction of the female as nude in paintings pointed to the submission of the female to "the owner of
both woman and painting". Reflecting on the cultural climate in 1972 Berger suggested that women continued to be represented in a different way to men because the male was always assumed to be the "ideal" spectator while "the image of the woman was designed to flatter him".
Since then, conversations surrounding body positivity and inclusivity have become increasingly common yet this climate is founded upon years of resistance and draws influence from feminist, queer and anti-racist social movements. During the 1970s artists internationally, from Judy Chicago to Jana Želibská and Victoria Santa Cruz played a central role in advancing feminist perspectives in art. They re-harnessed control of the frame, foregrounded alternative versions of femininity and sexuality, pushed back against censorship and translated their desires to the world on their own terms.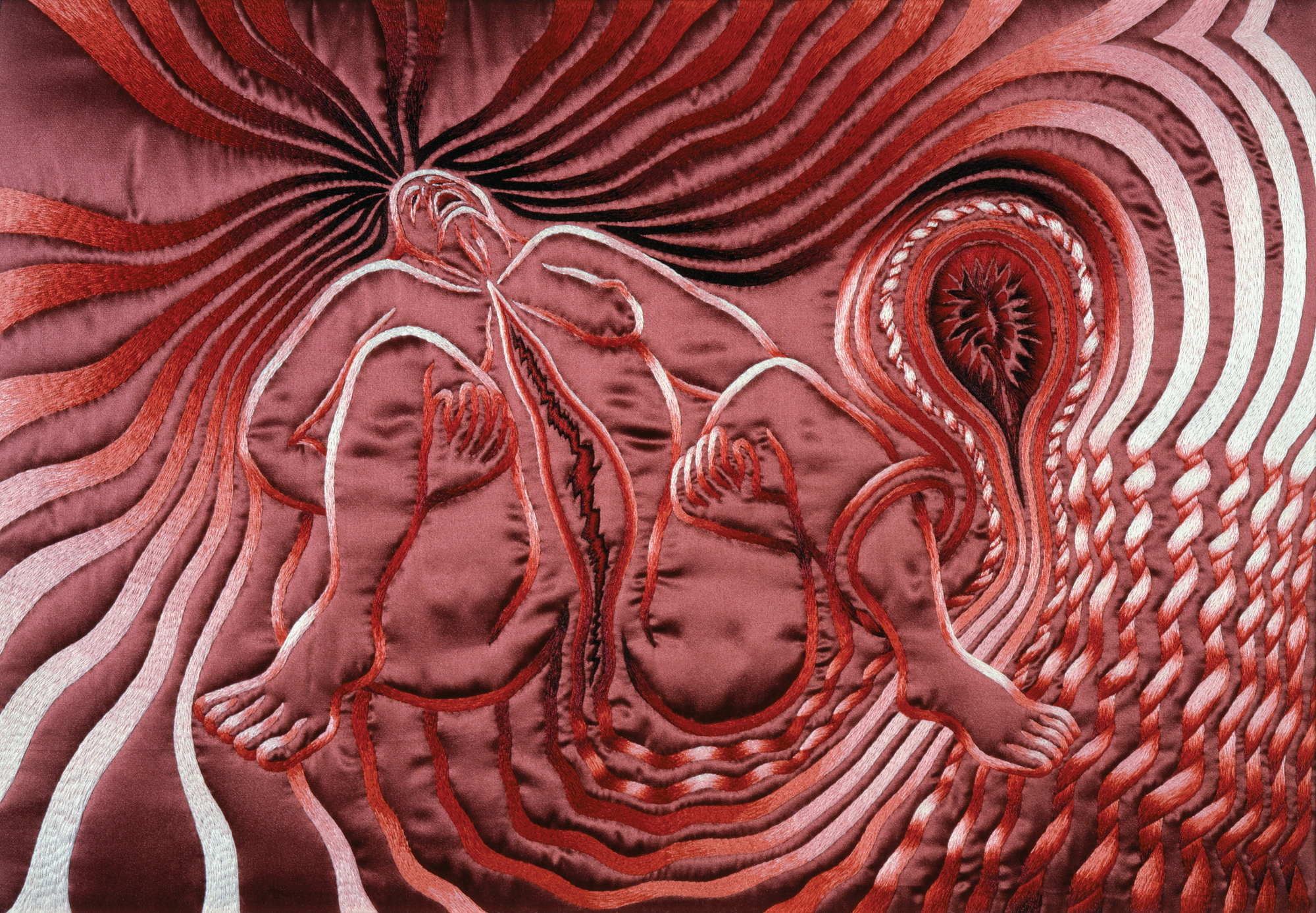 How Did Earlier Generations of Women Artists Challenge Social Norms?
1. By Dismantling Gendered Stereotypes
Taking to art to navigate a network of sexuality, eroticism, representation and the social world feminist avant-garde artist, Renate Bertlmann is a trailblazer associated with the women's liberation movement. Bertlmann often reimagines found objects as  gendered artworks to dissolve socially constructed stereotypes. In 1975 she produced a series of close-range photographs that tackled then current discussions surrounding gender roles, contraception and motherhood by absorbing latex teats and inflated condoms in her compositions.
2. By Championing Sexual Liberation

A central figure in London's counterculture movement, artist-activist Caroline Coon, has been tackling the politics of sexual liberation for decades. Previous paintings by the artist such as her Brothel Series challenged the very idea of what a female artist should be. The body of work dismantled social taboos surrounding the sex industry and drew from Coon's personal experience as a sex worker. Through her recent short film, I AM A WHORE (2019) Coon highlighted that discussions surrounding gendered violence continue to hold relevance. In her film, Coon powerfully critiques the shaming of female bodies in patriarchal societies which punish women for exhibiting signs of their sexuality.

3. By Re-Authoring Female Sensuality

A pioneer ahead of her time, Carol Rama's first exhibition was banned by the Italian government in 1945. Rama's highly subversive psychosexual watercolours chartered
lustful female figures with crimson tongues and exposed vulvas. Her art foregrounded female sensuality and revealed a multitude of sexual identities. Rama maintained that, for her, eroticism is: "the rejection of any prudery. It's about sensuousness, the relationship with your senses, with the body. It's about the body being scrutinised and dissected in its anatomical parts, in all its bits and functions."

As we've seen from these female trailblazers body positive art is art that challenges the status quo, it champions freedom of expression and defies restrictive depictions by presenting a multifaceted range of bodies and experiences.
How Do Contemporary Artists Approach Body-positive Art?
Artists Foregrounding The Marginal

Artists deploy multiple strategies to counter exclusion from the mainstream. Some take their own bodies as their subject matter to infiltrate normative depictions while others escape to alternative universes. In her Nudie series photographer, Polly Borland turned the lens upon herself taking a selfie stick and iPhone camera to contest contemporary preoccupations with the selfie and self-worship. While youth and vitality are highly prized in media and advertising campaigns Nudie comprised tightly cropped and at times uncomfortable images that expose the folds of the artist's skin, wrinkles and veins that suggest the signs of ageing. Borland's nudes are not eroticised, rather they are an opportunity for the artist, as an active subject, to reclaim the vision of the female body and rethink the problematic conventions surrounding the female nude.
While artists such as Borland zoom into and expose an intimate reality others like Cary Kwok construct their own surreal realms. Kwok's compositions that foreground the queer gaze tackle issues of sexual equality, race, ethnicity, culture, and gender. A recent acrylic on paper piece Men on the Verge of a Nervous Breakdown, 2022, affords the viewer with a stolen glance behind a wall that obscures two men, mid- embrace, from the rest of the room. Behind them, in plain sight, two women sit before a window casually sipping their coffees. It's work that sparks questions relating to the public and the private; what can be seen and what is hidden. 
Artis
ts Rebelling Against Beauty Standards
It's widely agreed that artists play an active role in radically rethinking the status quo. Frustrated with the censorship, shaming and sexualisation applied to her own art and body artist-activist Emma Shapiro has pushed back against the overzealous algorithm in the digital age. Shapiro suggests that guidelines for Facebook and Instagram ban "visible genitalia" and "fully nude close-ups of buttocks" as well as "uncovered female nipples". This means that the female-presenting body is twice as likely as male-presenting body to be flagged as obscene. Shapiro's Exposure Therapy Project champions gender equality and acts as an oppositional force
against the censorship of the non-cis-male body. As part of the movement, Shapiro created nipple stickers based on the contributions of women worldwide in order to
subvert the label of "obscenity" and visually represent a spectrum of women's bodies.

When she exhibited as part of our Sensitive Content group show Sally Hewett expressed that she loves not the conventionally beautiful bodies but the "bodies which show their history, that have been altered by their experiences, that are decorated with bruises, scars, spots, stretch marks, freckles, pigmentation, veins. Bodies that have the marks of life on them."  Through visceral 3-D works that incorporate embroidery techniques, Hewett records the realities of real bodies – those marked by time and experience, those with pimples, tattoos or those that have been altered by surgery or disease. 
Artists Revisiting Suppressed Histories
The authoring of history is one practice that serves to establish a particular, generally held, version of events that often supports asymmetric power structures. In recent years much work has been done to offer up counter-readings across art, academia and literature, so we might encounter the experiences of those that have not been able to document their own realities.
Beverley Onyangunga's artistic practice is characteristic of this movement. Through her output, she seeks to voice untold stories, particularly those of the Congolese that were subject to systematic violence during the reign of the Belgian King Leopold II. Approximately 10 million Congolese people were killed, yet this period in time remains largely unapproached by historians. By remediating photo archives Onyangunga produces visual evidence that urges the viewer to question taken-for-granted accounts.
Other artists visually re-write histories as an art of power and to regain control of the process of representation. By inserting one's own body into the composition artists
might occupy terrain that has previously been reserved for others. Renee Cox's artworks that probe the intersections of cultural work, activism, gender and African studies have sparked controversy. For Yo Mama's Last Supper (1996), a large-scale photographic montage, Cox inserted her body into Leonardo da Vinci's 1490s mural painting, The Last Supper, placing herself nude, in the place of Christ with her arms stretched upwards towards heaven. The work was criticised by the Catholic League and New York's then mayor, Rudy Giuliani for breaching their visions of decency yet Cox explained that she has the right to reinterpret The Last Supper, "just as Leonardo da Vinci did," when he created the work with people that looked like him.