In celebration of International Women's Day we invite you to take a closer look at our current group exhibition, Within + Without.
This exhibition was inspired by a book celebrating work by women in mediums that have historically been labelled 'women's work'. And just what is that phrase supposed to mean?, you may ask. Excellent question. We know that people of any gender can (and do) carry out any type of work, but it's true that women across many cultures have historically done much of the weaving, sewing and spinning in their communities for centuries. In some societies, such as some indigenous cultures of the Americas, women were also the exclusive producers of ceramic objects. Even all the way back in the Stone Age, it was likely to have been women makers who sculpted and fired some of the oldest surviving ceramic figurines. Over thousands of years, these essential skills – which provided clothing, vessels to cook and store food and more – came to be closely associated with the activities of women.
Today, we can acquire most necessities without having to make them or seek out an expert, so it has become easy to take for granted that creating textiles and ceramics requires an incredible amount of skill – not to mention the added difficulty of making these items beautiful. This convenience is a result of the Industrial Revolution, when machines allowed for the easier and cheaper production of goods. But for as long as there have been people who wish to automate processes, there have been creative people who have reacted against industrialisation to preserve artisanal techniques. The Arts and Crafts movement of the late nineteenth and early twentieth centuries is an excellent example, wherein artists championed traditional craftsmanship and produced ornate textiles, furniture, ceramics and architectural designs. It was a movement that centred on several art forms that women had traditionally been working in for centuries, yet somehow, exceptional designers like May Morris (1862–1938) and sisters Margaret Macdonald (1864–1933) and Frances Macdonald (1873–1921) have not always received due acknowledgement for their contributions.
Ah, yes, I mentioned 'crafts'. This is another loaded term that is sometimes used to distinguish textiles and ceramics from 'fine' or 'high' art. The idea behind this distinction is that because these mediums can be used to produce functional objects, they cannot be viewed in a purely aesthetic way. Moreover, as mediums like quilting or sewing have traditionally been categorised as domestic feminine pursuits, they have not always been taken seriously within a male-dominated art world. These attitudes have meant that modern and contemporary artists who have worked in these mediums have had to persevere to overcome the narrow perceptions of their field.
Using the medium of sculpture as an example, we can track how traditional approaches to art have changed over time and how women artists have had a direct impact on that development. For centuries of Western art history, sculpture largely consisted of idealistic classical figures carved from marble, grand statements of power hewn from stone, symbols of religious devotion chiselled from wood and other such three-dimensional works. During the twentieth century, the scope of sculpture in modern Western art expanded as artists created more abstracted forms, and groups like the Dadaists and Surrealists introduced new materials and found objects.
Méret Oppenheim's 1936 Surrealist piece Object (Le Déjeuner en fourrure) is an example of the new radical possibilities in sculpture that emerged in the early part of the century. She purchased a teacup, saucer and spoon from a department store and covered each item in gazelle fur. In popular culture, a tea set could be associated with femininity and refinement – perhaps a beverage sipped by the same kind of elegant women who wear furs – but Oppenheim combined these objects and turned them into something shocking. The softness of the fur feels pleasant to the hand, but applied to a cup and touching the mouth, the feeling would be repulsive. This interplay of contrasting elements embodies the spirit of Surrealism and can also be considered an early example of soft sculpture.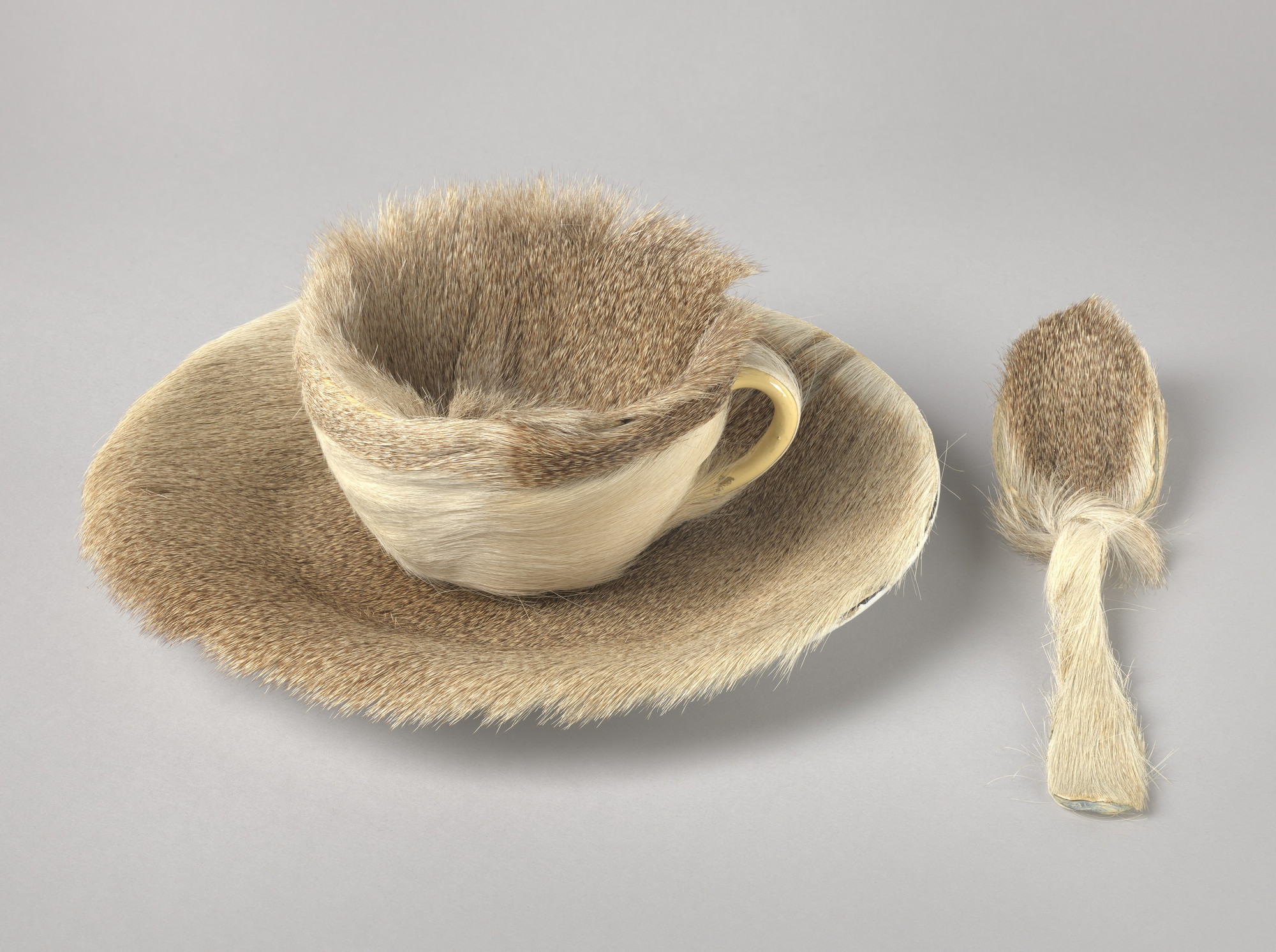 'Soft sculptures' are three-dimensional artworks that incorporate fabric, plastics, rubber, fibres and other cloth-like materials. They may be stuffed, draped, sewn or hung. The origins of these types of works are often traced back to 1957, when Claes Oldenburg stuffed a women's stocking with newspaper and hung it on a wall. At the time it was made, it was an untitled work, but this playful piece is now called Sausage. After creating Sausage, Oldenburg redirected his attention to drawing until, from 1961, he revisited the idea. From then, he caused a commotion on the New York art scene with stuffed and sewn sculptures of everyday objects, many of which were sewn by his wife Patty Mucha in the early days.
Around the time Oldenburg returned to soft sculpture, his studio was in the same building as Yayoi Kusama and Eva Hesse – two future giants of the medium. In 1962, Kusama showed her first soft sculpture, Accumulation No. 1, of an armchair covered in stuffed phalluses. Oldenburg and Kusama were friends as well as studio neighbours, and Kusama has asserted that Oldenburg was inspired by the work she'd been doing on Accumulation No. 1 in developing his own stuffed works.
Since the 1960s, more artists – particularly women – have worked in soft sculpture, helping to expand the definition and possibilities within sculpture, more broadly. This includes artists like Sarah Lucas, who created stuffed objects, as well as Magdalena Abakanowicz, who made stunning weavings that occupy three-dimensional space. By intentionally utilising soft, 'feminine' materials to create works in what was long viewed as the hard, 'male' medium of sculpture, women artists have subverted patriarchal norms and visualised new perspectives in art. The same can be said for other women artists who looked to ceramics and other textile mediums as modern forms of artistic expression.
The artists in this exhibition navigate between two poles: the interior spaces, anatomy and sense of self that coalesce to inform our inner landscapes; and the external appearances, relationships and social forces that shape our shared outer world. Their chosen mediums of textiles and clay further enrich these explorations through the materials' associations with domesticity and nature, respectively.
The works of these artists contrast, complement and intersect with each other, providing opportunities to examine relationships within and without. Pieces by Vanessa Barragão and Claire Lindner evoke imagery found in nature, while soft sculptures by Daisy Collingridge and Janice Redman incorporate materials and references found in interiors. Phoebe Collings-James and Bisila Noha's works contemplate identity and how that can be informed by our wider environments. Similarly, Anya Paintsil, Sarah Zapata and Ferren Gipson reflect on cultural influences, drawing connections between family, heritage and materials. Looking inwards, Bea Bonafini, Armina Howada Mussa and Paloma Proudfoot investigate subjects of grief, memory and the stories we ourselves.
In an article titled 'Feminism in Art, With Respect', published in the 11 June 2000 issue of The New York Times, artist Miriam Schapiro is quoted as saying:
I hate elitism, and elitism in art through the centuries was handed down by men. We were never seen as makers of art. For thousands of years, weaving, ceramics, sewing were believed to be what untutored women made with their hands. But that was our art.
The history of 'women's work' has meant that mediums like textiles and ceramics have served as particularly potent tools to engage with feminist issues in modern and contemporary art. These mediums are fortified with a special capacity to express women's stories and diverse perspectives through their historical associations with the feminine. For that reason, they are the perfect means of dismantling stereotypes, tapping into different experiences of womanhood and disrupting historically male spaces.
The artworks in the book and this exhibition are 'women's work' in the most literal sense of having been produced by women and in representing mediums that have historically fallen under the umbrella of that label, but one must place their tongue firmly in cheek with regard to the term's antiquated use in defining socially 'appropriate' activities for ladies. Women can and should do whatever-the-hell kinds of work they want.
– exhibition curator and artist Ferren Gipson
adapted from the introduction to her book Women's Work