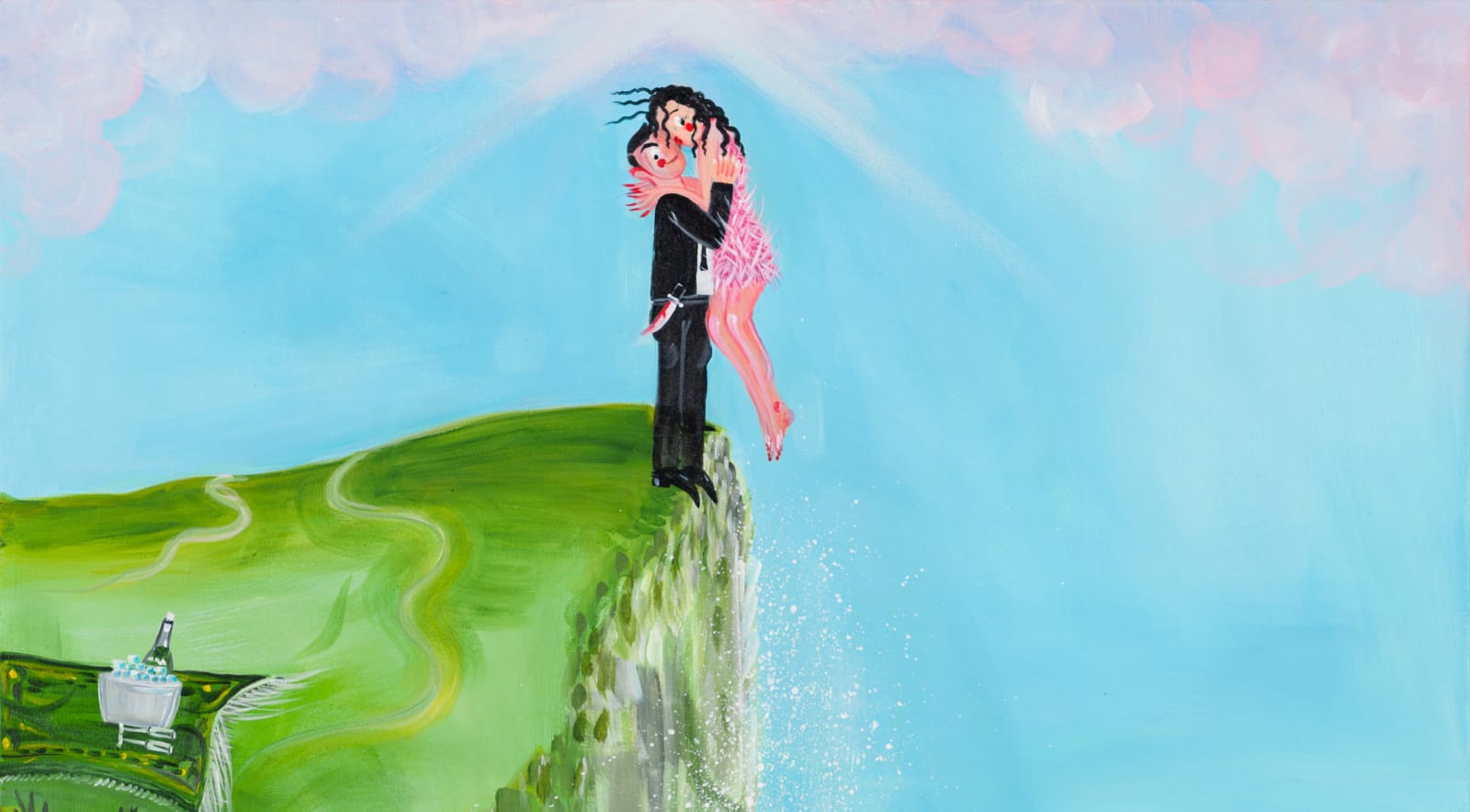 "My paintings are simply adventures of my mind".
Oh de Laval's ribald erotic expressionism captures a rough and savage emotion. Her figurative compositions are influenced by film noir and French new wave cinema and aim to capture licentious psychological undercurrents. Oh's work is primarily concerned with hedonism, it calls for pleasure in all things, art included.
Read full biography
Oh de Laval is the sobriquet of Olga Pothipirom, an artist of half Polish, Half Thai descent. Oh's work is concerned with human behaviour: the decisions we make, why we make them and how we feel as a result. These decisions are windows into our very personalities. In this spirit, each of Laval's paintings acts as a window into her character, her pleasures and her imaginings.
Oh's self professed manifesto dictates that the painter should have an inarticulate desire for something beyond the daily life; they should explore old artists' way of living rather than studying their way of painting and they should never ask for feedback on an unfinished painting - other opinions will affect the work and the artist will end up trying to please others.
There's evidence to say Oh upholds these manifesto commitments: she's heavily influenced by Francis Bacon, however this is not a direct, technical or stylistic influence, she speaks of how she likes the way he lived, likes the risk and the hedonism. In Bacon's words "the art that has no balls has no value," Laval's deliciously unsettling work would certainly have interested him. Finally, Laval states "I'm not calling myself an artist, I'm a painter. I'm the only one who knows which one of my paintings is art and which one isn't [...] It's art for me." This unabashed egoism is what makes Laval so appealing, her work is unfiltered and, in an age awash with anxiety and self-doubt, her sultry, divisive compositions shine through.
Born in Warsaw, Oh de Laval is half Thai and half Polish, living and working in London and Paris. She creates highly sexualised, ultra-violent scenes that aim to capture our quotidian relationships with luck, love and lust. Her idiosyncratic aesthetic takes from children's fiction to create an interesting tension between subject and style. This is a visual balancing act that explains itself perfectly upon meeting the artist: Oh de Laval is at once innocent and disarming, playful and captivating, she is her work incarnate.
Oh studied industrial design for two years, something that manifests itself in the interiors she paints. She then moved on to study sociology, where she became fascinated by Durkheim's notions of deviance, an interest that still influences her work today. Her work was featured in several exhibitions at key galleries and museums, including Unit London and the Galerie Droste, Paris.
Oh de Laval in Vogue for Gucci