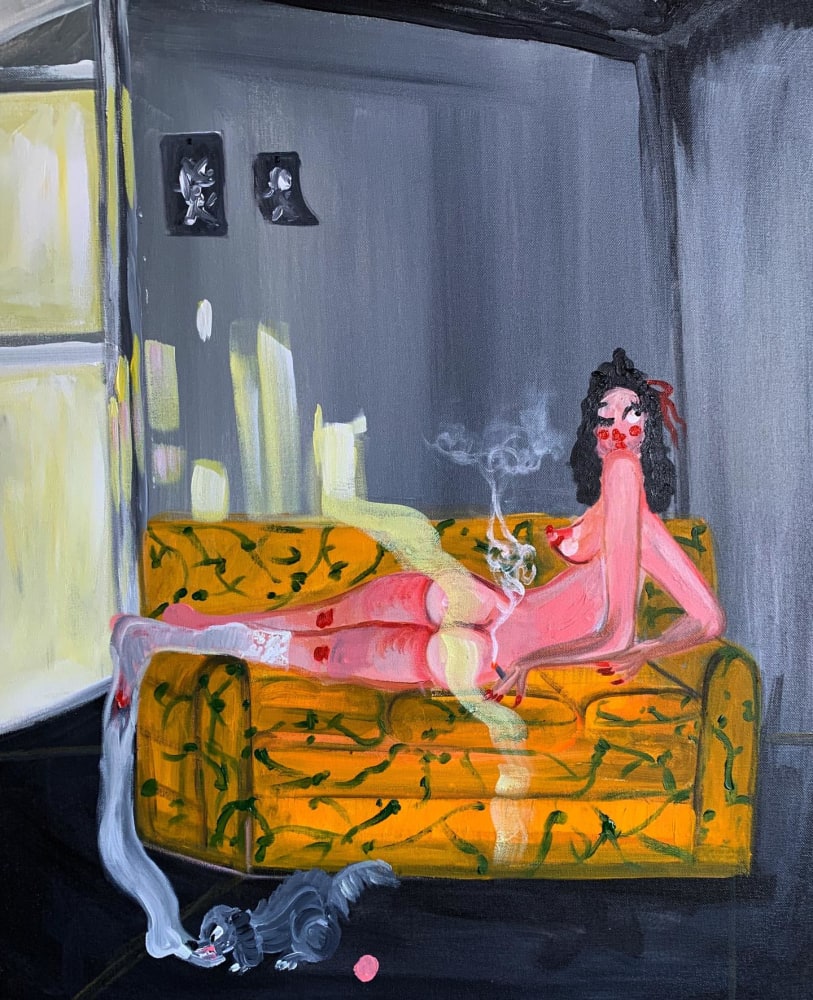 'I like to show the things that are really happening: luck, love and funny situations...'
Oh de Laval's ribald erotic expressionism captures a rough, savage emotion. Her figurative compositions are influenced by film noir and French new wave cinema and aim to encapsulate licentious psychological undercurrents. Laval's preoccupation with sex leads her to create illustrative, prurient scenes.
Read full biography
Oh de Laval (born Olga Pothipirom, 1990, Warsaw) is half Polish, half Thai. She likes "seeing what people are afraid of and why," an interest that culminates in overtly sexual painting that challenges the viewer. Laval seems to delight in the melange of awkward apprehension and floundering rage her work instills in British viewers, whilst noting the inverse reaction in international audiences.
Laval's self professed manifesto dictates that the painter should have an inarticulate desire for something beyond the daily life; they should explore old artists' way of living rather than studying their way of painting and they should never ask for feedback on an unfinished painting - other opinions will affect the work and the artist will end up trying to please others.
There's evidence to say Laval upholds these manifesto commitments: she's heavily influenced by Francis Bacon, however this is not a direct, technical or stylistic influence, she speaks of how she likes the way he lived, likes the risk and the hedonism. In Bacon's words "the art that has no balls has no value," Laval's deliciously unsettling work would certainly have interested him. Finally, Laval states "I'm not calling myself an artist, I'm a painter. I'm the only one who knows which one of my paintings is art and which one isn't [...] It's art for me." This unabashed egoism is what makes Laval so appealing, her work is unfiltered and, in an age awash with anxiety and self-doubt, her sultry, divisive compositions shine through.
Laval studied for two years at the Academy of Fine Arts Warsaw, before moving on to study sociology at the University of Warsaw, where she became fascinated by Durkheim's notions of deviance, something that influences her work today.