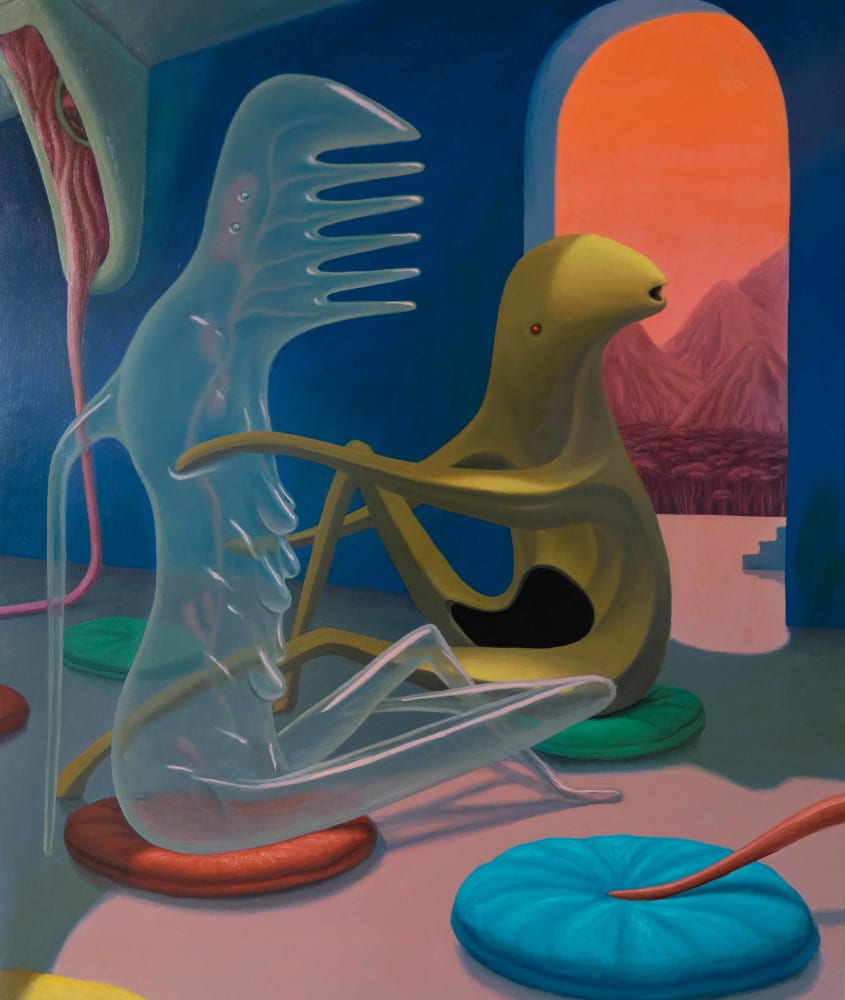 'The geometric form is an object of flattened desire...'
Jeremy Olson's practice began with a considered exploration of geometric structure and fragmentation within portraiture. While retaining this interest in geometric structures through the presence of fictive architectural features, Olson's practice has now morphed into an ultra-contemporary exploration of the grotesque.
Read full biography
Olson's early work was heavily influenced by Cubism: his portraits were deconstructed into fragmentary parts that were then layered back over the face of his subject in kaleidoscopic patterns. These works were incredibly technically skilled and played with the mind's ability to process and decipher sets of visual information.
Now, Olson's practice has matured into something deeply exciting. His compositions are haunting visualisations of anxieties that are society-wide: dental imagery takes on a flesh-like appearance while figures resembling knots of hair contort and writhe before the viewer. In this regard, Olson's current work is not unlike a combination of Nicholas Party's pastel explorations of architecture and the rather sinister experiments with the grotesque undertaken by Julie Curtis. Olson will participate in Unit London's November group show IRL, as well as having his first solo exhibition with the gallery in January 2021.
Born in Ojai, California; Jeremy Olson is a Brooklyn-based artist working in painting, sculpture and video. He received his BFA from the University of Arizona, and an MFA from New York University. His work has been exhibited in New York as well as Antwerp, Berlin, Connecticut, Melbourne, Omaha, and Seoul. He has participated in residency programs in Florida, Nebraska, New York, Oslo, and Michigan.