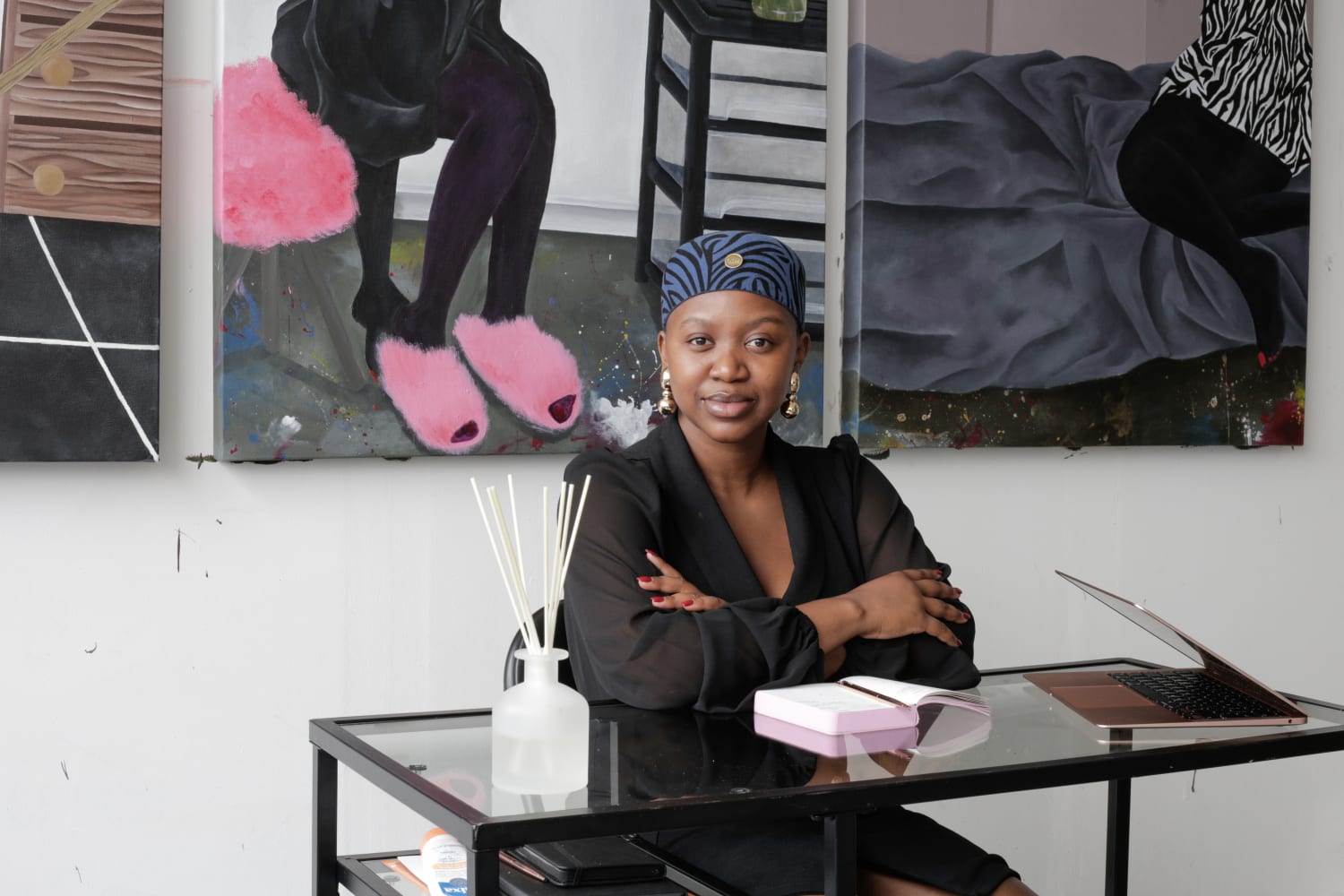 'I want to re-represent the black woman in a more confident, sensual, beautiful manner...'
Zandile is interested in topics of representation, particularly the representation of the black women in historical paintings.
Read full biography
She noticed a pattern whereby black women in paintings were usually placed in the background, often fading into it as if they're not present; or they were placed in compromising situations that reinforce the idea that black women are inferior and should be marginalized. The artist felt a strong need to challenge these ideas and give back the black woman's voice in her paintings by placing the black female figure in a powerful position that allows her to be in control of her own body and the gaze that is exchanged between her and the viewer. The artist then starts to tap into topics of beauty, sensuality and the relationship between the black female body and the landscape.
Zandile Tshabalala in her studio, 2020 - 2021
Zandile Tshabalala speaks about her practice
Zandile Tshabalala is a visual artist born and raised in Soweto. She is currently completing her BA(FINA) at the University of the Witwatersrand. The mediums she works with most often are acrylic, oil paint (and occasionally an infusion of the two) with some sculptural elements, all pieced together on the canvas. She tends to revisit and make reference to the works of painters who came before her, and interpret or rework the works in the way she sees fit for her narrative and relatable to her practice. To name a few artists, the works of Kerry James Marshall, Njideka Akunyili-Crosby, Cinga Samson, Nandipha Mntambo and Henri Rousseau have played the biggest role in influencing the artist's practice as well as her way of thinking.