An estuary is a geographical point where rivers meet the sea, a liminal zone where two distinct realms merge and nurture each other.
There is no subject of subordination in this relationship. The 'mainstream' dissipates – rivers diverge into streams, streams aggregate into the ocean – a point in time and space where intersectional fluidity breeds a complex and diverse ecosystem.
In Dreamscape Estuary, we find a convergence of cultural currents, a place where the dreams and visions of artists flow together, forging a unique and vibrant estuary of artistic expression. The title of the exhibition Dreamscape Estuary serves as a metaphorical bridge between the ethereal and the tangible, the historical and the mythological, the personal and the universal – a complex micro-landscape where individuality unites and integrates into collective consciousness, and cultural memories forge into myriads of private narratives. The exhibition brings together a group of 14 talented Asian artists with various backgrounds and experiences that straddle multiple geographies and cultures. In each of their works, ideas, memories and landscapes are distilled, amalgamated, abstracted or entirely imagined, weaving a rich tapestry of personal mythology that resonates with the complexities and contradictions of Asian experiences.
In the ancient allegory of Chuang Tzu's butterfly dream, the philosopher questioned whether he was a man dreaming of being a butterfly or a butterfly dreaming of being a man, challenging our perception of truth and identity. Similarly, an artwork opens up an estuary of dreams, a portal where private realities and cultural consciousness blur, merge, or contradict. In a way, the dreamscape is fluid and everchanging. Through the complex and often tumultuous waters of identity, memory, and tradition, perhaps art can offer us a glimmer of insight into what's in between.  
Laura Shao is the Director of International Development at Hive Center for Contemporary Art. She holds dual degrees in Linguistics and Screen Studies from Fudan University and the University of Manchester. With her expertise in global Asian artists, Shao helps them to develop internationally through strategic interactions with the greater ecosystem of art among institutions, galleries, academics and private collectors. Before joining Hive, Laura Shao was a 20th and 21st Century Art specialist at Christie's. She has participated in planning and curating several innovative projects, including RADIANCE: Jean-Michel Basquiat, the first major exhibition of Basquiat in Hong Kong. She works between Beijing, Shanghai and Hong Kong. 
Angela Yuen
Angela Yuen (b. 1991) is a Hong Kong-born artist with a degree in Fine Art from the Linfield College (2013) and Hong Kong Baptist University (2014). Yuen uses ready-made objects and manufactured plastic toys to create playful three-dimensional sculptures that cast coloured shadows resembling the Hong Kong skyline. Her work brings audiences back in time to witness some of the faded yet most significant cultural elements of Hong Kong. ​ In 2020 Yuen held a solo exhibition with Contemporary by Angela Li, titled The Lost Time Travel Machine, Hong Kong. Selected group exhibitions include Halfway Up The Flag, Jockey Club Creative Art Centre L0 Gallery, Hong Kong (2023); Art Central, Hong Kong Convention and Exhibition Centre, Hong Kong (2023); 1.5 - 15 Years of Eli Klein Gallery, Eli Klein Gallery, New York U.S.A (2022) and Art Central, Hong Kong Convention and Exhibition Centre, Hong Kong (2022).
Aya Ito
Aya Ito (b.1987) was born in Arida-city, Wakayama in 1987. She received an MFA from Department of Painting, Graduate School of Art, Kyoto City University of Arts. Her works are populated with uncanny figures that resemble ghosts and spirits, borrowing from Japanese traditions. Ito believes, however, that her work is informed by realism more than her imagination, and that they have no explicit narratives or messages. The central subjects of her works are the moods they suggest, which Ito describes as "mild, serious, and silly."
Natisa Jones
Natisa Jones (b.1989) is a visual artist born in Jakarta who works between Bali, Indonesia where she spent most of her childhood growing up, and Amsterdam, Netherlands where she is currently based. Jones completed a Visual Arts diploma studies in Chiang Mai Thailand and a bachelor's degree of Fine Arts Painting in RMIT University in Melbourne, Australia. Fluctuating between abstraction and figuration, while regularly integrating text, Jones seeks to examine the dichotomy of human relationships and inquire into notions of identity.
Lin Shan
Lin Shan (b.1988) is a Chinese artist with a degree from the China Academy of Art majoring in Fresco in 2012, and apprenticed with Carlo Di Raco for her master degree from the Venice Academy of Fine Arts in Painting in 2015. Shan's works are concerned with prying into the realm of personal aspirations, interweaving characters and sceneries, while allowing subtle emotions to retreat into the darkness. The representations in the work are derived from the formation of "human" subject's desire and imagination. The artist cleverly employs the homogeneity of various forms of combinations to induce spiritual stimulation and empathy.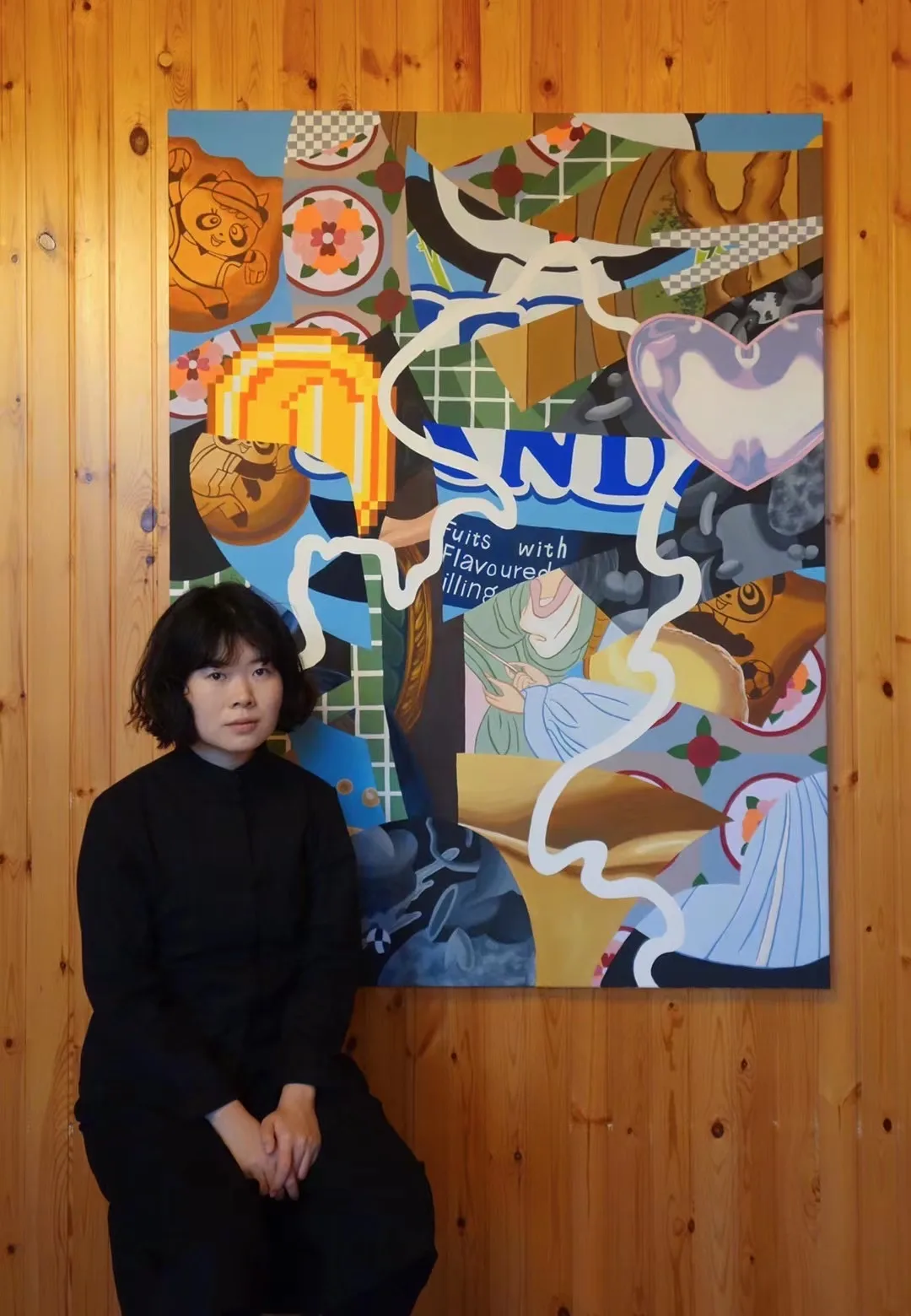 Ziping Wang
Ziping Wang (b.1995) was born in Shenyang, China. She received her BFA degree from Rhode Island School of Design in 2017 and went on to achieve an MFA with distinction from Pratt Institute in 2020. Wang employs dynamic colours, designs of food packaging and everyday visuals to describe a world of visual overload and accelerating commodification. Still lives, saturated tonal palette, pop cultural and art historical references are all blended together to create kaleidoscopic collage-like paintings that mirror the multi-faceted contemporary mindset.
Wang Wenting
Wang Wenting (b. 1985) was born in Luoyang, Henan Province. She studied painting at the Capital Normal University, and graduated from the Experimental Art Department of the Central Academy of Fine Arts with a Master's degree in 2018, and now lives and works in Beijing. Wang Wenting's birthplace, Yanshi, is part of Luoyang, which built up a heavy industrial base during the era of planned economy after the founding of the People's Republic of China. In the late 1980s Wang Wenting's father transferred from farming to private factory ownership. Wang Wenting grew up in such a community of industry and materiality. Memories of growing up in the factory were sown within her like kindling, profoundly shaping the way she understands everything.
Stephen Wong
Stephen Wong Chun Hei (b. 1986) is a Hong Kong based artist. He graduated from the Fine Art Department (CUHK) in 2008. He has since exhibited internationally, with work that explores the relationship between mankind and nature. Recent solo exhibitions include Stephen Wong Chun Hei: Maclehose Trail, Bonhams, Hong Kong (2022); Indoor Hundred Islands, Touch Gallery, Hong Kong (2021) and A Grand Tour in Google Earth, Gallery EXIT, Hong Kong (2021), as well as the duo show Beside the City alongside artist Yeung Hok Tak, with Gallery EXIT, Hong Kong (2019). In 2021, Wong showcased his work on Unit London's online viewing room, Platform, the success of which resulted in his first solo exhibition in our Mayfair space in 2022, titled Dream Travel.
Wang Xinyan
Wang Xinyan (b. 1995) is an artist who was born in Beijing. Shegraduated from Central Academy of Fine Arts with an undergraduate degree in 2017, and received her MFA from Central Academy of Fine Arts and the School of the Art Institute of Chicago in 2020 and 2022. Her interest and focus on prehistoric civilisation is evident in her recent practice, where silhouetted objects, rough brushstrokes and dark brown tones envelop the canvas.
Xia Yu
Xia Yu (b. 1981) was born in Anhui, China and graduated from the Third Studio of the Oil Painting Department at the Central Academy of Fine Arts in 2004. An artist of the post-1980s generation, the personal life trajectory of Xia Yu and his generation inevitably finds parallel references in his paintings. Xia Yu's works closely follow and reflect the lives of ordinary people, with the mundane helplessness and inadequacy, the typical happiness and joy. The figures have always been characterised by the artist in a very localised manner, with plump faces, delicate facial features, and unperturbed expressions, revealing a gentle and respectful nature that are difficult to distinguish between an innate disposition and a product of discipline.
Mie Yim
Mie Yim (b. 1963) was born in South Korea and lives and works in New York. She holds a degree from Tyler School of Art, Rome, Italy (1983) and Philadelphia College of Art, Philadelphia, PA (1986). The artist's practice is deeply rooted in her emotional past, particularly her childhood experiences. Having undergone an abrupt migration from Korea to Hawaii during her youth, she has been profoundly influenced by feelings of disconnectedness and longing. Her art serves as a means to reconstruct a sense of purpose and identity from these fragmented memories.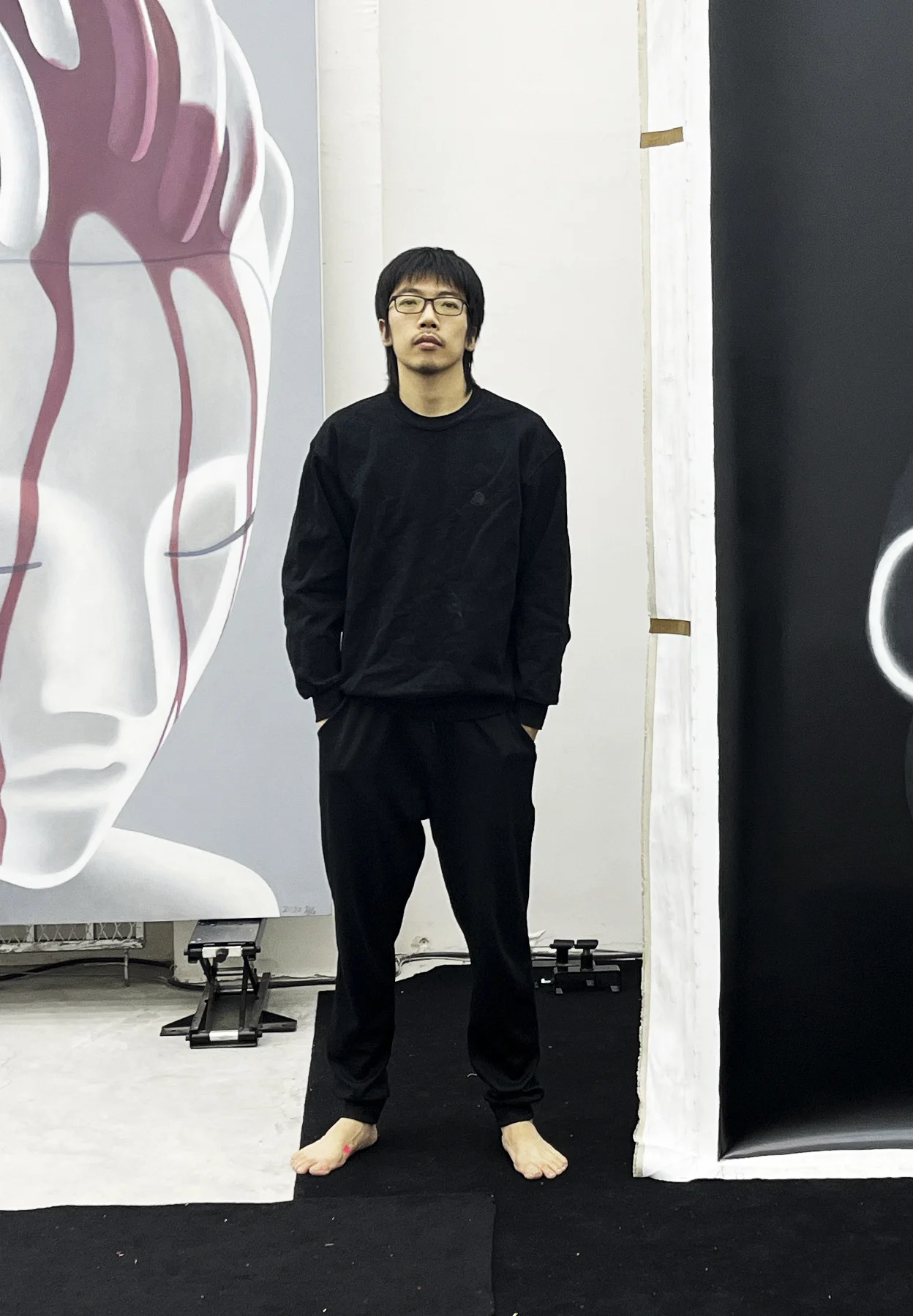 Tan Yongqing
Tan Yongqing (b.1990) is an artist born in Hebei Province. He was admitted to the Painting Department of Tsinghua University (2010) and attended the Graduate School of Fine Arts of Tsinghua University (2014). His paintings are in perpetual exploration of the universality and layering of life. The figures in his practice are often presented in a blurred and distorted manner, with a hint of gloom, emptiness, and detachment. While at the core is the artist's concern for life consciousness and social issues.
Lu Yu
Lu Yu (b. 1996) is a visual artist born in Shanxi Province. She holds a degree from Xi'an Academy of Fine Arts in 2018 and is now a postgraduate student in the oil painting department of the Central Academy of Fine Arts. In Lu Yu's view, painting is a process in which one uncovers order amongst chaos, gradually suppressing their agitated imagination and returning the imagery to the place it belongs. The sculptural figures from her raging imagination possess the qualities of eternity and idyllic reverie. The artist had her debut solo exhibition, titled Becoming XLI Lu Yu: Sunnyside, with Hive Center for Contemporary Art, Beijing, China in 2023. Selected group exhibitions include A Couple of: The Dual-mechanism of the New Generation of Asian Artists, Hive Center for Contemporary Art, Beijing, China (2021) and Shape of Lovers, Hive Center for Contemporary Art, Beijing, China (2020).
Cheung Tsz Hin
Cheung Tsz Hin (b. 1987) is a Hong Kong-born artist who obtained his Bachelor of Integrated BBA (minor in Fine Arts) from the Chinese University of Hong Kong in 2010, and a Master of Fine Arts in Taiwan in 2014. The artist explores everyday objects and experiences in his delicate, dazzling paintings that derive from both reality and his memories. His works has been featured in solo and group exhibitions in Hong Kong, Taiwan and Iceland. In 2020 Yuen held a solo exhibition with Contemporary by Angela Li, titled The Lost Time Travel Machine, Hong Kong. Selected group exhibitions include Halfway Up The Flag, Jockey Club Creative Art Centre L0 Gallery, Hong Kong (2023); Art Central, Hong Kong Convention and Exhibition Centre, Hong Kong (2023); 1.5 - 15 Years of Eli Klein Gallery, Eli Klein Gallery, New York U.S.A (2022) and Art Central, Hong Kong Convention and Exhibition Centre, Hong Kong (2022).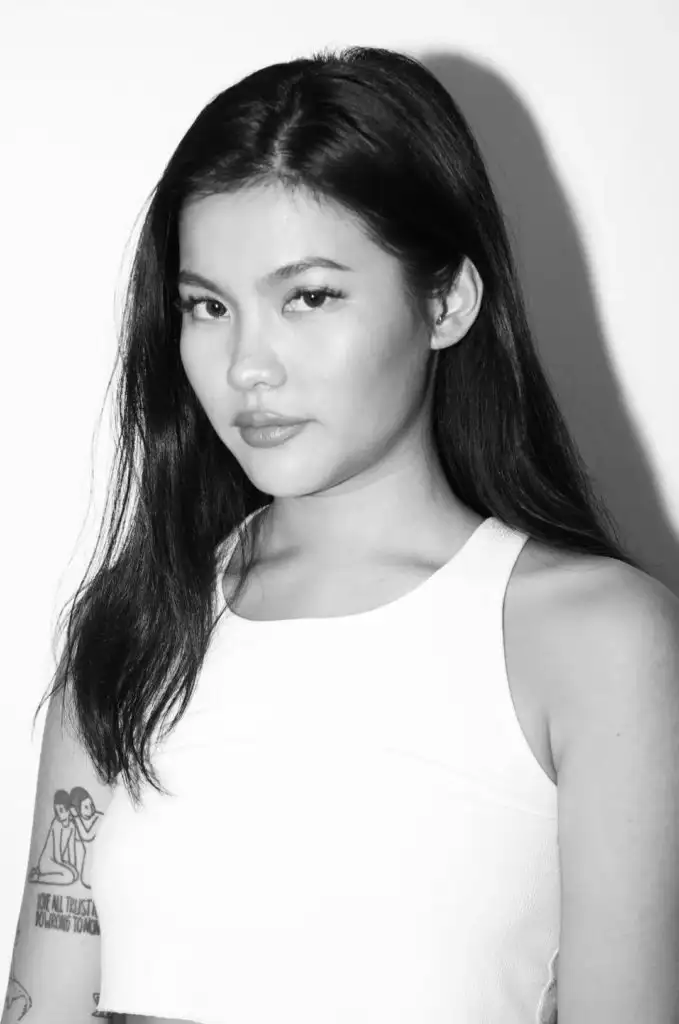 Ma Hailun
Ma Hailun (b. 1992) is a Chinese artist who moved to New York in 2013 to pursue her studies at the School of Visual Arts. Studying within the Western art school system was formative and encouraged her to look to her own cultural upbringing for inspiration. The artist held multiple solo exhibitions globally, including Uruklyn, Gaotai Gallery, Xinjiang, China (2021); Ma Hailun, Hometown, Gaotai Gallery, Xinjiang, China (2019) and Hailun Ma, DE:FORMAL, NYC (2016). Selected group exhibitions include The Color of Pomegranates, Gaotai Gallery, Xinjiang, China (2023) and The Endless Garment, X Museum, Beijing, China (2021).
Works selected for the show aim to transcend geographical boundaries and offer a glimpse into the shared dreams and aspirations of artists who draw from their roots while engaging with global dialogues. Xia Yu (b.1981, China) and Tan Yongqing (b.1990, China)'s works contemplate the relationship between the human and the universe through their meticulous crafts of portraiture. In River and Portrait of A Man, the protagonist gazes skyward, his face glistening with white light, evoking the poignant quest for a brighter tomorrow. His image juxtaposed with a narrow glimpse of a river, perhaps a symbol of the passage of time or the perpetual force of nature. But what does that future look like? In Black Heart, Tan portrayed an astronaut looking down into the deep shadow of the galaxy, as if excavating archaeological evidence of our own existence. 
While some look out to the outer world in search of meaning, others delve into the boundless, often enigmatic realm of our subconscious, where memories, emotions and myths converge and forge new connections of realities. Indonesia-born Natisa Jones (b.1989, Indonesia) draws inspiration from her cross-continental experience in Thailand, Australia and the Netherlands. In her work, the body turns into a vehicle that transports one from physical experience into spiritual journeys. The spiral lines mirror the staircases in her childhood home in Bali as well as her studio in Amsterdam, an intricate piece of architectural motif that connects and convolutes the private and the public, the past and the current. A similar tremble from displacement can be sensed in the work of Mie Yim (b.1963, Korea), who left Korea for Hawaii at a young age and later moved to New York to pursue her artistic career. Feelings of uncertainty and estrangement spring into kaleidoscopic forms and explosions of vibrant palettes. Wang Xinyan (b.1995, China) shares this psychological intensity. Profoundly interested in petroglyphs and rituals from prehistoric civilisation, Wang uses painting as a vessel for the visualisation of her subconscious, igniting raw, primitive energy to illuminate the pathway to innermost emotional landscapes. Cats, the night sky, the shimmering lake of Chicago – fragments from her everyday life around the world are amalgamated into a cathartic and pictorial exploration of her identity. 
Moving through the exhibition, the viewers are invited to embark on a treasure hunt that recollects, through various media, childhood objects endearing to each artist. Wang Ziping's (b.1995, China) latest sculpture edition is a fascinating totem pole that wields the seductive power of sugar-coated sweets and the magnetic fields of celestial bodies at once. Angela Yuen (b.1991, Hong Kong) carefully assembles found objects from vintage markets, a vestige from Hong Kong's rapid urban development, and translates the familiar into a new Dada-ist dreamland that permeates love and nostalgia. Wang Wenting (b.1985, China) recalls the magical moments as a kid watching incandescent substances transform in states and shapes in a smelting plant, which harks back to mankind's earliest astonishment at alchemy. Ma Hailun (b.1992, China) infuses the audacity and theatricality of her practice of high-fashion photography into the representation of the people from her hometown Xinjiang, forming a refreshing language that unbashfully expresses the vernacular beauty. 
As the world gets ever more lost in translation in today's Babel Tower of divided ideologies from social media, many artists resort to vocabularies of surrealism to form their personal gesticulation and connect with the viewers. In Aya Ito's (b.1987, Japan) work, the figure enters a state of vacuum where rules of gravity and physical reality are distorted or even dispelled. Her canvas morphs into a psychological space, richly layered with possibilities. Joyously waltzing with the endless whirls of destiny, the artist poses the question 'Where am I going' to her many selves in the parallel universes. Contrarily, the self is concealed in Lin Shan's (b.1988, China) allegorical works. Having majored in fresco at the China Academy of Art and then received her master's degree in painting from Accademia di Belle Arti di Venezia in Italy, Lin's anthropomorphic depiction of objects explores the dilemma of rationality and desire. Painstakingly she slides the brush against shaped aluminium boards to create a silk-like surface with haptic details, rendering "portraits" of indoor flowers and still life against backgrounds of open wilderness, alluding to the lust for freedom and its impending punishment. 
In face of the grand torrents of history, trivialities of life seem so very vulnerable yet precious that can only be shielded and preserved by artistic geniuses. Cheung Sze Hin's (b.1987, Hong Kong) and Stephen Wong's (b.1986, Hong Kong) works are both powerful statements of the tenacity and healing power of art. While Cheung finds fleeting sparks of divinity through microscopic scenes of the forgotten and dilapidated, Wong unveils the majesty of nature by taking the viewers on an otherworldly hike through every detail from his visual memories and imagination. 
The youngest artist of the show, Lu Yu (b.1996, China) is a prime example of a new generation of artists who wander through idyllic reveries in an age saturated with digital imagery. Her Peace Lily, painted with generous sculptural volume, is a testament to the eternal search for classic grace and simplicity in the contemporary world. 
Dreamscape Estuary coincides with Frieze London 2023, one of the key events in the global art calendar. At a time when heightened global connectivity hails the beginning of a post-pandemic era, it is easy to forget the peril of deglobalisation lurking beneath the surface of political and ideological instability. Why does cultural identity matter in a hyperconnected world where places and cultures are connected with a click or a flight? What does it mean to be Asian (artists)? The show is by no means a utopic fantasy of a united vision of Asian artists today nor a passive viewing experience to dictate what it should be. It is an invitation to embark on a journey of discovery and connection to a fluid micro-landscape of dreams – a dreamscape where lives and stories meet and connect.
Peace Lily
2023
Oil on canvas
60 x 60 cm
Dark Heart
2023
Oil on canvas
60 x 60 cm
Exodus IV
2023
Oil on canvas
180 x 120 cm
Calla Lilies Dance No.3
2023
Oil on aluminium
61 x 76 cm
Where are you going
2012
Oil and crayon on canvas
180 x 160 cm
The Fire
2023
Acrylic on canvas
150 x 200 cm (framed)
Sweet Wind From the South
2023
Polyurethane resin, enamel paint
50 x 13 cm
Xinjiang Fashion Guide II
2020
Archival pigment print
100 x 69 cm (framed)
Precious Cargo II
2023
Acrylic gesso on canvas
150 x 120 cm
River and Portrait of a Man
2021
Tempera on board
40 x 50 cm
Flaming Night
2023
Oil on canvas
160 x 120 cm
dancing on the branches
2023
Oil on canvas
120 x 120 cm
Peyote
2023
Oil on canvas
152.4 x 142.24 cm
The Dreamer III
2023
Plastic toys, made in Hong Kong plastic toys, resin, motor, gear, beads, LED lights
39 x 34 x 41 cm
Exhibition Catalogue
Explore the full selection of artworks, additional curatorial texts and more.
Request Preview
Welcome to Unit London
Sign up for updates on
exhibitions, artists and events.