Bobbi Essers' paintings evoke a sense of intimacy and emotional connection, offering privileged glimpses into fleeting moments shared within her friend group.
Amidst the swirling sea of bodies, six individuals emerge in the stark flare of camera flash, which illuminates their forms while the world around them fades into the background. By focusing on portraying those closest to her, Essers captures an experience uniquely personal and yet broadly universal – the enchantment of friendship.
Working from personal photographs, Essers tirelessly pursues the perfect quality of light. Her artworks conjure atmospheres that traverse seasons and settings, dayglow and nightshade – often within the space of a single work.
Each painting emanates a distinct luminosity, capturing the gentle warmth of summer sun or the blinding effect of a camera flash bouncing off bodies. Essers deliberately selects raw and unrefined photographs as source material, capturing her subjects in honest, unguarded moments. She meticulously sifts through a multitude of snapshots, seeking those rare instances that encapsulate the ineffable essence of her closest relationships.
I've been blind as can be
2023
Oil on canvas
220 x 175 cm
Rumour has it
2023
Oil on canvas
220 x 175 cm
Up to no good
2023
Oil on canvas
220 x 175 cm
I'm looking for the silver lining
2023
Oil on canvas
220 x 175 cm
Too soon to tell
2023
Oil on canvas
220 x 175 cm
At the heart of Essers' artistic practice lies the idea of shared experiences.
Her goal is not to attain the perfect likeness, but rather to create a harmonious blend of the subjects' true essence and, perhaps more significantly, the way in which she perceives and feels about each of them. Every painting is infused with love, portrayed with searing honesty, serving as testament to the profound connection the artist shares with her friends. This sense of intimacy is laid bare in her works, with the figures' unselfconscious states of undress evoking the closeness of a relationship in which nothing is hidden and everything is shared.
For the viewer, the familiarity of these portrayals contains a hint of voyeurism – after all, these are not our close friends and yet aspects of their true selves are laid bare before us.
Essers' ability to evoke these strong feelings of interconnectedness extends a hand towards the viewer, inviting us into her world. In this realm of interaction, we can almost smell the salt-tang of the beach, feel the cool evening breeze, hear the bass vibrations of the music or share in the bonds of friendship uniting the figures. As we experience these distinct sensations, we become a part of the work.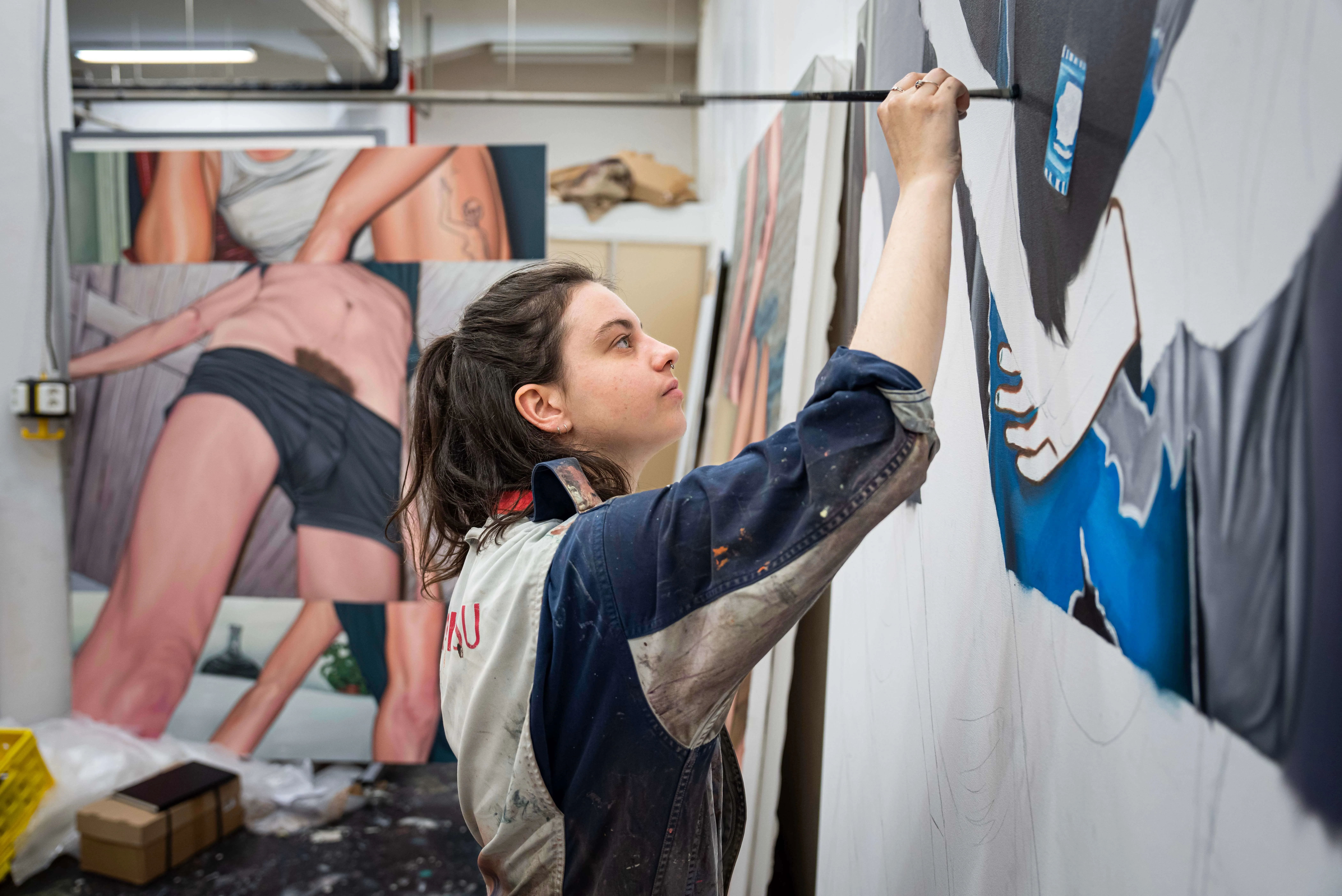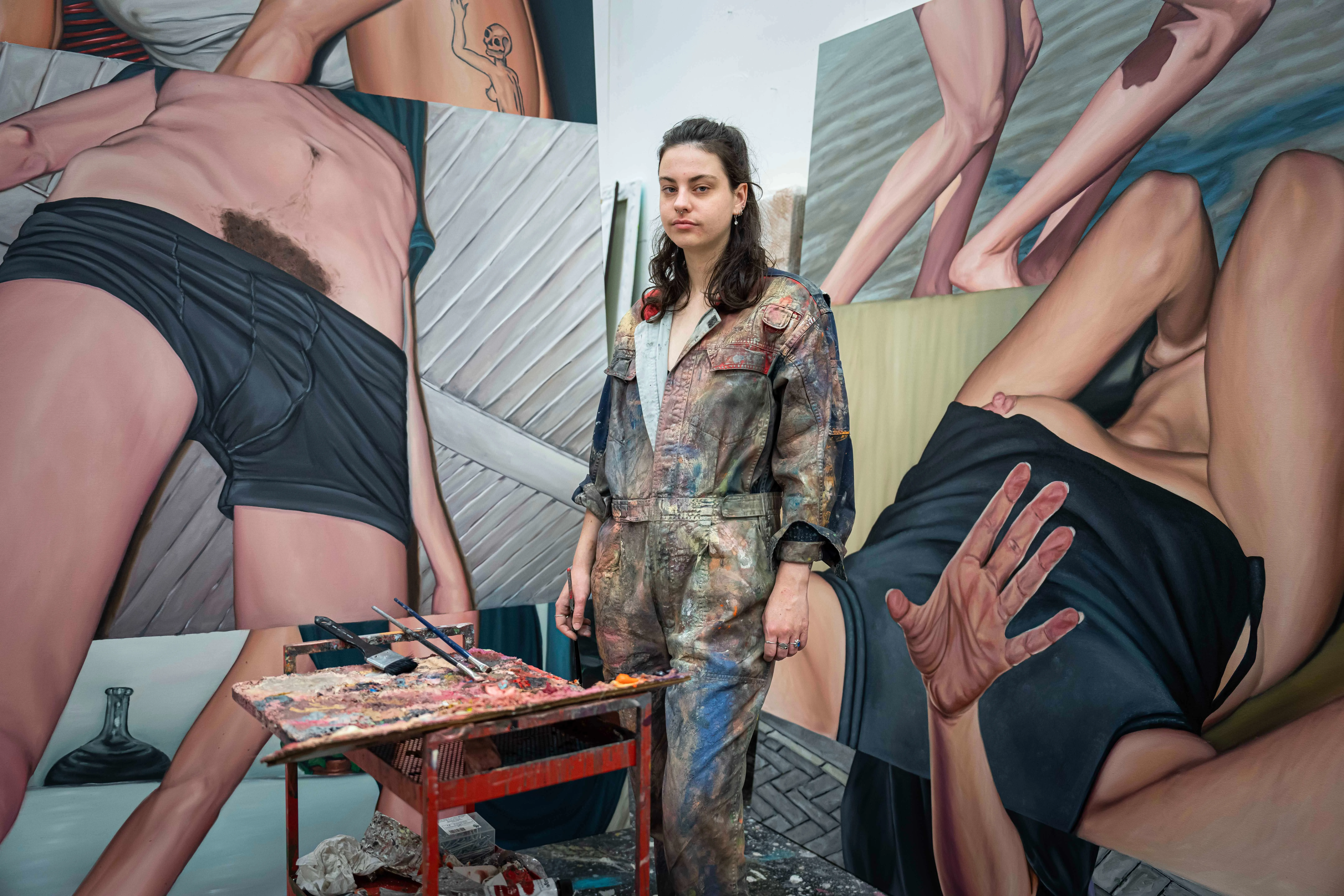 Essers transports her viewers through time and space, immersing them in a vivid tapestry of nostalgia.
The unvarnished realities of her images evoke a time before Instagram filters, studied selfies and self-consciously constructed online personas. They suggest the vanishing possibility of a youth spent in a more analogue age, when Tumblr was king and enjoying the moment was more important than recording it for posterity. Paradoxically, this is exactly what her works do: through a lengthy painting process, Essers bears testament to the transitory moments of everyday perfection that she has experienced and invites us to remember our own.
Bobbi Essers (b. 2000, Enschede) lives and works in Groningen, Netherlands.
The artist graduated in 2022 with a Fine Art degree from the HKU University of the Arts Utrecht and won the Buning Brongers Award for Painting in Amsterdam the same year. Inspired by youth and queer culture, in which long nights are a must and sleeping is insignificant, Essers immortalises her cherished friendships in large-scale paintings. Challenging traditional perceptions of gender roles, her work demonstrates that gender and sexuality have no specific appearance.
Recent solo exhibitions include I'll meet you at nightfall, Allard Wildenberg Projects, Naarden, Netherlands (2023) and Living in a daydream, Oever Gallery, Oostende, Belgium (2023). Her works were featured in group exhibitions at Marian Cramer Projects, Los Angeles (2023); Preuss Collection, Better Go South, Berlin (2023); Gallery Stigter van Doesburg, Amsterdam (2023) and Museum More, Gorssel (2022), among others. In 2024 her work will be featured in a group exhibition at Centraal Museum in Utrecht.
Chosen Charity
Amnesty International
Amnesty International is a global movement of more than 10 million people who take injustice personally. We are campaigning for a world where human rights are enjoyed by all.
Only when the last prisoner of conscience has been freed, when the last torture chamber has been closed, when the United Nations Universal Declaration of Human Rights is a reality for the world's people, will our  work be done.
– Peter Benenson, Founder, Amnesty International
Visit website