For Platform, Katja Farin has produced a series of original screenprints of intimate and lived human experiences.
The LA-based artist's work focuses on the human figure, usually within theatrical spaces. These mise en scènes bring about wider conversations between their largely expressionless protagonists, focusing on the dynamics of the human figure and their interactions with their environment.
Farin often plays with a warped perspective, exposing the different facets of the human experience and, on a wider scale, our shared social experiences as a collective unconscious. Their artistic influences range from contemporary artists such as Noah Davis and Issy Wood, to more classical influences such as Max Beckmann, Edvard Munch, R.B. Kitaj, and Édouard Vuillard.
"My work is mainly about people and their interpersonal connections, gender and identity.
I try to describe and find the way that we interact, because in our current state of culture and society, it's such an interesting way we have found ourselves and how we talk to people, and how we connect, and connection has been changing a lot. Even just throughout my life, how we use the internet and how we use social media and all these things impact how we see ourselves and how we see others."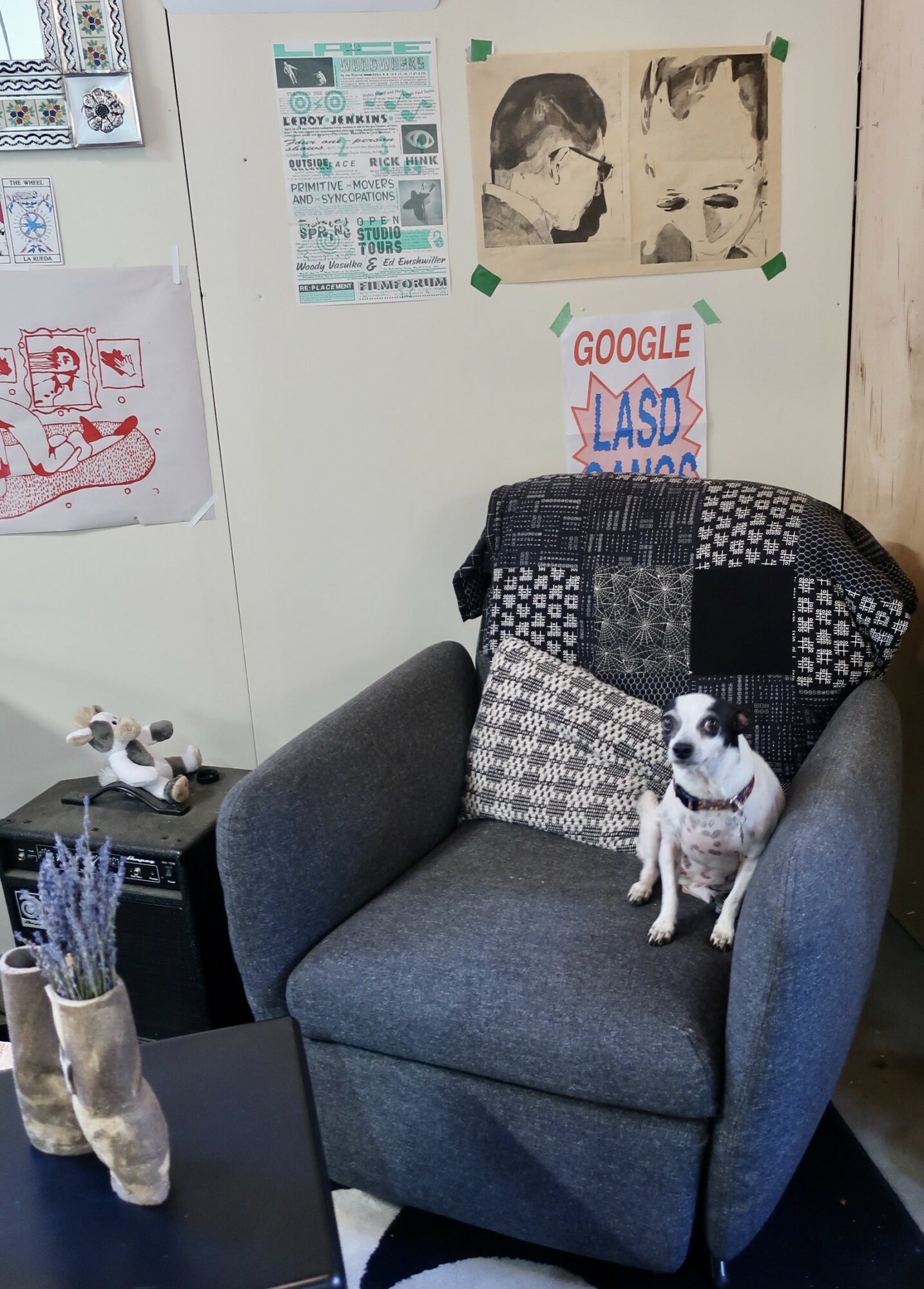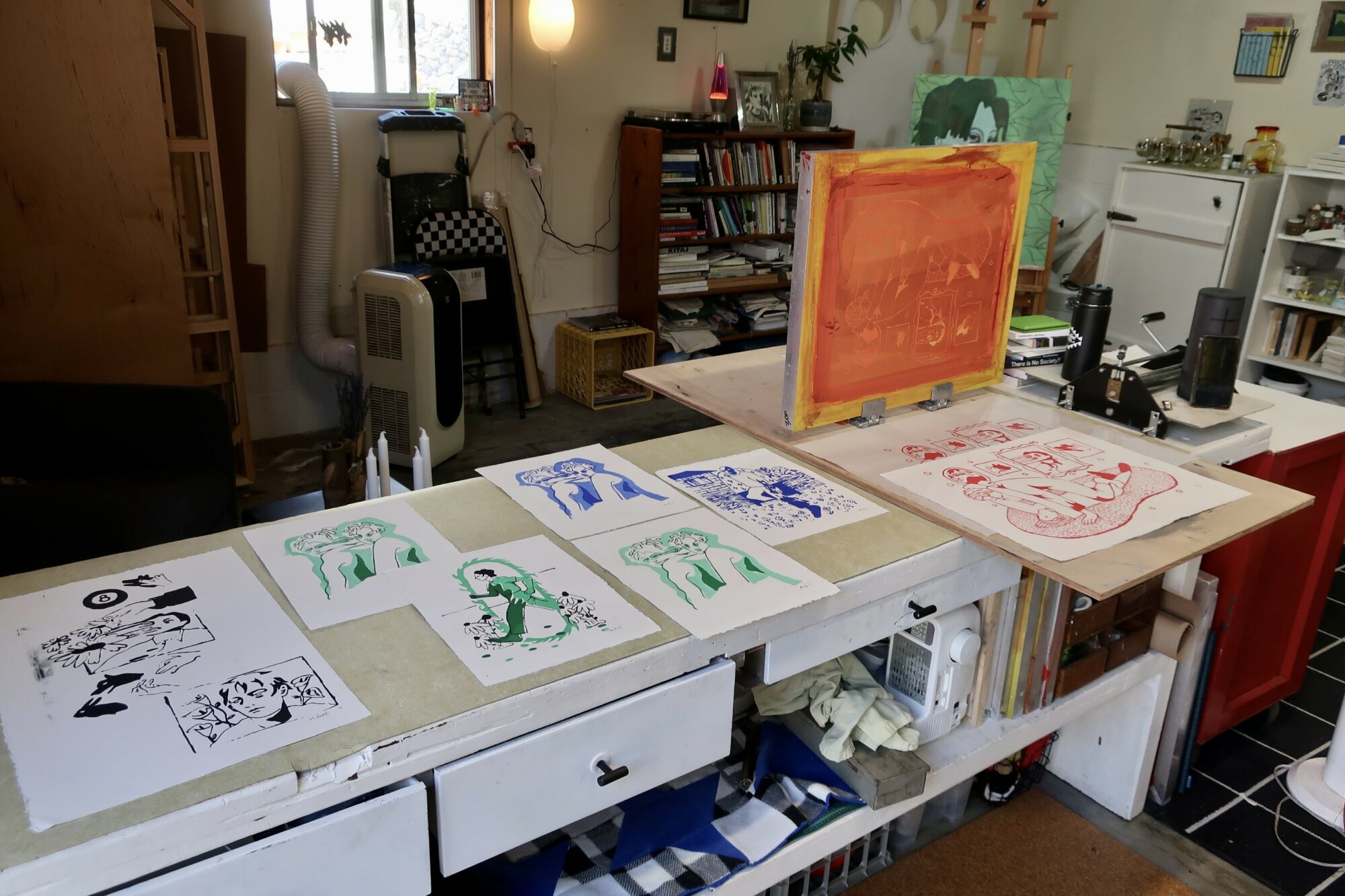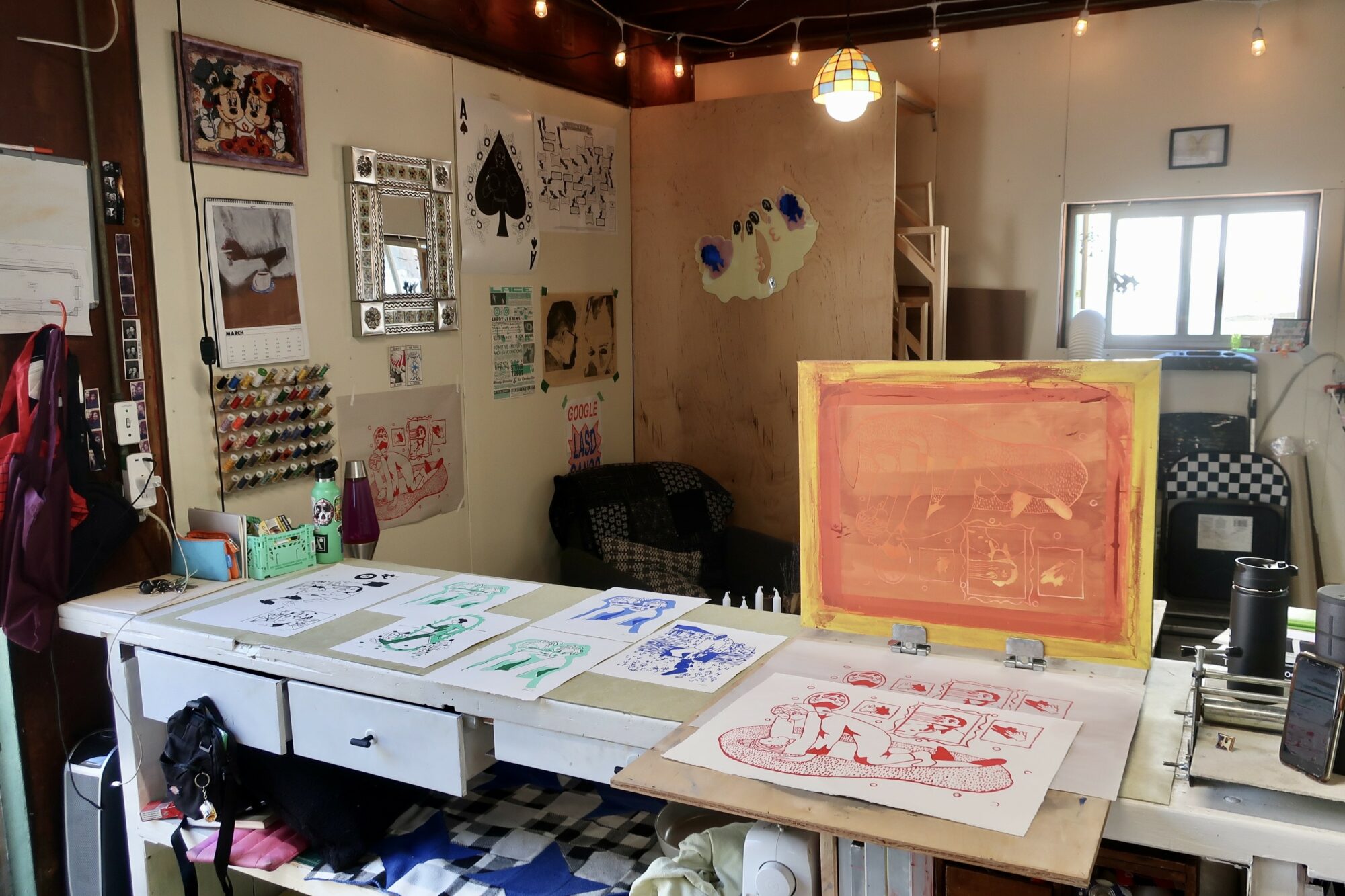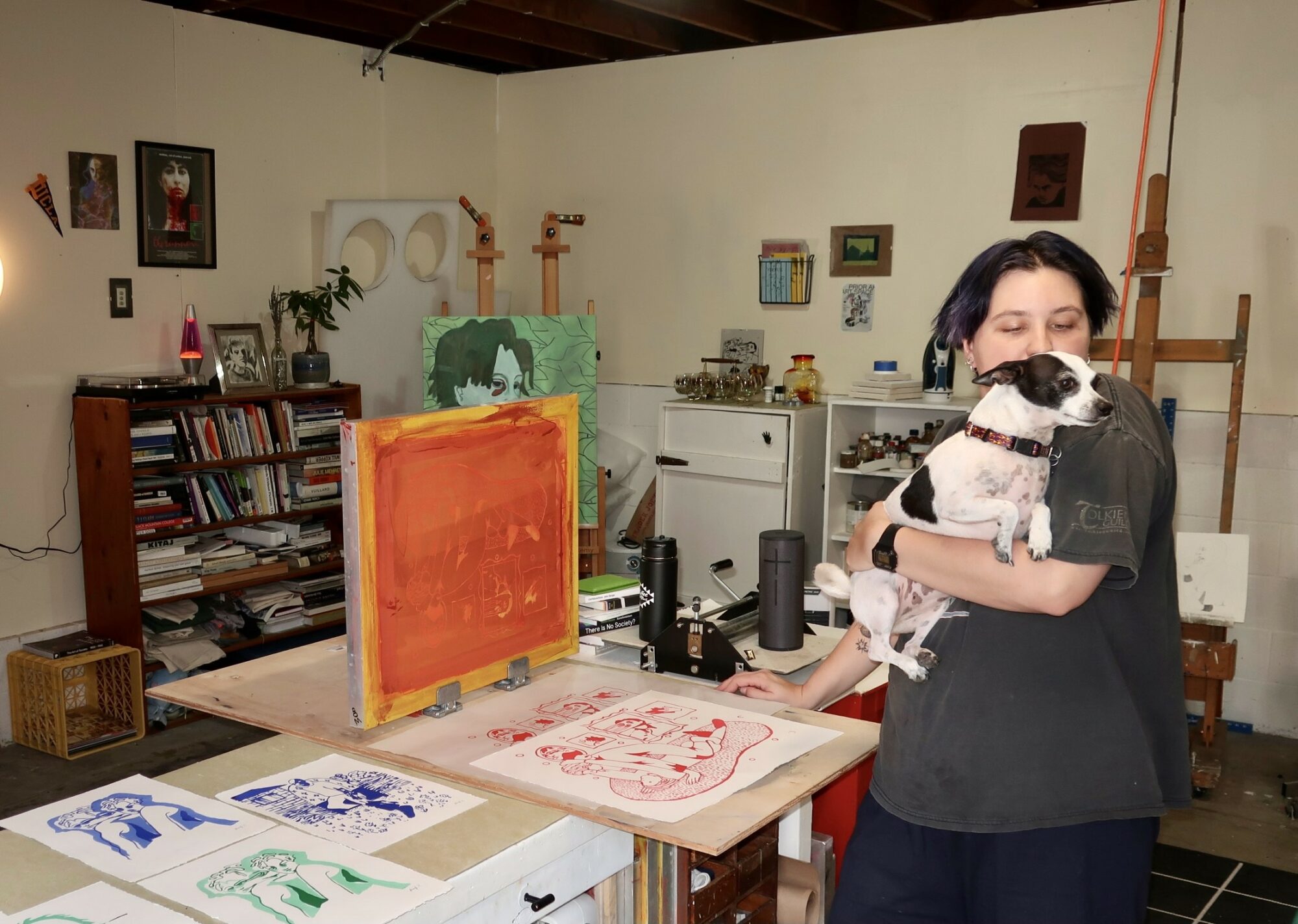 Through the Mirror
2022
Screenprint
33 cm x 25 cm
Topple Over
2022
Screenprint
38 cm x 51 cm
Green Split
2022
Screenprint
33 cm x 25 cm
Transition
2022
Screenprint
33 cm x 25 cm
Blue Split
2022
Screenprint
33 cm x 25 cm
Vignette
2022
Screenprint
51 cm x 33 cm
"Normally I make a drawing, and then from the drawing I either decide to make a print or a painting or both. I've just started learning how to screenprint, so these are the first editions of the work I've made – it's been a really fun process to learn and connect with in a very different way, comparatively to how I've done etching in the past.
Humour is important to my work. I want things to be uncanny or funny, but never too serious. All the figures are always very serious and they take themselves more seriously than the world does, which I find really exciting. This work is a collective of different ideas I've been working with for a while with shadows and mirrors and all these motifs which have to do with the self and self-reflection."
Katja Farin (b. 1996) lives and works in Los Angeles.
They earned a BA in Fine Art from UCLA. Their work has been featured as a Critic's Pick in Artforum, for their first solo show at in lieu, Los Angeles. Farin was also featured as one of Cultured Magazine's 30 under 35 artists for 2020. They have had solo presentations at Era Gallery, Milan; Lubov, New York; and in lieu, Los Angeles, as well as being included in group exhibitions at Beers, London; Wilding Cran, Los Angeles; and Nicodim, Los Angeles.
Chosen Charity
Tranzmission Prison Project
The Tranzmission Prison Project (TPP) is a queer- and trans-powered prison abolition organisation that provides free literature and resources for incarcerated members of the LGBTQ+ community. TPP is based in Asheville, North Carolina.
Visit website