Characterised by luscious lashes, maroon lips and vibrant fabrics on curvaceous bodies barely contained by their frames, Kevin Sabo's painted ladies present drag as a continual process of becoming.
Drawing inspiration from pop culture of the late 1990s and early 2000s, Sabo's characters are clothed in slinky tube tops, spaghetti straps and chunky platforms. In these figures, he pays homage to his childhood icons, including Pamela Anderson, Britney Spears, Lil Kim and the Spice Girls, as well as drag queens such as Most Softest Pillow, Bo Quinn and Richmond performer Wacky Jacky. 
Through his recent introduction of the butterfly motif, the artist alludes to that pivotal moment when the caterpillar emerges from its cocoon, transformed into a fluttering, fabulous creature who is ready to dazzle the world with their newfound brilliance.
"A lot of mainstream drag portrays this super-self or immaculate feminine alter-ego, but I've always been drawn to the gritty, self-made, less polished approach. It just feels so truthful to me."
With a storied history in the arts, drag has long been explored through works that challenge rigid social and sexual archetypes.
From Surrealist artist Marcel Duchamp and his female alter-ego Rrose Sélavy, who was famously photographed by Man Ray, to Pop artists like Andy Warhol, the art of gender-bending has often been adopted as an act of subversion. Taking a contemporary approach to this subject matter, Sabo adapts the rich cultural history of drag to explore a personal narrative of queer fantasy that is rooted in themes of change, renewal and self-discovery.
Chrysalis
2023
Acrylic, graphite on canvas with painted canvas on wood cutouts
165.1 x 134.62 cm
Green Supreme
2023
Acrylic, graphite on canvas with painted canvas on wood cutout
73.66 x 40.64 cm
But I'm a Star!
2023
Acrylic, graphite on canvas with painted canvas on wood cutout
73.66 x 40.64 cm
Secret Place
2022
Acrylic, graphite on canvas
101.6 x 76.2 cm
Wavepool
2023
Acrylic, graphite on canvas with painted canvas on wood cutout
73.66 x 40.64 cm
Disarming Wig
2022
Acrylic, graphite on canvas
76.2 x 60.96 cm
Feeling Shoppy
2023
Acrylic, graphite on canvas
60.96 x 45.72 cm
T9ing
2023
Acrylic, graphite on canvas
101.6 x 76.2 cm
Much like putting on layers of clothing or applying makeup, Sabo dresses his canvases in swathes of acrylic, at which point the painting process becomes the transformative performance.
After applying an initial coat of red-tinted paint, he creates textural contrast through the emphatically incised pencil lines that delineate the figures' spiky – at times downright grumpy – features. These formal contrasts echo the conceptual binaries that Sabo playfully undermines in his work.
Sabo's paintings emanate a punky, rebellious spirit.
The artist captures the moment when his unapologetically self-aware queens overcome any lingering fears or uncertainties, stepping out of their comfort zones and into the limelight. As these "fussy divas" embrace their peculiar allure, Sabo hopes that their assertive display of vulnerability "encourages others to harness their own twisted, sloppy beauty".  
Kevin Sabo (b. 1992) lives and works in Richmond, Virginia, where he recently co-founded the artist-led space Pamplemousse Gallery.
His figurative paintings in acrylic and graphite on canvas are vibrant, powerful and bold, riffing on themes of gender expression and queer fantasy. Sabo has exhibited his work internationally and his work is held in private collections around the world. Recent solo exhibitions include Fussy Fleur, Bim Bam Gallery, Paris; Kimberly Pepperoni's Closet, Kates-Ferri Projects, New York; and Who Is She?, Schlomer Haus, San Francisco (all 2022). His work has also been featured in Surface and Metal magazine.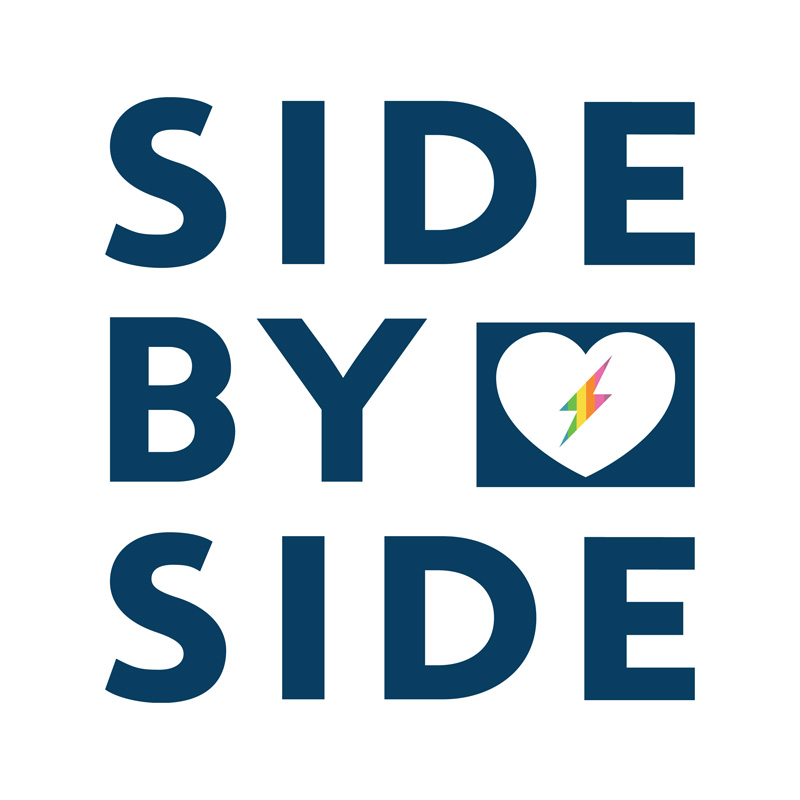 Chosen Charity
Side By Side, Richmond
Side by Side is dedicated to creating supportive communities where Virginia's LGBTQ+ youth can define themselves, belong and flourish. For over 25 years, the organisation has been working side by side with LGBTQ+ youth to help meet their needs and achieve their dreams, through support groups, consultations and training aimed at youths, families and schools.
Visit website