Rooted in tradition and custom, Kristof Santy's work is an amalgamation of various visual elements of everyday life.
Thematically ranging from classical portraiture to kaleidoscopic still lifes, Santy's artistic practice covers a multitude of enigmatic imagery often populated by interiors, landscapes, gastronomy and folklore tales. Rendered in bright and vibrant palettes, his works possess a joyous and playful quality.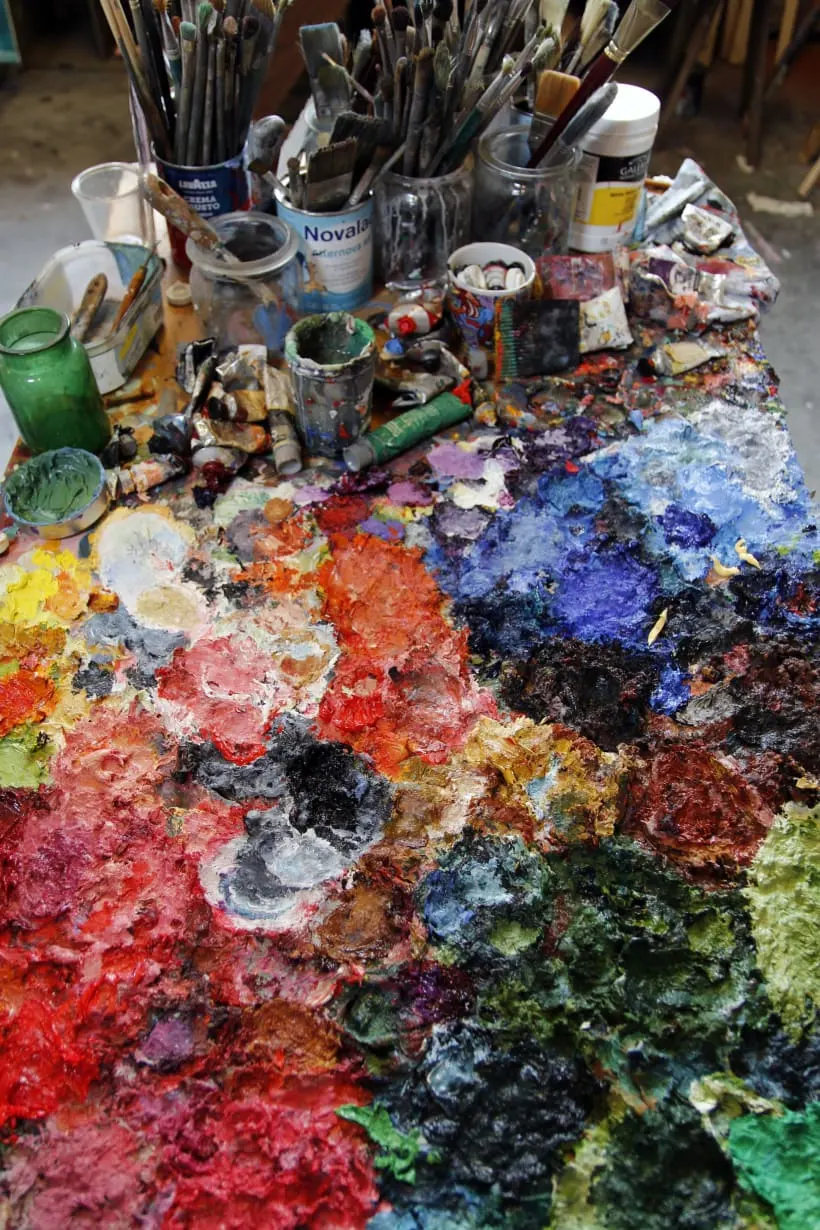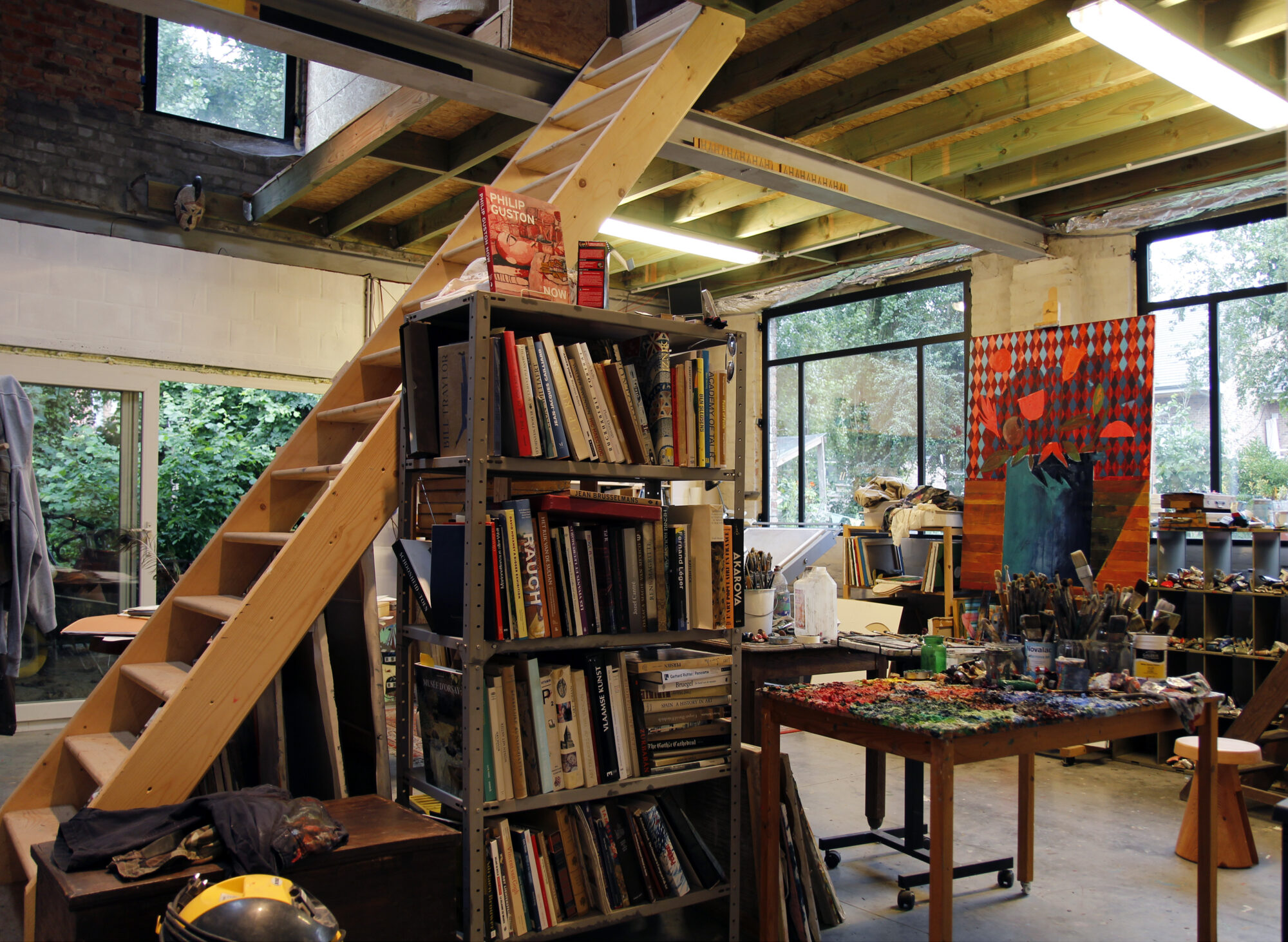 Maintaining his work is not narrative-based, Santy does not view himself as a storyteller; instead he allows the imagery to speak for itself.
Employing reality as his main instrument, Santy's eclectic studio along with his art book and folk art collections serve as immediate aesthetic inspiration. Though he studied the works of many nineteenth and twentieth-century artists, it was while exploring the works of Philip Guston and Jean Brusselmans that he discovered his distinct way of painting.
Building dynamic compositions around seemingly mundane scenes which capture his imagination, Santy creates imagery that exudes a sense of familiarity.
For his Platform exhibition, the artist chose a coherent selection of four large-scale still lives, focusing on the interplay between colour, form and shape. These pieces are the product of Santy's current artistic fixation, focused around the idea of creating the perfect still life. These immersive works captivate with their elaborate compositions, characterised by their colour-blocked flat planes, encouraging the viewers to embark on an entrancing journey into a stylised world.
Fornuis
2021
Oil on canvas
160 x 140 cm
Frieten met oud bruin
2021
Oil on canvas
150 x 150 cm
Fruitmand
2021
Oil on canvas
160 x 140 cm
Fruits de mer
2021
Oil on canvas
160 x 140 cm
Kristof Santy in Conversation
What inspired the works in this exhibition?
I have recently gotten in the flow of painting still lives. These paintings match the body of work I made last year and I enjoyed making them so much that, at the moment, it's become a little obsession of mine to make the perfect still life. That is currently the main focus of my practice.
What is your process like when creating a new work? Do you ever work from memory or preparatory drawings?
I usually make preliminary studies, but the final painting always turns out completely different from the drawings that have been made. And that's completely okay! I also paint over many of my works. If the composition doesn't work, I don't mind just painting over it again and again.
Are your works rigorously planned, or do you allow room for improvisation?
Nothing in my work is pre-planned. When I am painting, I am in the moment and completely follow my gut, as the most important thing is that I enjoy the process of making each piece.
What would you say was the key to finding your artistic style?
It all started with the discovery of works by Jean Brusselmans. The stylistic approach of the subjects felt so pure. It definitely served as an inspiration for my own artistic approach. Also, being locked up in my studio during the lockdowns allowed me the space and time to be super focused. I had nothing to do but really focus on my craft.
What are some of the things that shaped who you are as an artist?
Finding beauty in the everyday life and pleasure in the little things like; visiting museums, reading books, collecting things I find in flea markets, long talks with my artist friends, and enjoying my home
Have you ever gone through a period of not painting?
Yes, when I was renovating my studio…anyone who has ever dealt with renovations will understand the struggle.
Is there anything you wouldn't paint?
I believe every subject is paintable. Except for my wife – it never works out!
Born in 1987, Kristof Santy is a Roeselare-based painter who is inspired by folk tales and customs.
He presents figurative work based on mythological stories and stylised still lives, naively approaching observations from his immediate environment. He refers to artists such as Philip Guston, Jean Brusselmans, Domenico Gnoli and Konrad Klapheck, but also immerses himself in popular prints by anonymous artists. In 2021, Santy had his debut solo exhibition, titled Nijverheid, with Thomas Serruys Gallery, Bruges, Belgium.
Chosen Charity
VZW Onze Kinderen
Since 1945, VZW Onze Kinderen has continuously worked on a differentiation of forms of assistance for children and young adults. 'De Trompet' is a non-profit programme designed to help improve the living situation for children suffering difficulties at home, as well as families struggling with educational complications. In consultation with the young people and their families, the organisation provides tutors who create a tailor-made program that is focused around each child's emotional and physical strengths and needs; providing them with a safe space to turn to after school and during the holidays. 
Visit website
Kristof Santy has discovered an expressive, individual approach in his figurative works and still lives, creating compelling images of everyday subjects.
Visit artist page
Exhibition
La Grande Bouffe
In his solo exhibition La Grand Bouffe (The Big Feast), Kristof Santy celebrates the ubiquitous act of cooking.
View exhibition