Unfolding in ebullient strokes of creamy whites, rose pinks, and dusky purples tones, Lindsey Mclean's work is immediately recognisable in its traditional aesthetic and contemporary execution. Characteristic of her practice are voluptuous figures that play with the idea of entanglement and movement as they are accompanied by lavish feather boas, fans and veils. Exploring notions of femininity surrounding the female figure and the male gaze at its centre, Mclean's series playfully draws from classical iconography and twentieth-century paintings.
Almost suspended in time, Mclean's paintings recall the aesthetic of François Boucher and Titian.
Concerned with reclaiming feminine excess and frivolity on strictly feminist terms, this body of work draws from the tradition of fête galante paintings but with a distinctly contemporary freshness. Mclean's paintings are also about the exploration of paint, as each fluid brushstroke coalesces lyrically on the canvas to create striking imagery that slips from pure figuration and borders on abstraction.
Despite the harmonious arrangements of colour and form, and the decadent paraphernalia, the mood remains unsettling.
This effect is caused by the often cloaked faces of the protagonists of these stories. Even when the eyes are visible, upon closer inspection, it seems as though they are never staring directly at the viewer, but at something in the distance. Gazing into an unknown abyss, the eyes are full of emotion. This further enhances the mysterious atmosphere, intensifying the paintings' contemporary sensibility.
White Boa
2022
Oil on linen
150 cm x 76 cm
Burning Fan
2022
Oil on linen
140 cm x 110 cm
Gloved
2022
Oil on linen
100 cm x 80 cm
Snake and White Boa
2022
Oil on linen
140 cm x 110 cm
Veil and Sword
2022
Oil on linen
190 cm x 120 cm
Unlike her previous works, this series introduces a new element into Mclean's practice – the colour white.
Often a symbol of purity and innocence, the artist explores the colour in correlation to weddings and grief. "Personally, the colour white expresses my emotions with struggling and coming to terms with the breakdown of my long-term relationship. Endings are a time of reflection, within these paintings are the inner push and pull of emotions and the change of relationship one has with themselves during a personal transformation."
The work Veil and Sword follows the story of the Roman noblewoman-turned-saint, Lucretia. Her tragedy began when Sextus, the son of the tyrannical Etruscan King of Rome, raped her. Lucretia extracted an oath of vengeance against the Tarquins from her husband and father, after which she killed herself in shame. Enraged by her death, Junius Brutus led a victorious rebellion against the Etruscan king and freed the Romans from Etruscan rule, marking the beginning of the Roman Republic.
Mclean's rendering of the tale is an empowering challenge to the way that St Lucretia has been portrayed throughout the years.
Unlike her previous portrayals, in Veil and Sword Lucretia is in full control of her destiny, projecting the sword outward and towards the viewer. Traditionally a masculine symbol, in this work the sword is stripped of its power. Lucretia's face is cloaked with a flowing white veil, granting her the anonymity and respect that she deserved. By reimagining traditional narratives, Mclean questions and critiques both history and contemporary culture that often fetishise the victimisation of women.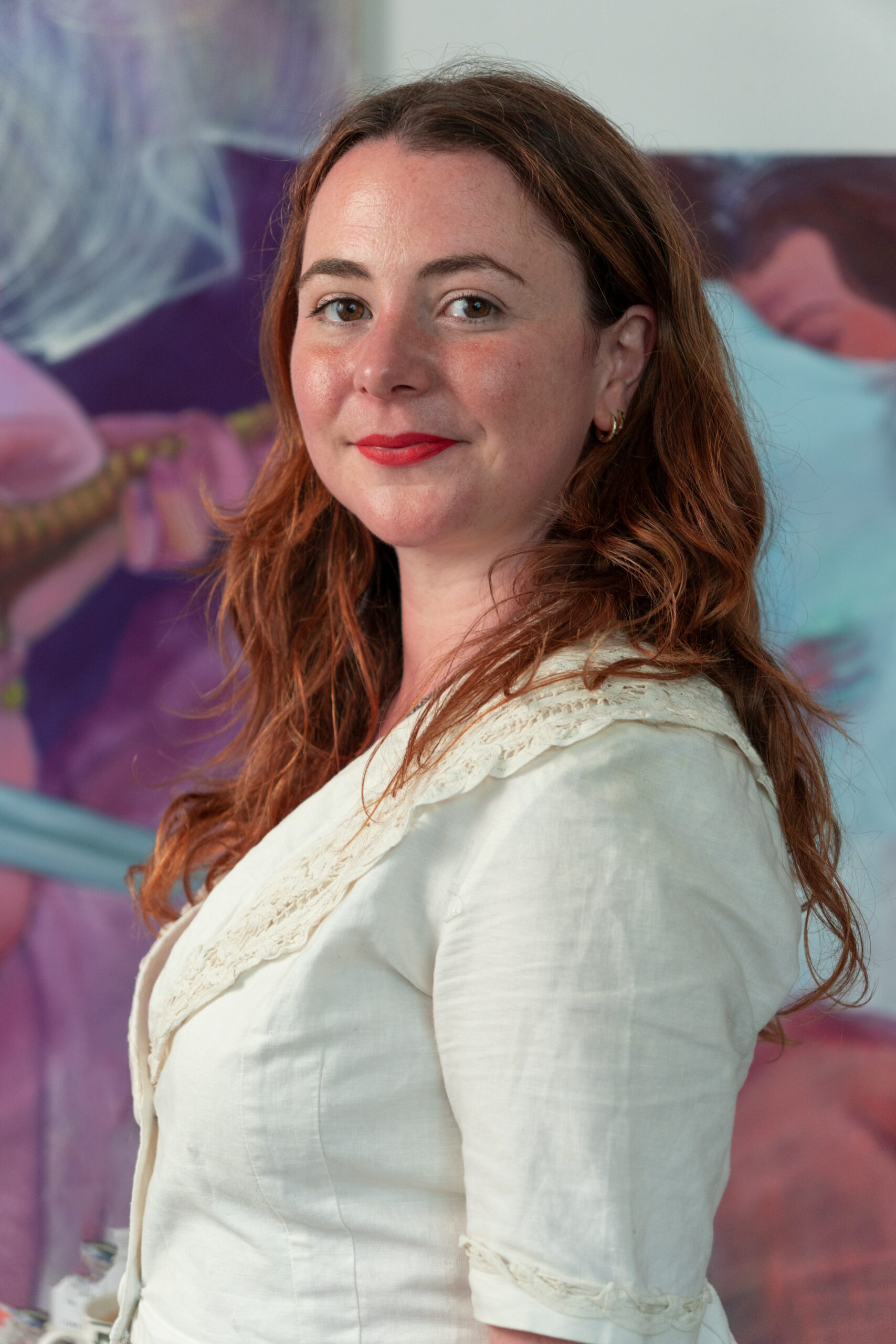 Lindsey Jean Mclean lives and works in London. She holds a BA in Printing and Printmaking from Glasgow School of Art and a Postgraduate Diploma from The Royal Drawing School. In 2021 Mclean graduated with an MFA in Painting from The Slade School of Fine Art. Her work has been featured internationally including: Veiled Bodies, Liliya Art Gallery, London, UK (2021); a solo exhibition at Galerie Wolfsen, Aaborg, Denmark (2022); and Power of Femininity, Kutlesa Gallery, Goldau, Switzerland (2022).
Chosen Charity
Stroke Association, UK
Originally conceived in 1898 as the National Association for the Prevention of Consumption and other forms of Tuberculosis (NAPT) and internationally recognised today as the Stroke Association, the organisation works to support people to rebuild their lives after a stroke. Their research is focused on helping to improve treatments, care and rehabilitation, saving thousands of lives and helping stroke survivors make the best recovery they can.
Visit website