Madeline Peckenpaugh's practice focuses on striking landscapes that engulf the viewer in unique synaesthetic experiences.
Drawing inspiration from nature, the American-born artist uses the exterior world to delve into the subconscious, exploring the role that the environment plays on the self.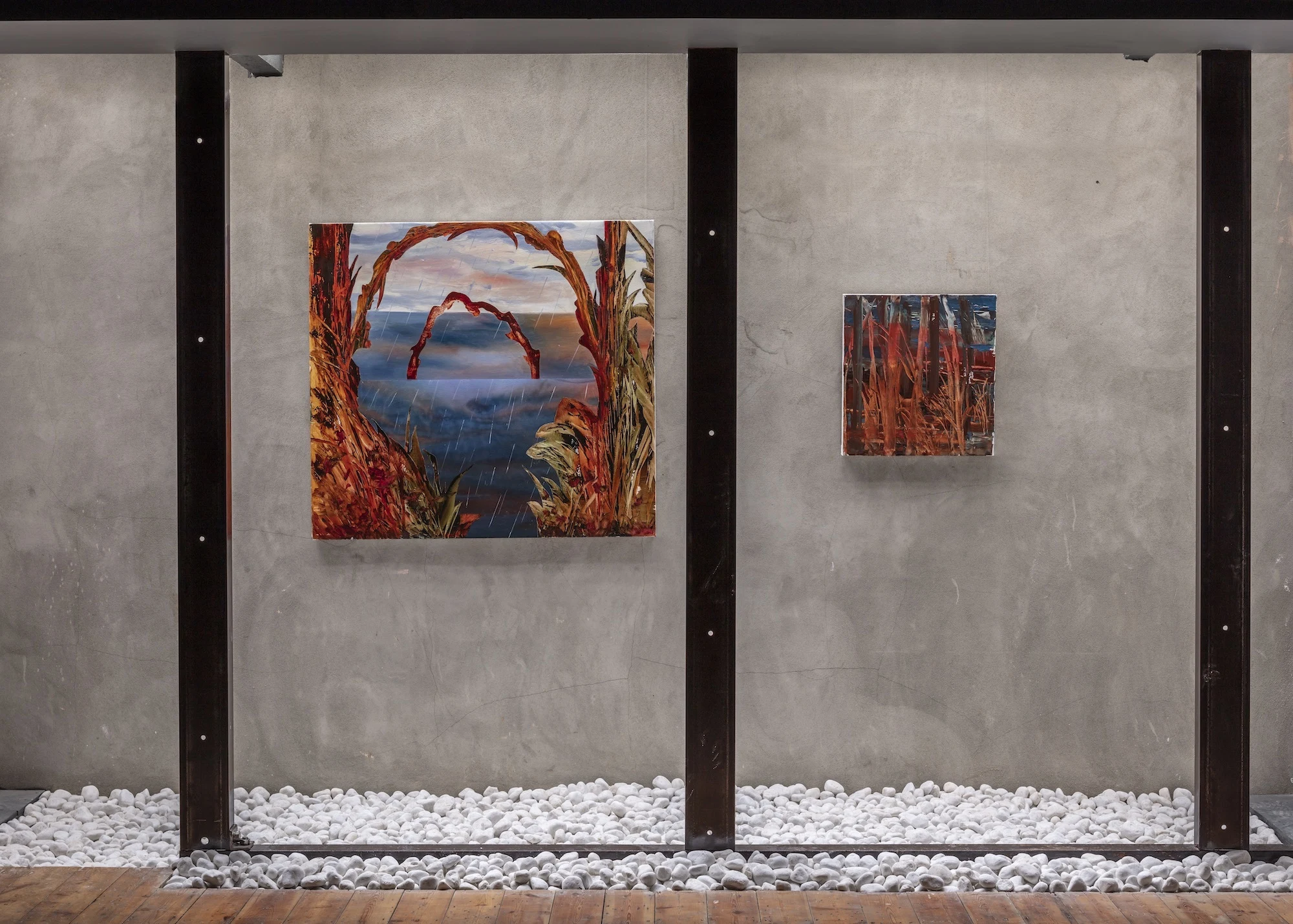 This new body of work channels chaos and tension, resulting in complex scenes that exist on the verge of abstraction.
To achieve this complexity, Peckenpaugh works with multiple layers of paint, building depth and texture. Each work is an interplay between removing and building coats of paint, while the finished pieces reveal what was previously concealed. Textures assume a key role in the artist's visual language and in the reading of the paintings.
The intricately detailed compositions remove the singular focal point, allowing for narrative ambiguity. The works can elicit a serene, almost contemplative quality that is further emphasised by the lack of human presence.
Three Degrees
2022
Oil and acrylic on canvas
127 cm x 127 cm
Blue Bird
2022
Oil on canvas
152 cm x 152 cm
Light Rain
2022
Oil and acrylic on canvas
112 cm x 122 cm
Red Route
2022
Oil on canvas
57 cm x 55 cm
Half-Life
2022
Oil on canvas
152 cm x 137 cm
Red Bird
2022
Oil on canvas
132 cm x 132 cm
Born in 1991 in Milwaukee, Wisconsin, Madeline Peckenpaugh lives and works in Brooklyn, New York.
She holds an MFA in Painting from the Rhode Island School of Design in Providence and a BFA from Pennsylvania Academy of Fine Arts in Philadelphia. She had a solo exhibition in 2021, titled Neither Night nor Day with 1969 Gallery in New York, NY. Her work has been included in multiple international exhibitions, some of which include: The Natural World: Pt. II, Alexander Berggruen Gallery, New York (2022); Sholto Blissett, Emma Fineman, Madeline Peckenpaugh, Alexander Berggruen Gallery, New York (2021) and I have an Idea!, 1969 Gallery, New York (2021). Peckenpaugh's works are held in collections that include Woodmere Art Museum in Philadelphia, PA; Ghent House in Columbia County, NY and Brown University in Providence, RI.
Chosen Charity
Women's Medical Fund, Wisconsin
Women's Medical Fund (WMF) is one of the oldest abortion funds in the USA. Since 1972, the volunteer-led, nonprofit organisation WMF Wisconsin has supported Wisconsin residents in paying for abortion care, while also organising access to safe abortions.
Visit website