In their two-person Platform presentation, Gabrielle Banks and Skye Volmar present a series of works known collectively as Split Ends.
This phrase becomes shorthand for conversations surrounding isolation, performativity, and the relationship between girlhood and womanhood. The show, named for the artists' portrayal of hair, depicts different hair types and hair practices as they relate to various perceptions of Black women.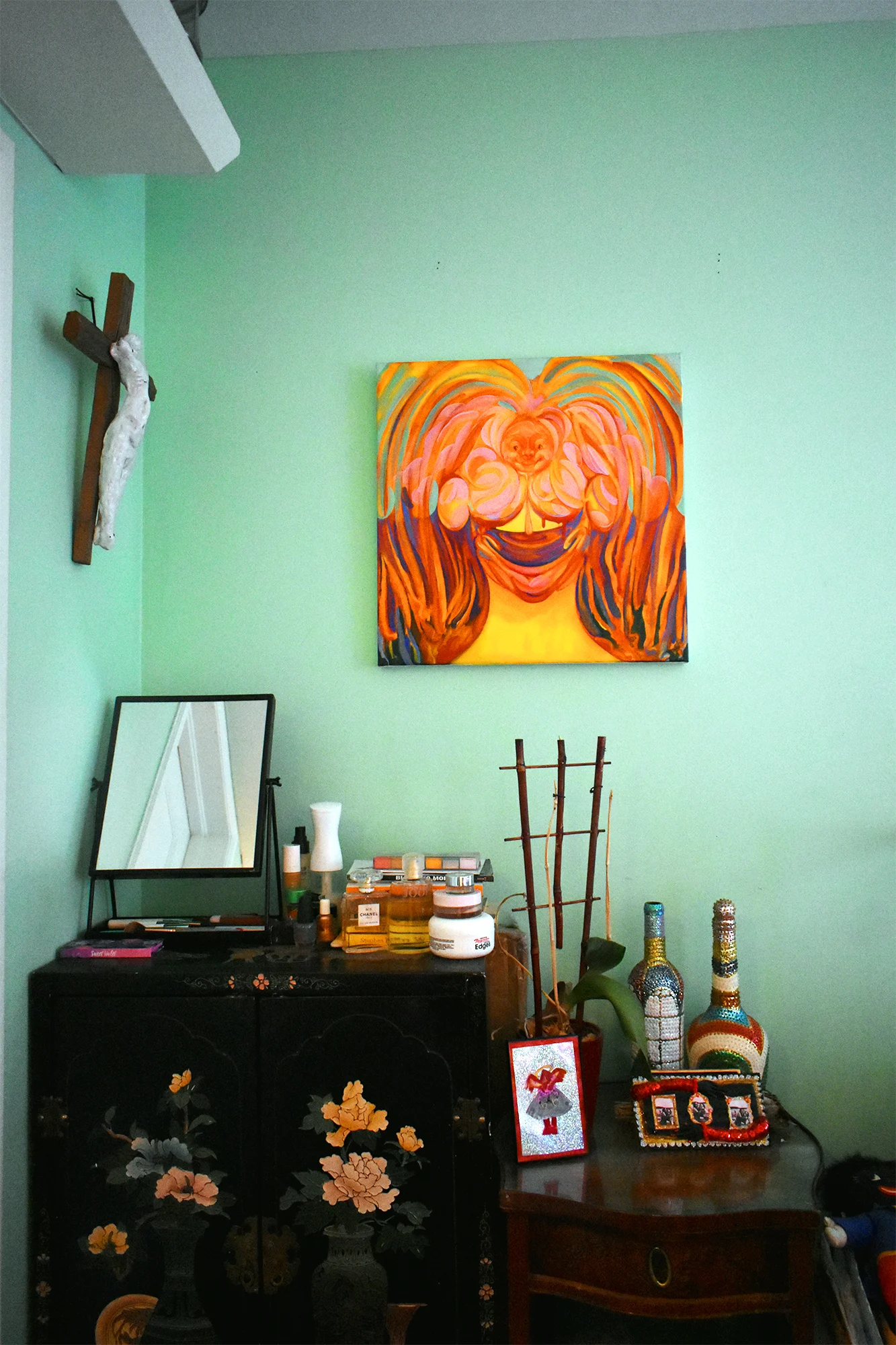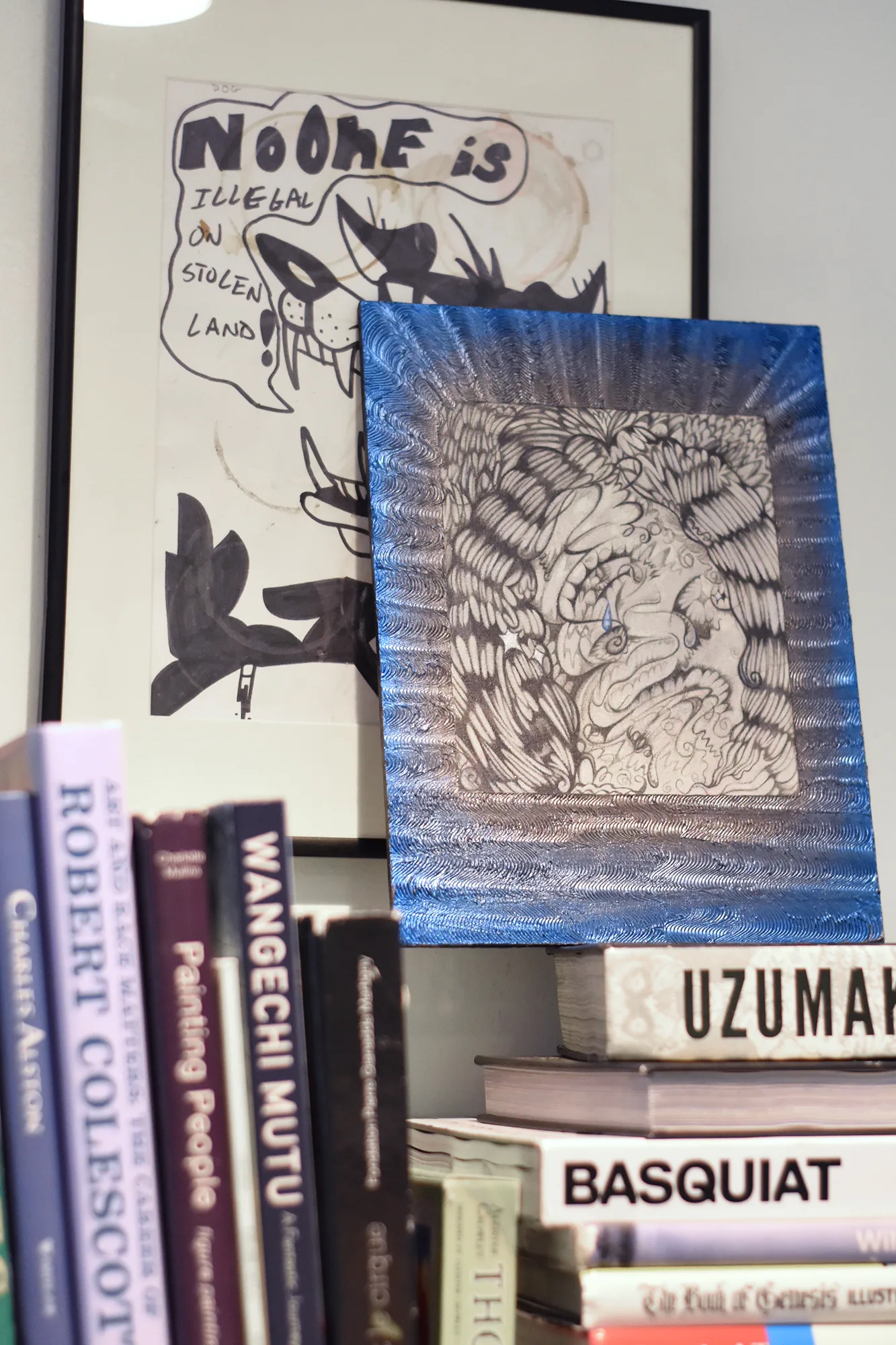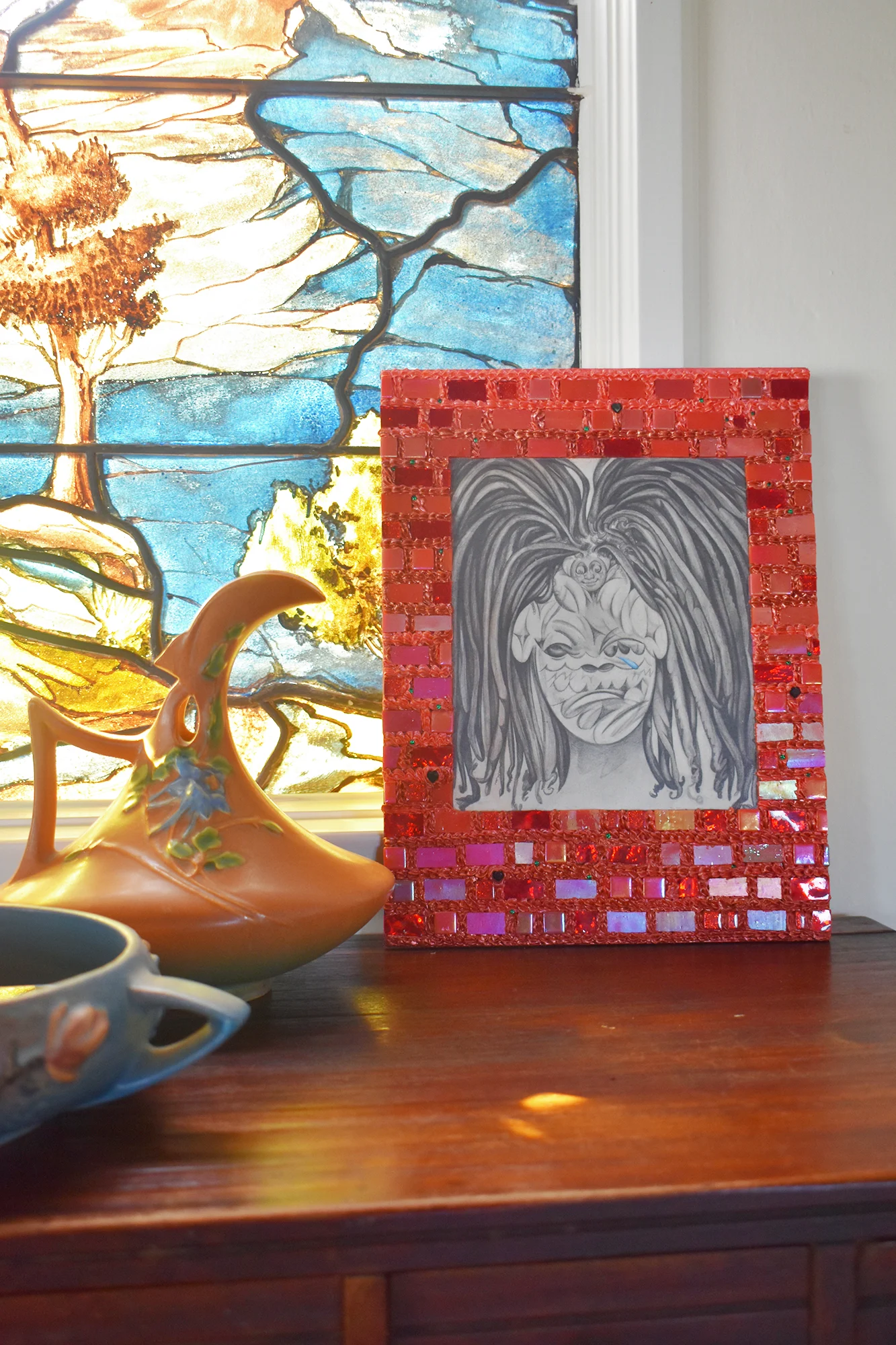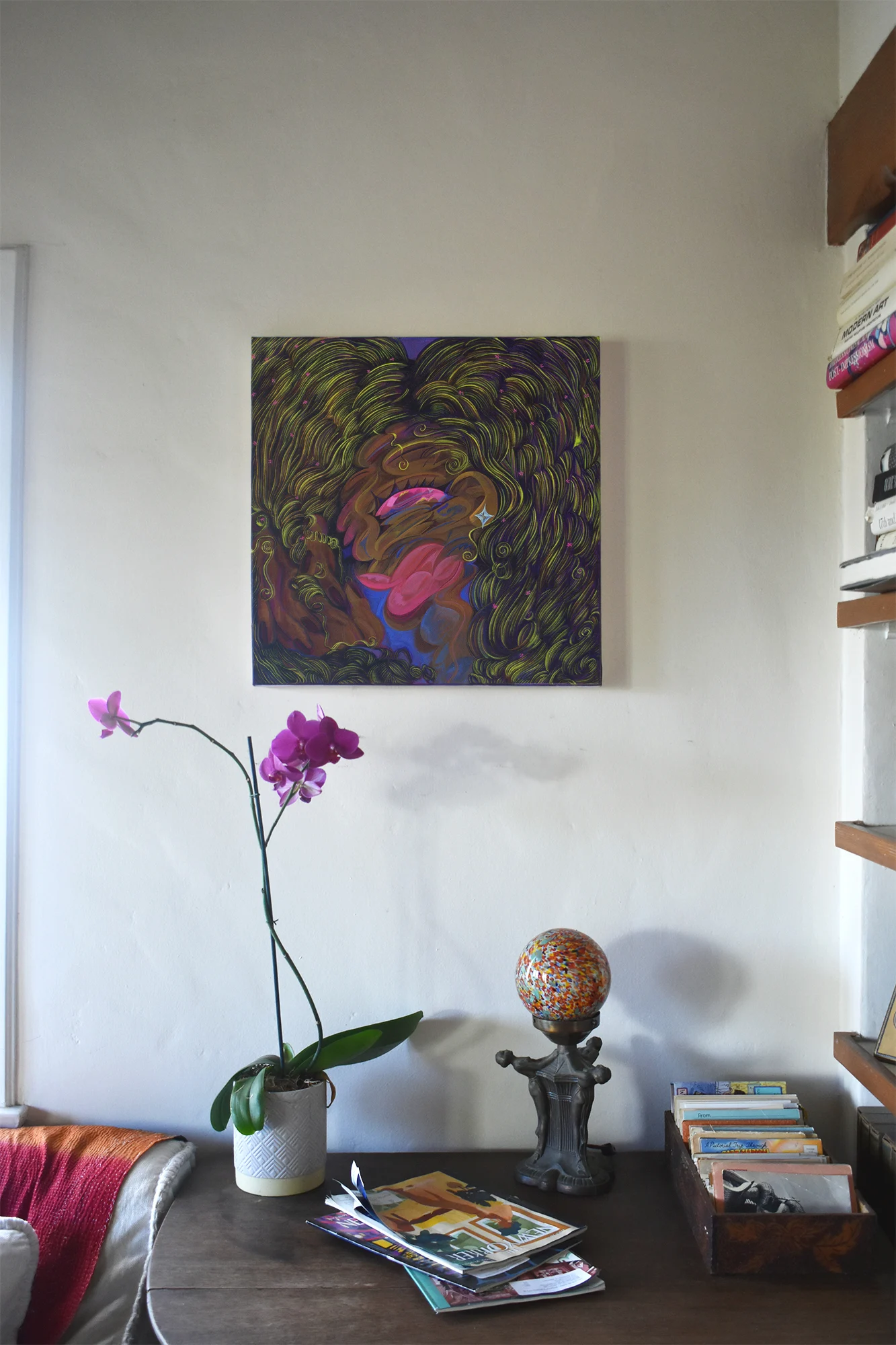 Often, work created by Black artists is categorised as inaccessible. At best, this "inaccessibility" looks and feels like seclusion and, at worst, it is exclusion.
By sharing this platform, Volmar and Banks provide the audience – and each other – with greater insight and understanding of lived Black experience. The two have a common goal: to see each other and to feel seen. In this case, self-portraits are a way for the artists to see themselves, especially when no one else is looking. Ultimately, this show is an exchange that lends itself towards continued self-preservation, growth and healing.
Orange Moon (The Mother in Me)
2020
Acrylic and oil on canvas
61 x 61 cm
motion picture
2021
Acrylic, graphite, pearlescent pigment, and silicone on masonite
30.5 x 21.5 cm
Water Signs
2021
Graphite and gouache on paper, with frame
43 x 39 cm
humidity humility
2021
Acrylic and oil on canvas
61 x 61 cm
Facade
2021
Acrylic, glass mosaic, swarovski crystals, graphite, pearlescent pigment, and silicone on masonite board
30.5 x 21.5 cm
Portrait of My Mother
2021
Oil and charcoal on stretched paper
61 x 51 cm
Office Chair
2021
Graphite and gouache on paper
71 x 48 cm
Facial
2021
Graphite and gouache on paper (framed)
40 x 39 cm
The artists studied painting together as undergraduates at the Rhode Island School of Design, where they were two of four Black women to graduate from the department in 2019.
They currently live and work in their respective hometowns: Providence, Rhode Island for Banks, Los Angeles for Volmar. This bi-coastal body of work was created over the past year, rekindling the connection the artists had created in order to survive a predominantly White institution of higher education. Given Banks and Volmar's shared interests, their work inevitably overlaps, particularly around ideas of socialisation and study.
Skye Volmar (b. 1997, New Jersey) holds a BFA from the Rhode Island School of Design.
She is a recipient of the Florence Leif Award, grants from the Kyoto Fund and the Center for Reconciliation. She was a 2019 OxBow School of Art and Artist Residency fellow and would have been a 2020 resident of Vermont Studio Center, if not for COVID-19 cancellations. Recent Exhibitions include Deli Gallery's flower, child, Kohn Gallery's Myselves, and Zurcher Gallery's benefit exhibition We Must Begin Wherever We Are. Recent press includes Art in America, Artsy, Harper's Bazaar, Whitewall, ARTnews and Paper Magazine.
Gabrielle Banks (b. 1997, Nassau, The Bahamas) attended the Slade School of Fine Art Studio Program and holds a BFA in painting from Rhode Island School of Design.
She is a 2020 finalist for the MacColl Johnson Fellowship, recipient of the Becky Westcott Memorial Painting Award, and 2019/2020 Vermont Studio Center resident. Her work has been presented at Donaldson Gallery, RISD Museum's Gelman Gallery, Sotheby's New York, the National Art Gallery of the Bahamas, United States Embassy Ambassador Residence of the Bahamas, and more. Recent press includes Hyperallergic, The Nassau Guardian and The Tribune.
Chosen Charity
The Loveland Foundation
With the barriers affecting access to treatment by members of diverse ethnic and racial groups, The Loveland Foundation Therapy Fund provides financial assistance to Black women and girls seeking therapy nationally. Established in 2018, the organisation strives to bring opportunity and healing to communities of colour, and especially to Black women and girls, whose healing will impact generations.
Visit website