Stephen Wong's new body of work combines both realistic and imaginative depictions of scenery, focusing on his exploration of landscape painting.
Since his usual painting process, consisting of long hikes and a sketchbook, has been affected by a global pandemic, Wong drew inspiration for this Platform series from his virtual travels in Google Earth. Wong was able to visit and paint various iconic locations such as the Dolomites, Mont Saint Michel, and Mount Fuji, without leaving his studio in Hong Kong.
"We have so many tools for capturing what we see in daily life, what I choose is a slow and subjective way of documentation."
Painting mostly through an amalgamation of travel photography, instinct and imagination, Wong created his own visual vocabulary. Recreating the spontaneity and painterly approach of plein air painters, he captures the effects of nature through bold weaving patterns of vibrant colours in short, precise strokes.
Following an unsettling year, Wong's body of work conveys a profound appreciation of nature and a sense of communion with the environment.
Characteristic of his artistic practice is the expressive palette, depicting an emotional sensitivity to colour and saturation that transmits intimate sensibilities, evoking notions of silence, introspection, wistful harmony, and a pure joy for life.
A Road Trip in Google Earth: Cliffs in Dover, United Kingdom
2021
Acrylic on canvas
30 x 40 cm
A Road Trip in Google Earth: Jat's Incline, Hong Kong
2021
Acrylic on canvas
50 x 40 cm
A Road Trip in Google Earth: Dolomites, Italy
2021
Acrylic on canvas
50 x 40 cm
A Road Trip in Google Earth: Mont Saint Michel, France
2021
Acrylic on canvas
40 x 50 cm
A Road Trip in Google Earth: Multnomah Falls, USA
2021
Acrylic on canvas
50 x 40 cm
Sketchbook of Google Earth Travels
2020
108 drawings on paper
21.5 cm x 14 cm
This series also possesses a whimsical quality which materialised through Wong's avid toy car collection.
Envisioning the idea of a virtual road trip, he references his toy cars in the paintings, subtly placing them in each work for the viewer to find. In doing so, he transports the viewer as if they're wandering within the painting themselves, as a sojourner embarked on a trip around the world. More than just renderings of his visual experiences, Wong's paintings become moods, emotions and atmospheres incarnate; achieving a transcendent dual existence between the world in which the artist creates versus the world he creates on canvas.
Stephen Wong's Sketchbook of Google Earth Travels consists of 108 drawings on paper, allowing a glimpse into the private side behind the creation of his landscape paintings. As an observational diary from his virtual travels, the sketchbook provides particular insights into the artist's working methods and sources of inspiration.
Stephen Wong in Conversation
When did you decide to become an artist? 
I had this image of a painter with an easel in a natural landscape when I was a child, I can't remember where this came from. A piece of paper is an eternal space for me to create and explore. So, I decided to be an artist before really knowing what an artist I would be.
How do you decide which landscapes to paint?
I don't have too much of a plan or a premise of a theme before painting. But usually what interests me is the intervention of humans in nature. For example, some very tiny hikers walking on the trails far away or some tunnels that appear in between two mountains or the people standing at the observation deck.
Which artists most influenced your work?
In 2011, I travelled for the first time to the UK and visited the V&A Museum. I was excited to see the oil sketches by John Constable. From that moment, the more I read about his paintings and ideas, the more I become enlightened. His insistence towards painting the landscapes he lived around and understood, strengthened my decision on the expression of Hong Kong's landscapes. Many painters like Hokusai, Hiroshige, Felix Vallotton, Albert Marquet and David Hockney also had great influences on my painting in terms of the use of brushstrokes and colour tones.
Which artist would you pair yourself with for a dual exhibition?
John Constable. It would be my greatest honour if that could come true.
Are you still searching for that "perfect" landscape or setting?
I always think that the next place I stop and paint will be the perfect setting.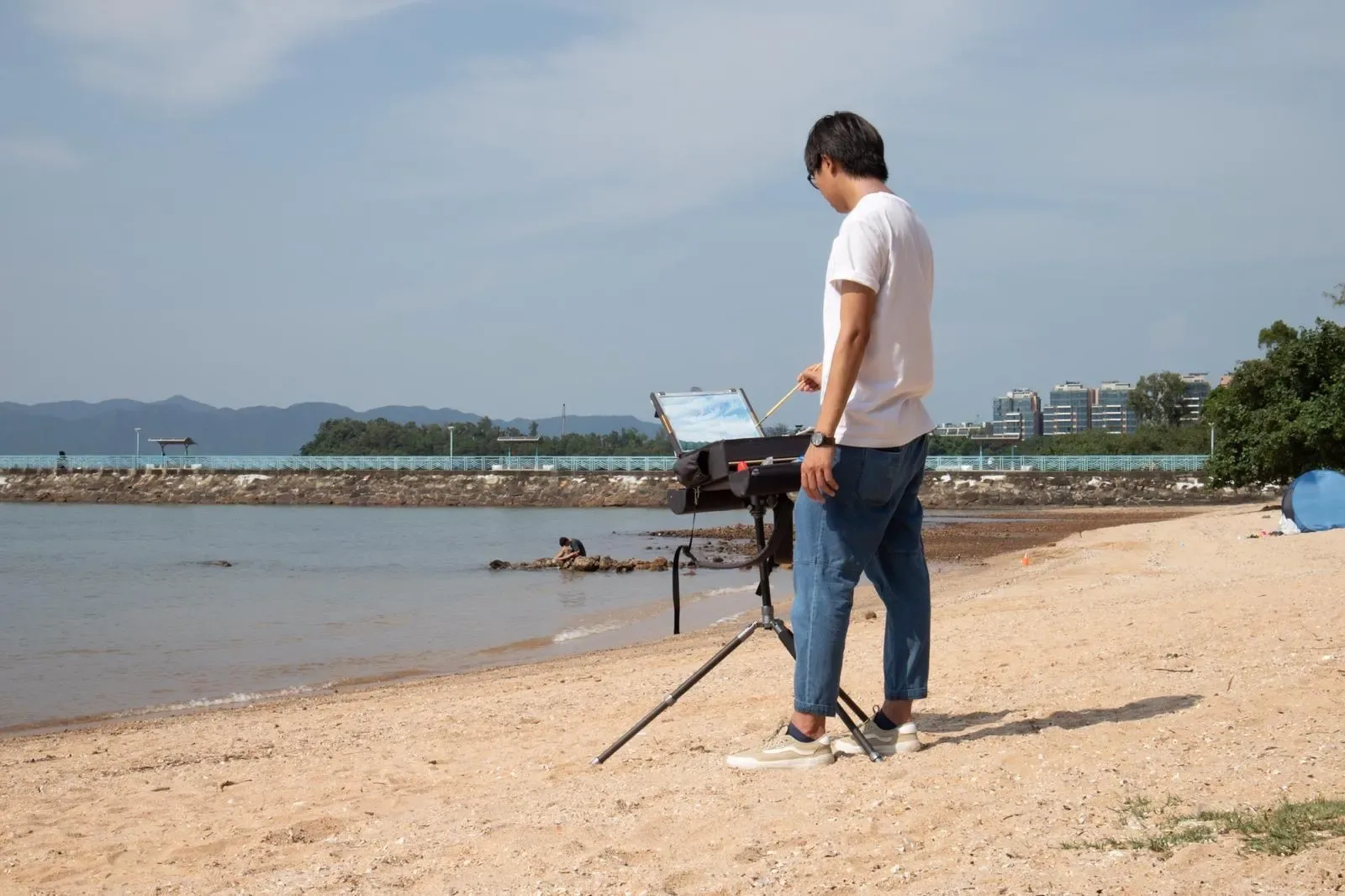 Born in 1986, Stephen Wong Chun Hei is a Hong Kong based artist. He graduated from the Fine Art Department (CUHK) in 2008.
Some solo exhibitions include Stephen WONG Chun Hei: A Grand Tour in Google Earth, Gallery EXIT, Hong Kong (2021); Beside the City, Gallery EXIT, Hong Kong (2019); and Looking at the sky and the landscape beneath Gallery EXIT, Hong Kong (2018). His group exhibitions include The Breath of Landscape, Hong Kong Museum of Art, Hong Kong (2019) and These Painters' Painters, ROH Projects, Jakarta (2018). Wong's paintings are collected by private collectors and institutions, such as Hong Kong Museum of Art, Hong Kong Land and Swire.
Chosen Charity
Ocean Recovery Alliance
Ocean Recovery Alliance is focused on entrepreneuring programmes to reduce plastic pollution, both on land and water, by creating strategic solutions for governments, industry and communities which lead to long-term, hands-on business practices that engage. Their main focus is to design programs to educate, build awareness and provide solutions which inspire positive societal change at the community, national and international levels. 
Visit website
Driven by his love for exploration, Stephen Wong captures bird's eye views of sweeping landscapes and archaeological landmarks.
Visit artist page
Stephen Wong's first exhibition in London presents scenes from his hometown, Hong Kong, alongside landscapes in the UK.
View exhibition