In Stacey Gillian Abe's latest body of work, she explores ideas of being and becoming, living as one's truest self through self-discovery and a complete understanding of one's own identity.
One of the most vital issues facing the Black community today, amongst others, is a sense of belonging: to be seen and heard and to be understood. The artist explores these issues to highlight a state of being and becoming; to live in one's truest form as a journey towards self-discovery.
Stacey Gillian Abe seeks to highlight the very essence of the subject in her paintings.
Despite their individual vulnerabilities and imperfections, the indigo-hued figures exist in a state of reassured calm, claiming ownership of their space and power. In this way, Abe investigates eudaimonia in identity, which she describes as "an ability for living well, perfection in respect of virtue, human prosperity, flourishing and blessedness".
Abe's work is autobiographical in nature, reflecting her own past and her memories, highlighting her personal experiences and her relationships to her community.
The autobiographical dimension of her work confronts traditional depictions of the Black body, drawing attention to more cerebral aspects and challenging the colonial lens. The concepts behind Abe's artworks highlight specific complex situations.
What We Wanted
2021
Acrylic on canvas
130 cm x 150 cm
I'm a baby and am pink
2021
Acrylic on canvas
150 cm x 130 cm
Coming of Age
2021
Acrylic on canvas
130 cm x 110 cm
Fatima
2021
Acrylic on Canvas
124 cm x 96 cm
Moon bean
2021
Acrylic on canvas
130cm x 150cm
Drawing on early and continuous autobiographical experiences, Abe's works offer a reassessment of conventional depictions of her as a Black woman by choosing to focus on the suppleness of the mind. These images materialise as created imaginary spaces that induce a surreal mystical feel while probing unsettling past and present narratives of identity, gender, spirituality and cultural mysticism.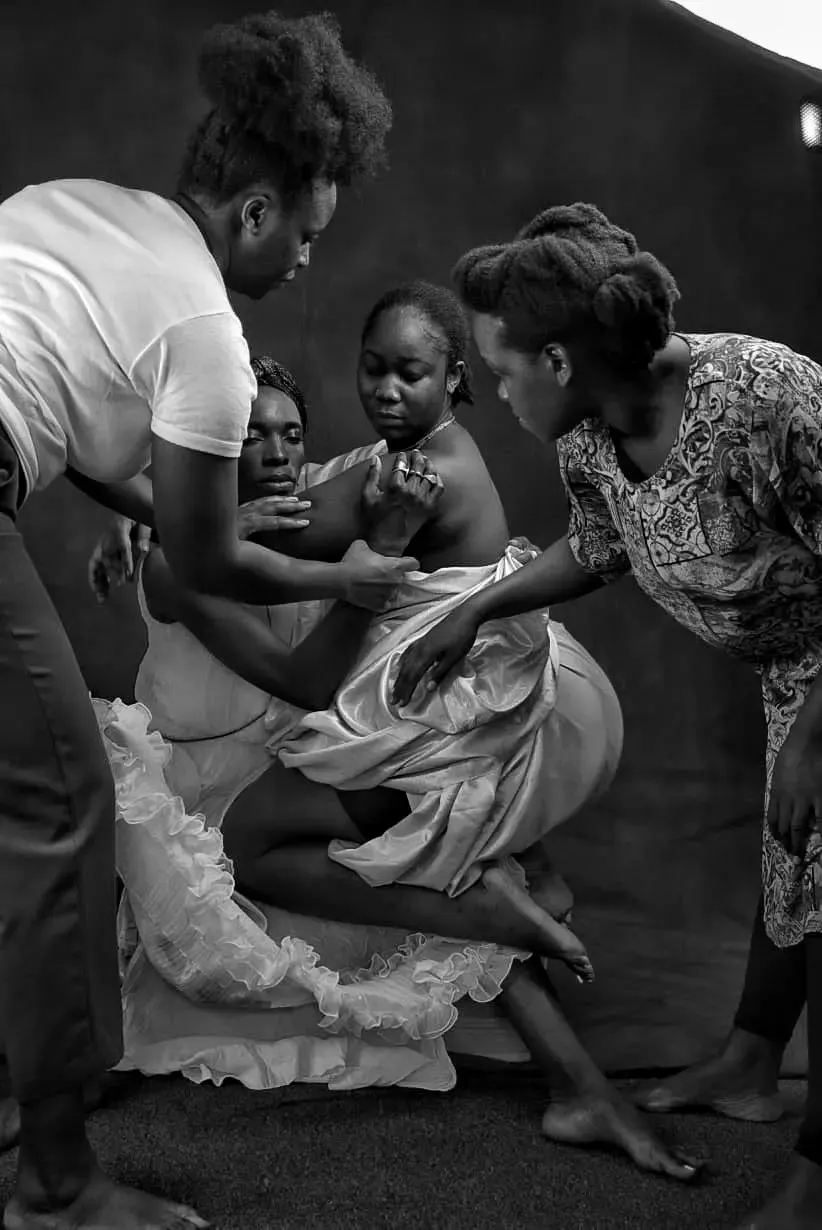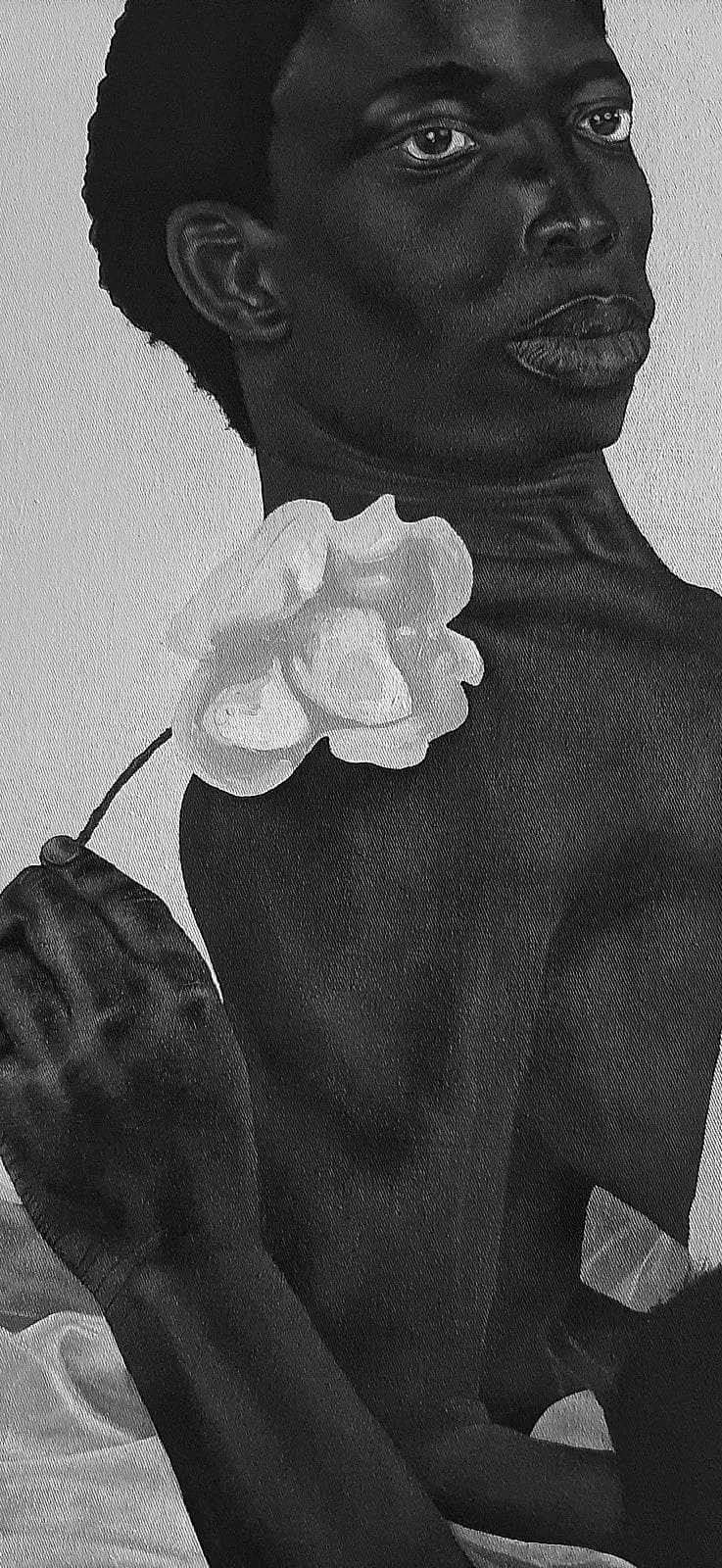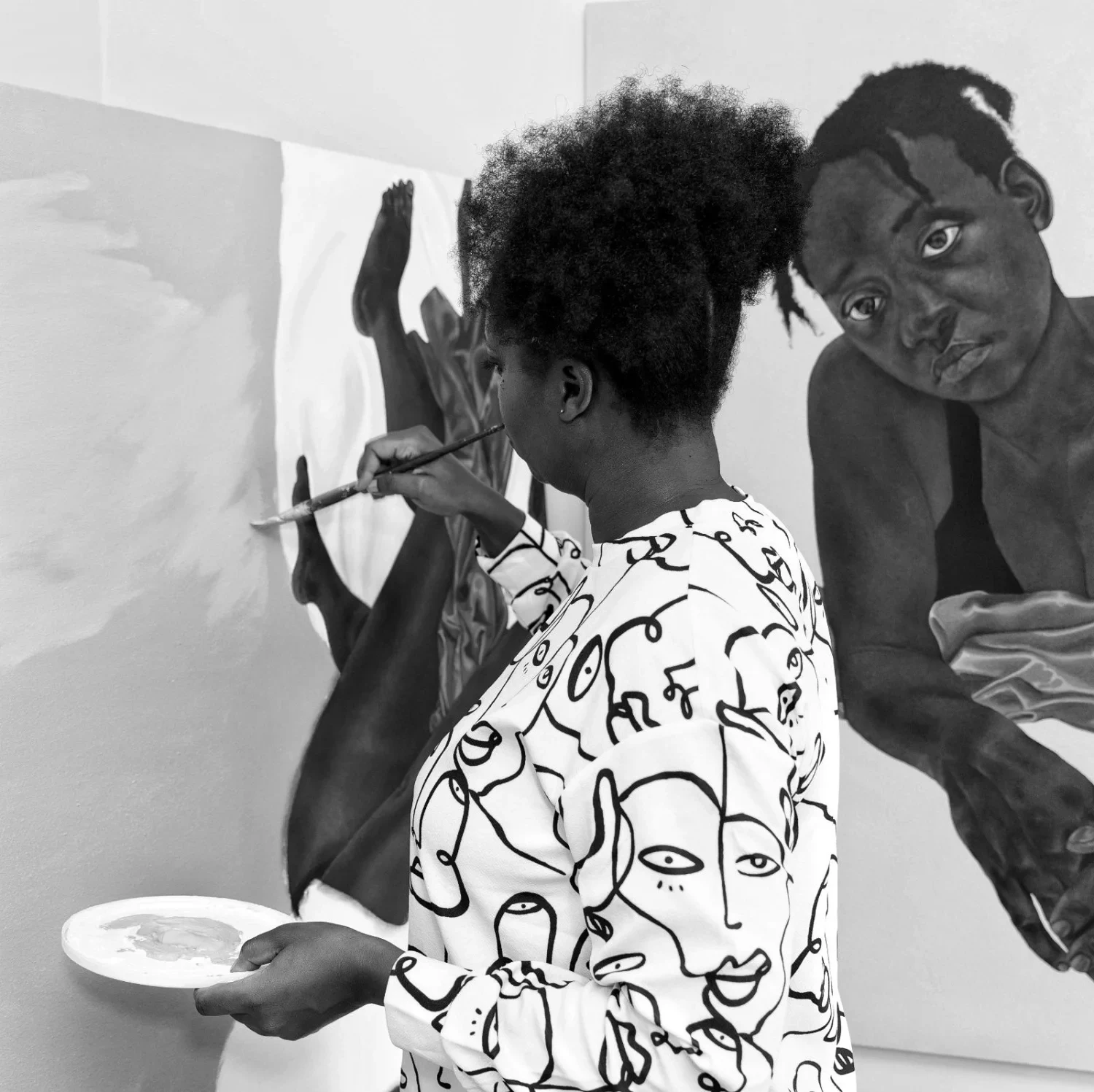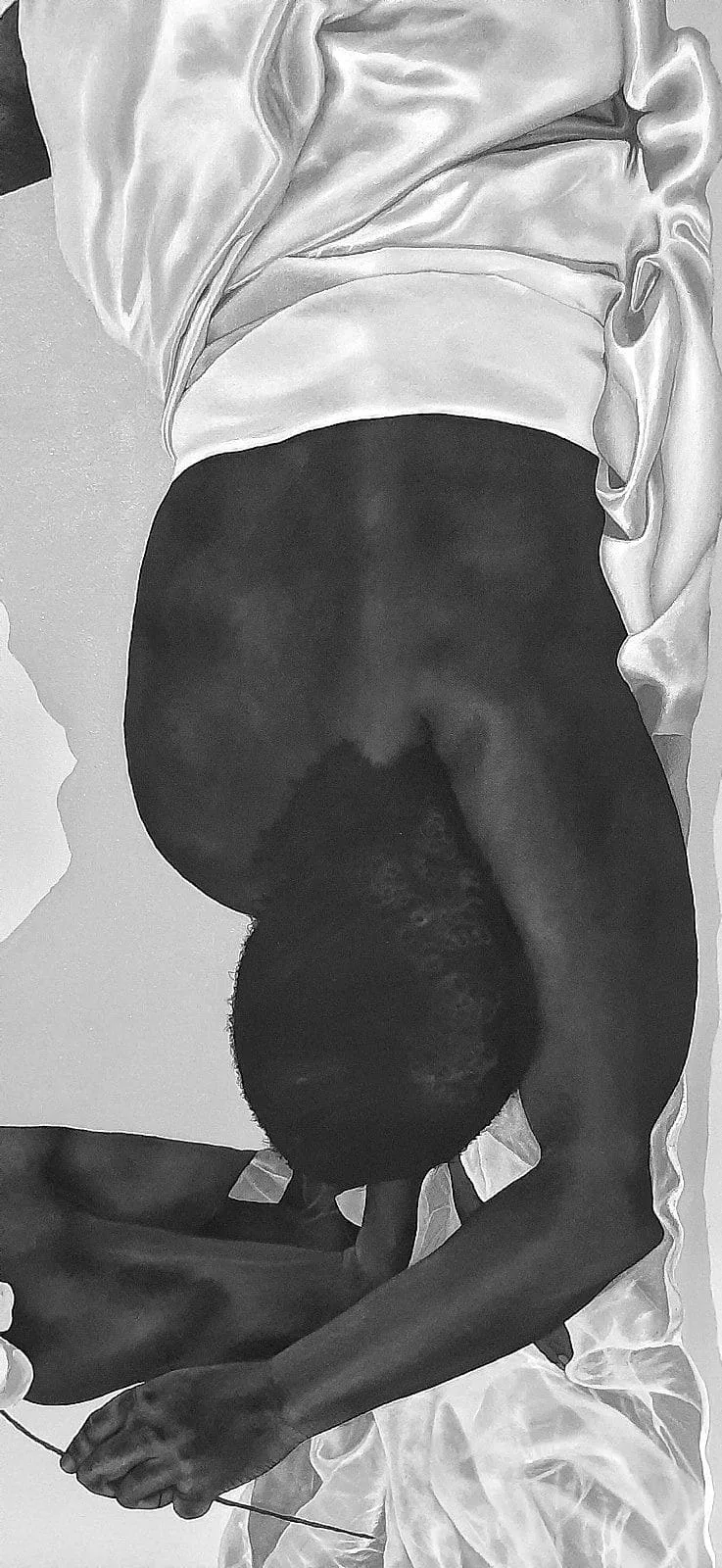 In essence, Abe's autobiographical paintings explore the idea that Black identity exists without any visible means of support.
Colonial paradigms have fostered a narrative that Black existence without White existence remains unenlightened. The colour indigo has become a crucial element of this narrative, highlighted through skin tone. As a colour, indigo is intertwined with narratives surrounding the Black body and its hue has subsequently become significant in the reshaping of these narratives. For Abe, this reshaping includes a drive to revisit the past in order to form a new dialogue through which possibilities of an alternate future for the Black race can be pursued. In this sense, Abe's works delve deeper into the complexities of colourism that are weaved into the Black community.
Stacey Gillian Abe was born in Kampala, Uganda, in 1990. She received her BA in Art and Industrial Design from Kyambogo University, in 2014.
Abe went on to present her work internationally at exhibitions, galleries, fairs and biennales, including 1:54 Fair New York and London 2018 & 2020, Being Her(e) at KAURU Contemporary in Johannesburg (2017), Stellenbosch Trienniale in Cape Town (2020), IRL with Unit London (2020), Black Voices Friend of my mind at Ross-Sutton Gallery New York (2020) and The Power of My Hands at Musée d'art Moderne de la Ville de Paris, in Paris (2021). The artist has been featured in publications including The Independent and The New York Times. Along with her numerous awards, in 2018 the artist was listed among the Forbes Africa 30 under 30 Creatives.
Chosen Charity
Refugee Council, London
The Refugee Council is a leading charity working with refugees and people seeking asylum in the UK. Founded in 1951, following the creation of the UN Refugee Convention, the charity exists to support and empower people who have made the heart-breaking decision to flee conflict, violence and persecution in order to rebuild their lives here in the UK.
Visit website
Artist
Stacey Gillian Abe
Through her autobiographical approach, Stacey Gillian Abe turns a sharp gaze on topics of gender, identity and class.
Visit artist page
Exhibition
Shrub-let of Old Ayivu
Stacey Gillian Abe's solo exhibition Shrub-let of Old Ayivu with Unit London is an exploration of memory, time and emotion.
View exhibition