Youada's practice is rooted in the materials and aesthetics of street art. As a teenager he would move through the streets of Huangzhou, honing his spray-painting skills and imbibing a very particular visual style that's unique to Chinese street art culture.
This visual style often revolves around a kind of busy anthropomorphism. The walls in Huangzhou's creative districts are filled with dynamic, loud figures bursting forth from a host of Chinese lettering. Youada's fine art practice has stripped this back: for example these works don't have a claustrophobic element and text is no longer a key part of them. However, Youada has retained that vibrancy and sense of motion, all while conjuring the hazy essence of spray paint through the meticulous application of acrylic from a paintbrush.
In China – perhaps more so than in the rest of the world – the aesthetics of street art are entwined with the sentiments of anti-establishment activism.
In a nation with heavy levels of censorship, street art is less of an artistic indulgence, and more of an essential tool for critiquing systems of power and claiming cities for the citizens. This now familiar use of public art as activism has its own significance and historical grounding in the Chinese cultural imagination: in the 1920s, revolutionary slogans and paintings were daubed on the walls of public spaces in order to further the communist cause. Then, during the Cultural Revolution in the 60s, the communist party scrawled propaganda in red characters on neighbourhood walls.
Noisy and Classy
2018
Acrylic on canvas
170 x 200 cm
Bad Girl
2017
Acrylic on canvas
60 x 50 cm
Great Kangaroo Dad and His Son
2018
Acrylic on canvas
195 x 140 cm
Mr Dragon
2018
Acrylic on canvas
60 x 80 cm
Green Rabbit
2018
Acrylic on canvas
60 x 100 cm
Youada's paintings are truly idiosyncratic, they challenge the viewer (particularly those in the West), asking them to reassess where the value of painting lies – is it in conventional beauty, or is it in artistic expression and purpose?
Youada's subjects and style are hyper-contemporary, they're directly linked to internet culture. They are at once reminiscent of the garishness of meme culture and the unsettling feeling of a cursed image. They ask us to look at contemporary society, often from the viewpoint of a more innocent youth, and ask questions of our everyday landscape, both internal and external.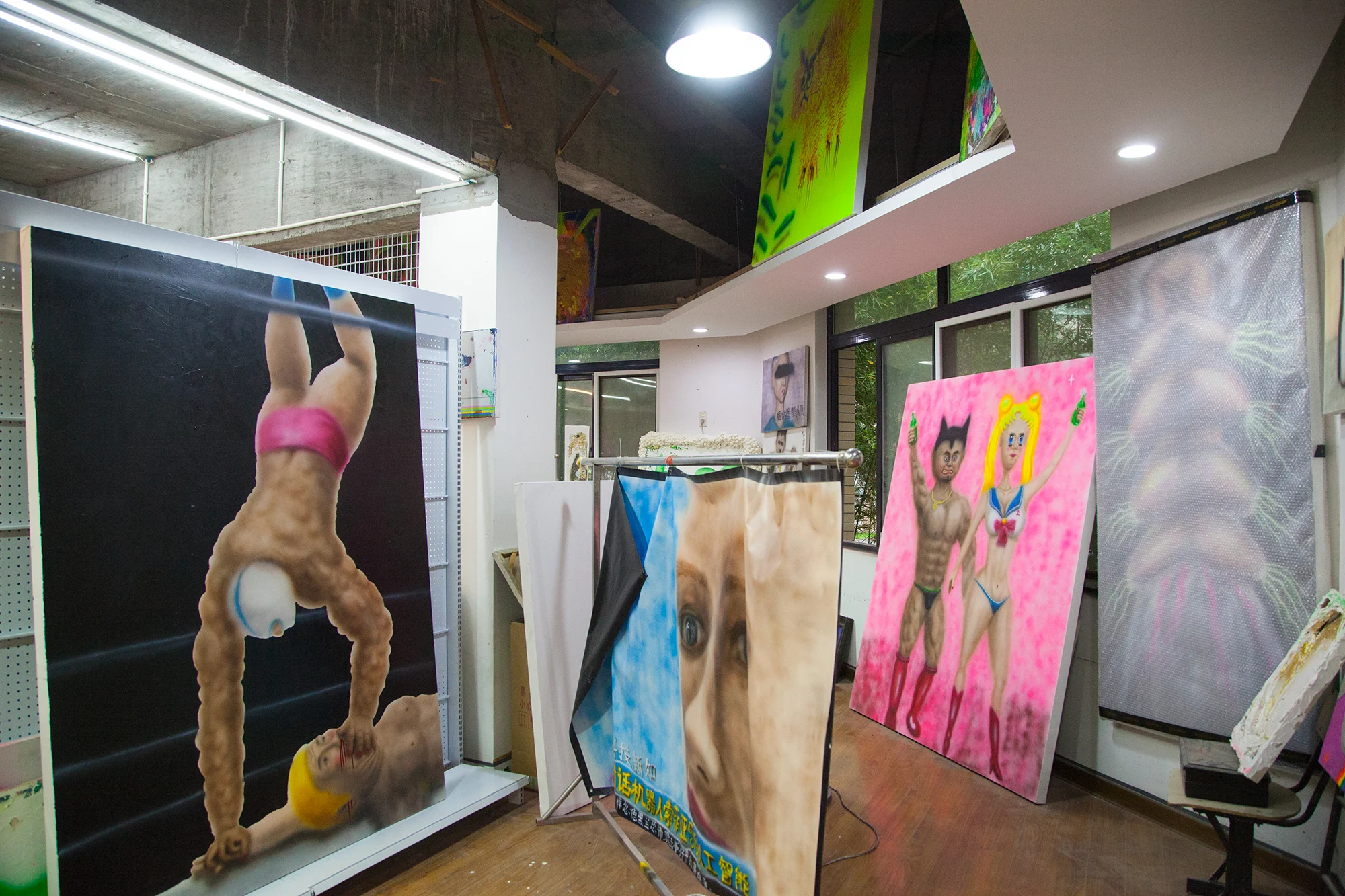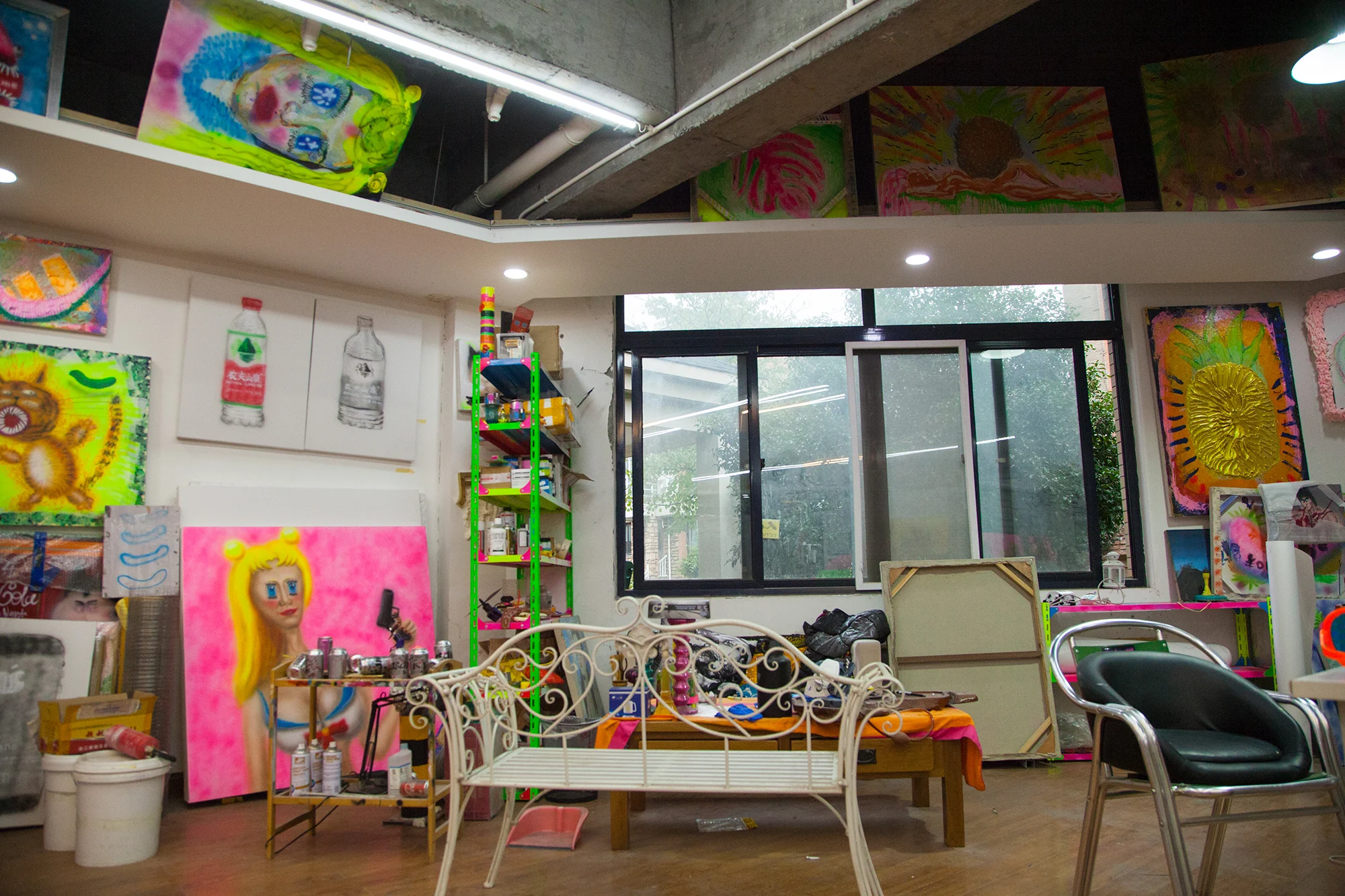 The history of expressing dissatisfaction with the status quo is important to Youada, who has retained this idea of breaking boundaries through art, and brought such concepts inside, travelling from the street to the studio.
Youada's figures have a rebellious air: he paints women that smoke and drink and are sexually liberated, some of whom are in street gangs. Bad Girl is such an example, bringing the viewer's attention to backward gender views in China, while championing a more progressive onward trajectory. Despite this call for advancement, Youada's reference imagery is also rooted in the past: drawing on the visuals from Chinese TV programmes, toys and posters that have lingered on the peripheries of the artist's mind over the years.
Youada (b. 1987) is a Chinese artist based in Hangzhou. He graduated from the China Academy of Fine Arts in Hangzhou in 2011, and has been exhibiting his work around the world ever since.
Youada's fine art career began to gain traction in 2018 in Shanghai and Beijing: he took part in no less than eleven group exhibitions, most notably Naive Party at Chengji Art Museum and What Makes Today's Life So Fascinating and Different at Chengdu Contemporary Art Museum. This success continued in 2019 and 2020, and Youada has now shown his work in London, Tokyo, Milan, Hong Kong and Los Angeles. His three previous solo exhibitions are Rapper Referred to as Spy, One Way Gallery, Beijing (2018); Play Me Love You, Swim Gallery, Los Angeles (2019); and Shrimp Bowl Cake, Tong Gallery, Beijing (2019). In 2020 Youada also took part in Unit London's group exhibition IRL. In the same year he showed his work at How Do We Begin?, the triennial exhibition at Museum X, Beijing.
Chosen Charity
Street Art for Mankind
Art is a universal language. It has no age, no gender, no race. It simply speaks to the hearts and moves humankind in a way nobody can explain, but everybody can experiment. Art makes our world a better place.
Street Art for Mankind (SAM) is a non-profit organisation that strongly believes in the power of Art to trigger social change. With the support of over 80 prominent international street artists, SAM curates and produces large murals, interactive exhibitions and live performances around the world to bond communities and generations around human rights.  SAM was built around the fight against child labour & trafficking, and it remains its primary focus. Because we believe that together we can create a Child Friendly world.
Visit website