Sign Systems
Group Exhibition
Sign Systems explores the intersection between text and image in contemporary art. Deriving its name from the field of semiotics, which studies the concept of representation and the creation of meaning, the exhibition draws on the relationship between verbal and visual language. The phrase Sign Systems encapsulates the notion of language as a whole and is inclusive of non-verbal language such as painting, illustration, traffic signs, graffiti and body language.
Text and image have historically been two fields kept apart, separated by an arbitrary academic hierarchy. By engaging with the emergence in the 1960s of conceptual art and language-based art, Sign Systems aims to challenge this history, questioning the conventions of both painting and language. Drawing on the history of word art, Sign Systems features artists such as Jenny Holzer and Ed Ruscha. Holzer and Ruscha's use of text-based art moulded the characteristics of the post-Pop Art generation. For these artists of the Post-Pop and conceptual art movements, the use of language became increasingly important. Moving away from purely visual forms, artists like Holzer and Ruscha began to use words to place emphasis on the importance of ideas. These foundations have had a lasting impact on contemporary art. For example, Anna Liber Lewis and Allison Reimus use the interaction of text and image to shed light on notions of femininity, motherhood and consent. Similarly, Hank Willis Thomas' conceptual art and Sam Durant's visual wordplay engage explicitly with socio-political issues and American History, such as the civil rights movement, capital punishment and police brutality.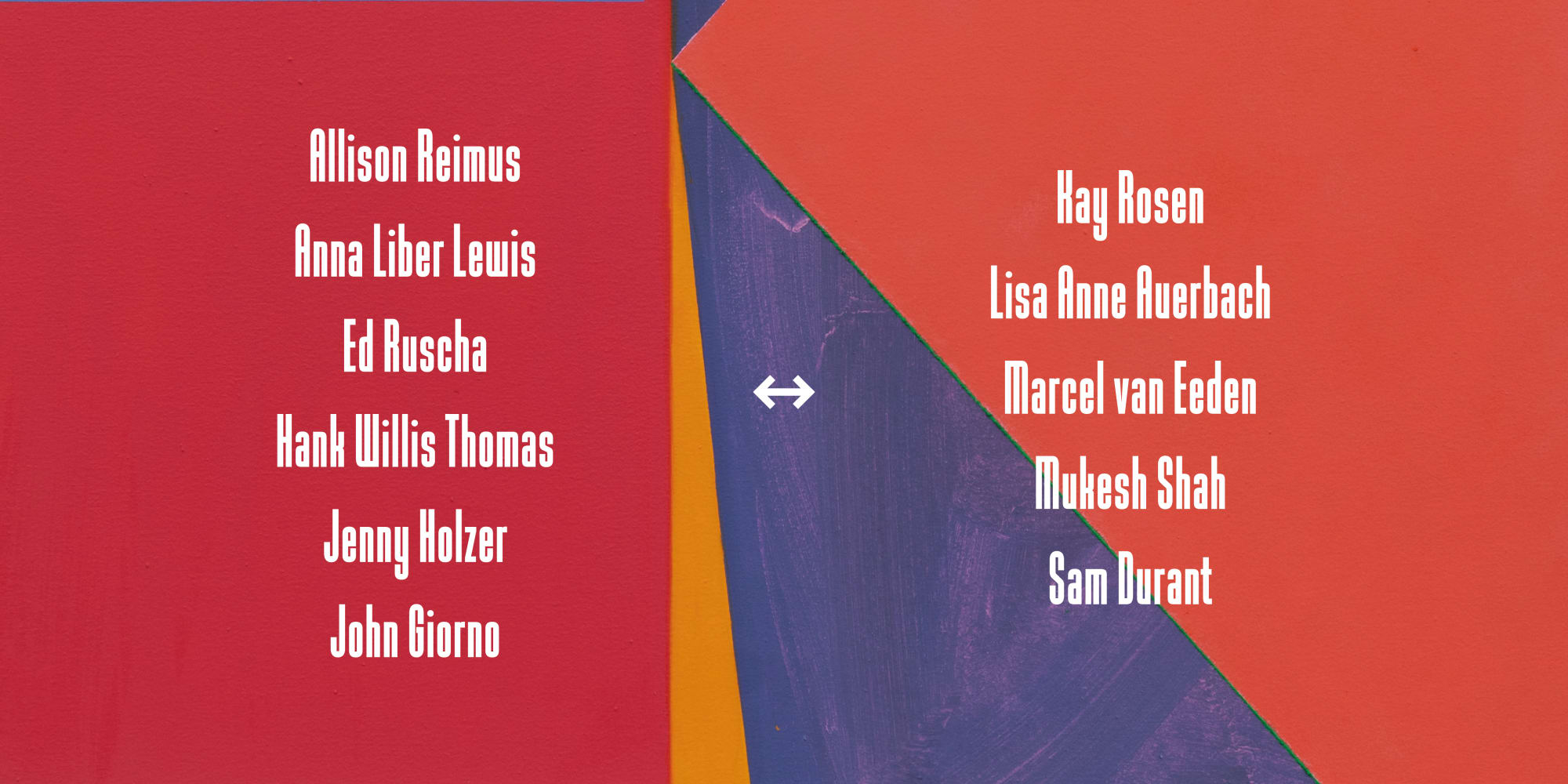 Sign Systems demonstrates how language can evolve from something that is used to discuss art, to becoming art itself, considering how ideas and concepts themselves can become art. Through artworks that engage in these multi-sensory experiences of hearing, reading, speaking and looking, the exhibition strives to circumvent the entrenched legacy of ideological and institutional demands that have been placed on visual art. Sign Systems encourages an inherently interdisciplinary approach, seeking not to separate the word from the image but to treat them as equal sites of interpretation. By encouraging a sense of fluidity between different media, the exhibition ultimately strives to reveal and subsequently disentangle the systems of codes and signs we unconsciously use to communicate with the world around us.
Join us in our Mayfair gallery on 7 July from 6-8pm to celebrate the opening of Sign Systems. RSVP is essential.
Please confirm your attendance by clicking on the button below and completing the registration form.