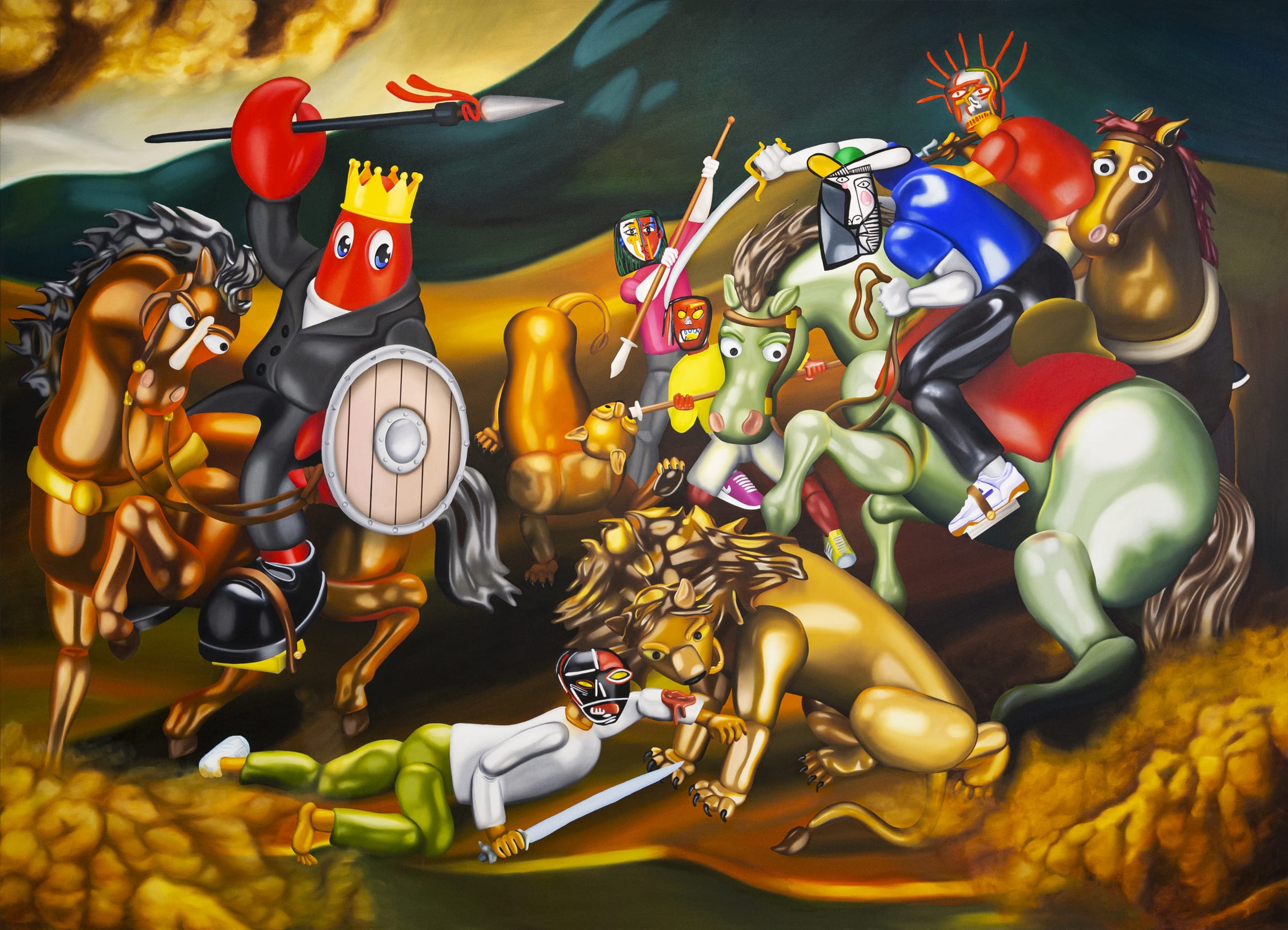 29 October - 29 November 2020
Lobsteropolis at Saatchi Gallery
Philip Colbert
Unit London are delighted to present Philip Colbert: Lobsteropolis at Saatchi Gallery. Influenced by the global covid pandemic, Colbert has designed the exhibition to work both digitally and in situ by utilising robots that allow viewers to interactively engage with the exhibition.
Read more
When viewed in situ, a one-way system will guide visitors through the exhibition, picking a route through the art which interrogates mass consumerism and references recent contemporary culture and history. The show will feature a giant outdoor inflatable lobster installed in Duke of York Square alongside new large-scale sculptures and paintings. Lobsteropolis will be the largest UK survey to date of Colbert's hyper-pop lobster land, an immersive universe that inverts traditional art historical iconography with the vibrancy of pop imagery.
Studio
Philip Colbert in his studio 2020
Philip Colbert's works are exuberant attempts to update the practice of collage for the internet age.
His paintings challenge and toy with the viewer's cultural vocabulary. He superimposes commonplace, banal objects onto painted faces and merges portraiture with popular culture in a Magritte-like fashion. Emojis, computer windows, classical architecture, Lichtenstein spots, comic book sound effects, cactus plants and pixelated mouse cursors all have a place in Colbert's world. His work powerfully explores the patterns of contemporary digital culture and its relationship to a deeper art historical dialogue. Colbert points out that many of the symbolic references of art history have become as iconic in themselves as Coca Cola or Google; Warhol's work is easily as recognisable as the McDonald's sign or the apple symbol. In his brash, splashy world of contemporary culture, Colbert explains his reasoning for his cartoon-like vision. "In these dark days I wanted to push forward the visual fantasy and energy of my Lobster universe as a source of positive creative energy. For me the subject of art is an important celebration of human freedom."
Under lockdown, Colbert's shrunken horizons and own social media echo chamber prompted him to conceptualise Lobsteropolis as his response to the pandemic as an optimistic reminder of fun, colour and freedom. "The main development that came from my housebound period of lockdown was the new forms the Lobster has mutated into", he says by way of explanation. "The lobster shark and lobster cactus for example. I wanted to push my creative identity forward."
t