15 February - 19 March 2022
Eternalising Art History: From Da Vinci to Modigliani
Unit London presents
Eternalising Art History
, a ground-breaking exhibition of digital counterparts of six treasured Italian masterpieces, certified on the Blockchain and recreated as physical reproductions of the original works. These digital artworks have been produced in partnership with four major Italian cultural institutions, including the Uffizi Gallery in Florence.
Eternalising Art History
features iconic works, many of which have never been seen in the UK, by Italian Masters such as Leonardo Da Vinci, Caravaggio, Rafael, Modigliani and Francesco Hayez.
The six masterpieces span several different art historical movements, from the Renaissance period to 19th Century Romanticism and Modernist abstraction. The original works reside within four important institutional collections: Pinacoteca di Brera (Milan), Complesso Monumentale della Pilotta di Parma (Parma), Veneranda Biblioteca Ambrosiana (Milan) and the Uffizi Gallery (Florence). The exhibition is unique in harnessing cutting-edge web3 technology to bring these prized artistic masterpieces from the walls of Italian museums to the heart of London, exposing them to an entirely new audience.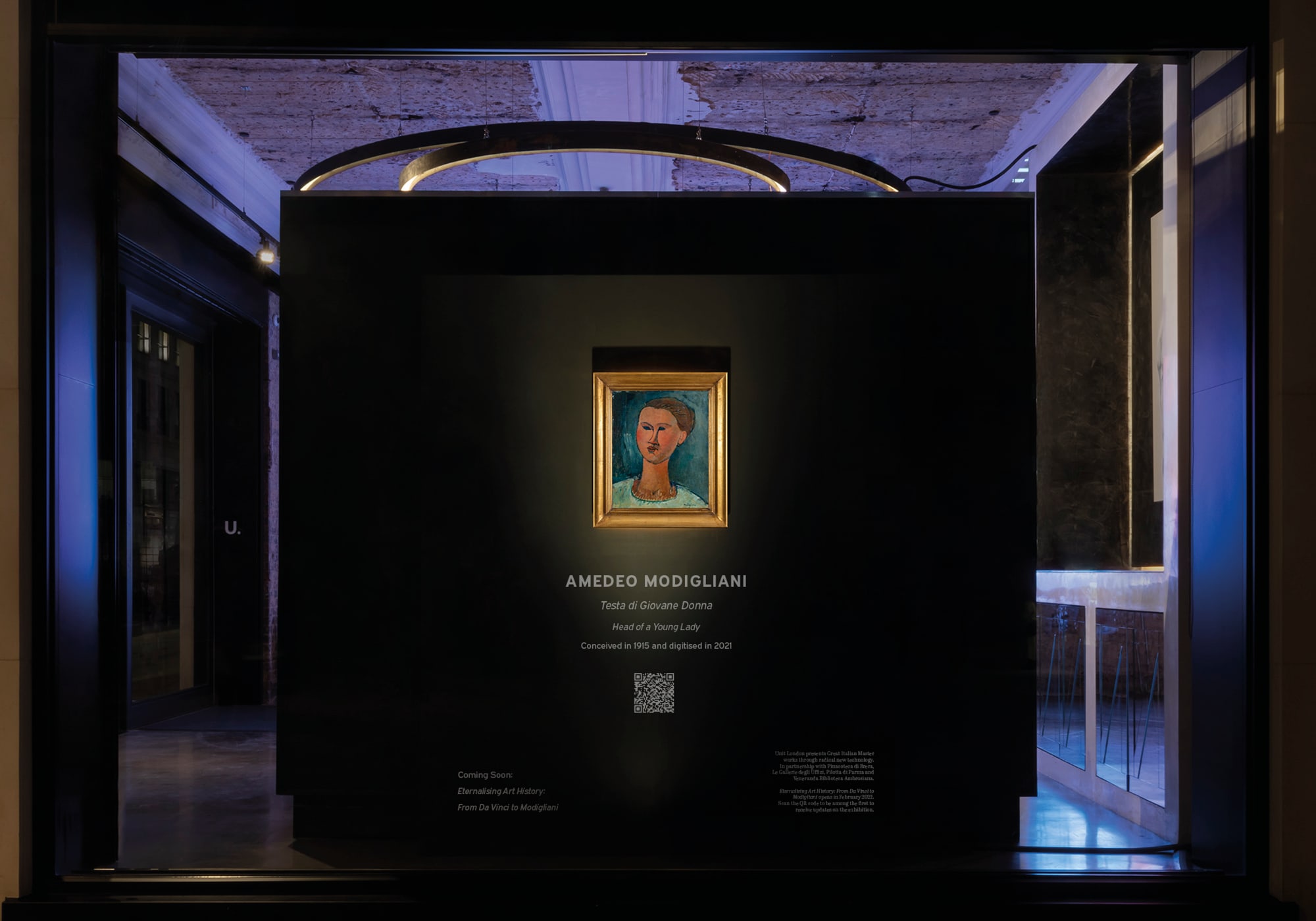 The exhibition comes at a time when travel is still limited and there is an appetite for the development of innovative ways to experience culture. The digital artworks presented in Eternalising Art Historyoffer an opportunity that would otherwise be out of reach for many international audiences. The exhibition also strives to open accessibility to artworks that cannot be transported for international exhibitions because of conservation reasons. As such, 50% of sales will go directly to the institutional conservation efforts that have been diligently working to preserve these pieces for future generations. Each work is produced as a digital limited edition of nine and is created with the museum-endorsed tech partner, Cinello. Cinello, an Italian founded company, has patented a new technology for the creation of DAW® - Digital Art Work. The artworks, displayed on screens, are bordered by the exact replicas of the original frames, each one handcrafted in Tuscany.
Eternalising Art History will be the first in a series of three exhibitions of digital artworks, presented by Unit London. These exhibitions come at a time when the gallery has been dedicated to spearheading innovation in the industry, exploring ways that art can bridge the gap between physical and virtual experiences, for the benefit of artists and audiences alike. As such, Eternalising Art History is truly a first of its kind, breaking new ground and paving the way for novel cultural experiences.
Click the button below and complete the registration form to be the first to

receive updates on the exhibition

.