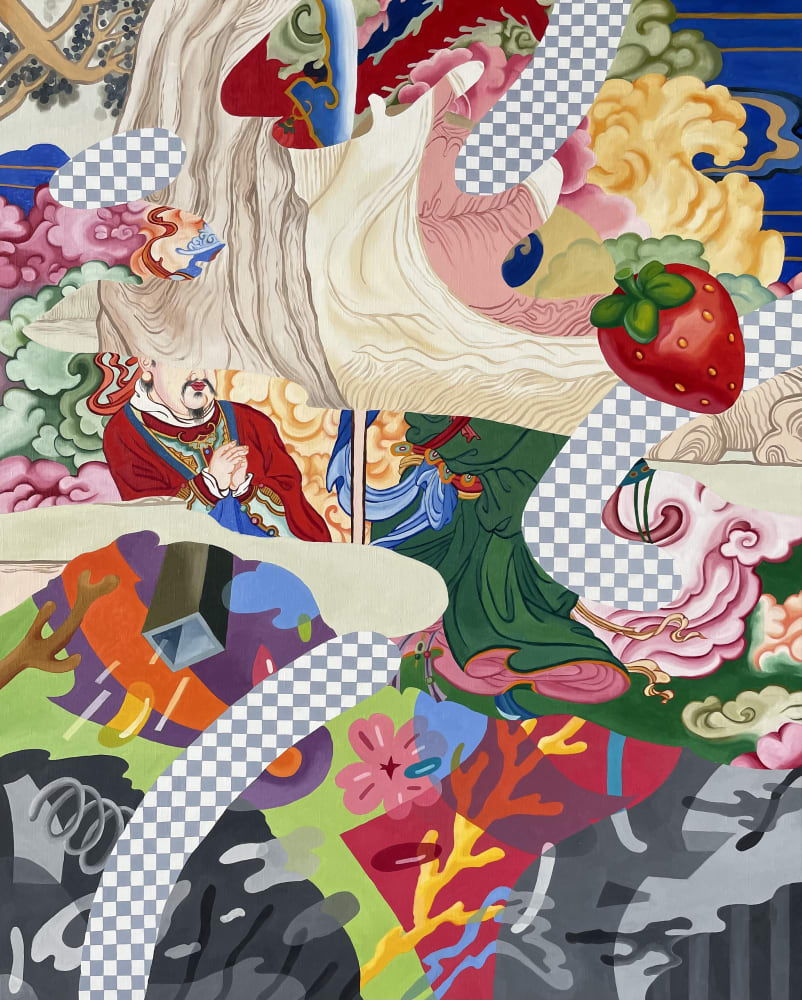 'I present the conflict between a carefully regulated homogeneous society and unrestrained desires of individuals.'
Ziping Wang was born in 1995 in Shenyang, China. Her distinctly fragmented and colour-saturated artworks seek to highlight the contemporary phenomenon of information overload, while chiming with sensory memory triggers through depictions of children's toys, logos and food packaging.
Read full biography
Ziping looks to uncover the inevitable links that lie between memory and present notions of identity - how do our memories of the past inform the idea we have of ourselves? The work also grapples with the concept of transcultural identity over time - how do our memories of childhood in one place inform our present day actions in another?
Studio
Ziping Wang in her studio
"As a painter, I'm interested in the elusive nature of modified reality. I use my paintings to document these modifications. In technologically advanced societies, our experiences of the world are under constant invasion from brightly colored advertisements, pop up window browsers and catchy slogans, all designed to be distracting. The constant overload of information generates anxiety, which is further enhanced by the ambiguity between the reality and the world this information aims to construct, especially through highly personalized curation. Unashamedly ubiquitous, this intangible algorithm-based curation is capable of producing a constructed reality so uncannily similar to our own, to tell the difference requires a constant upkeep of skepticism. The act of modification functions like a field of action where the traces of editing are grotesquely present, and the before and after images are intriguingly intertwined together. By documenting the editing process through the use of digitally manipulated imagery, and revealing and concealing different planes of images and pop culture symbols, I capture the anxiety and emotional exhaustion that result from the information overload and my skepticism towards constructed reality." - Ziping Wang
Ziping Wang was born in 1995, in Shenyang, China. She received her BFA degree from Rhode Island School of Design in 2017 and went on to achieve an MFA with distinction from Pratt Institute in 2020. Recent solo and group exhibitions include Utopia at Peres Project, (Berlin, 2021), The Other Landscape at Unit London (2021) and Sentimental Touch at Unit London (2020), Platform 2020 at Winston Wachter Fine Arts (New York, 2020), ASYAAF at Gallery LVS (Seoul, 2020), Daydreaming at J.Yuan Associates LLC (New York, 2019), and Artificial Delicacy at Gessoisland Artspace (Shenyang, 2019). In 2020 Wang was selected in Rising Stars 35 under 35 by Saatchi arts. The artist currently lives and works between China and New York.